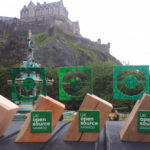 As CEO of Trustable, I am one of the organisers of the UK Open Source Awards taking place on 12 June 2019, in Edinburgh, working with SalesAgility who founded the awards 10 years ago www.opensourceawards.org. I was delighted that we received a record 65 nominations this year.
The awards event will include an afternoon of panels and talks around open source that will climax with Open Invention Network's Keith Bergelt interviewing Stephen Walli of Microsoft about their journey to open source.
The evening's festivities launch with a keynote from Nextcloud's founder Frank Karlitschek. Then the winners will be announced and the awards presented to them before we celebrate their success with a drinks reception.
The event is free to attend thanks to the sponsorship of Microsoft, Open Invention Network, Collabora, Codethink, Opus VL, Open UK and NHSX. Sign up to attend at www.opensourceawards.org
The esteemed judging panel of Allison Randal, Dawn Foster and head judge Jonathan Riddell, rank high amongst the UK based stars of open source. They made the hard choice of selecting a short list of 16 from 65 brilliant nominees. They had this to say about the nominations:
"Many of the student projects contain impressive research and using open source ensures that this work can be easily used by future researchers and students," said Dawn Foster who herself has a Phd in contribution to the Linux Kernel.
Head Judge, Jonathan Riddell, of the KDE community commented "We had four impressive lists of nominations to whittle down to the shortlists. It took us a good week of deliberations to pick some truly spectacular projects and we had to bypass some very worthy candidates but these do represent a beautiful spread of the state of the art. Well done to all 65 nominees." 

Open source luminary Allison Randall noted, "I was impressed by the number of nominations based around helping the NHS, the entrepreneurial spirit working for the public good using open methods is exactly what we were after." It's no surprise that all 4 of the nominees who made the shortlist for the public sector category are from the health care sector.
The organisers had no involvement in the judging process and the Judges were completely independent in their review of the Open Source Contributors across the 4 categories of awards. I keep being asked if Andrew Brock who is shortlisted for the student award is a relative – I don't think so but am now investigating that one and of course the judges will independently decide on the winners.
The judges took the difficult decision to withdraw the diversity award as it did not attract enough appropriate nominations. We hope next year to add a 5th award for open hardware.
So, for this year, here's the 2019 shortlist:
Individual – for outstanding contributions to open source
Mandy Chessell – Mandy Chessell CBE FREng is a computer scientist and a Distinguished Engineer at IBM. Mandy became involved in open source through her efforts with Linux Foundation's ODPi organization and her work on Egeria, the Industry's First Open Metadata Standard, designed to help organizations better understand, manage and gain value from data;
Simon McVittie – Simon's one of the key players behind some of the most important steps of desktop linux. As well as being the head of DBus, a key part of the linux stack, Simon is one of the core people on freedesktop.org;
James Morgan – James Morgan has successfully led the OpenEyes community to release a best in class open source Ophthalmology Electronic Patient Record solution OpenEyes; and
Tracy Miranda – Tracy Miranda is currently the Director of Open Source at Cloudbees and a long-time supporter of open source. She has served on the board of directors at the Eclipse Foundation and recently was responsible for helping form the Continuous Delivery Foundation.
Company – for outstanding contribution to open source either through product development or contributions to projects:
Cloudsoft Corp – The company behind the open source Apache Brooklyn project;
Open Healthcare – Builds open source digital tools that help clinicians to deliver better care;
AB EHR – Working predominantly with open source software and delivery methods they provide solutions that will enable improved patient care and service standards; and
Outlier Ventures – Outlier Ventures contributes to the community at large, open sourcing all major internal projects, and contributing technical expertise to all of the projects we partner with, fuelling open source adoption.
Public Sector and Third Sector – for an outstanding open source project in the UK public sector or third sector:
Ripple Foundation – The Ripple Foundation is a clinically led foundation that has led on the development of a number of key open source projects in support of improving and making easier to develop digital applications in the NHS;
The Apperta Foundation – The Apperta Foundation is a clinically led, not-for-profit organisation that acts as a custodian for a number of clinical and non-clinical digital solutions for Health and Care, ensuring they are available not only open source, but developed using an open approach;
Inside Outcomes CIC – Inside Outcomes CIC supports businesses working in the public health, social care and third sectors with their open source risk management software; and
NHS Digital – Launch of the NHS Digital Service Manual in January 2019; including open standards for content, health literacy, design principles and integrating the open source NHS.
Student – a cash prize of £1,500 for an outstanding contribution to open source from currently matriculated UK students
Antreas Antoniou – (University of Edinburgh – School of Informatics) – Antreas built a meta-learning framework, with a large variety of researcher-oriented tooling and just the right abstraction to allow very quick modifications of the model for research purposes, or altogether extensions and overhauls. Finally, the framework includes a data-provider designed to receive a folder of data-points and with no other changes, train such a model for ML-enthusiasts and industry applications. All code and paper are publicly available;
Andrew Brock – (University of Edinburgh and Heriot-Watt – Edinburgh Centre For Robotics) – Andrew Brock's work on machine learning has led to three major conference papers and two workshop papers, all of which are accompanied by open source code for replication. His latest project, BigGAN, represents the state-of-the-art in neural network image generation, and (through open source releases of trained networks and training code) forms the basis for a variety of projects built atop it;
Nathan Hughes – (Aberystwyth University) – During his undergraduate degree he worked at the national plant phenomics centre in Wales, UK. There he made all of my work open source. Currently working on his PhD (at the John Innes Centre) where he will go on to produce open source software for analysing biological problems in plant science; and
Yiannis Simillides – (Imperial College London) –While studying for an MSc in Scientific Computing at UCL, Yiannis wrote the library called FEniCS.jl, the julia-version of a popular open-source finite element package, receiving funding from the Google Open-source programme (GSoC).