Future of AI Summit 2023
15 November : 8:00 am

-

16 November : 5:00 pm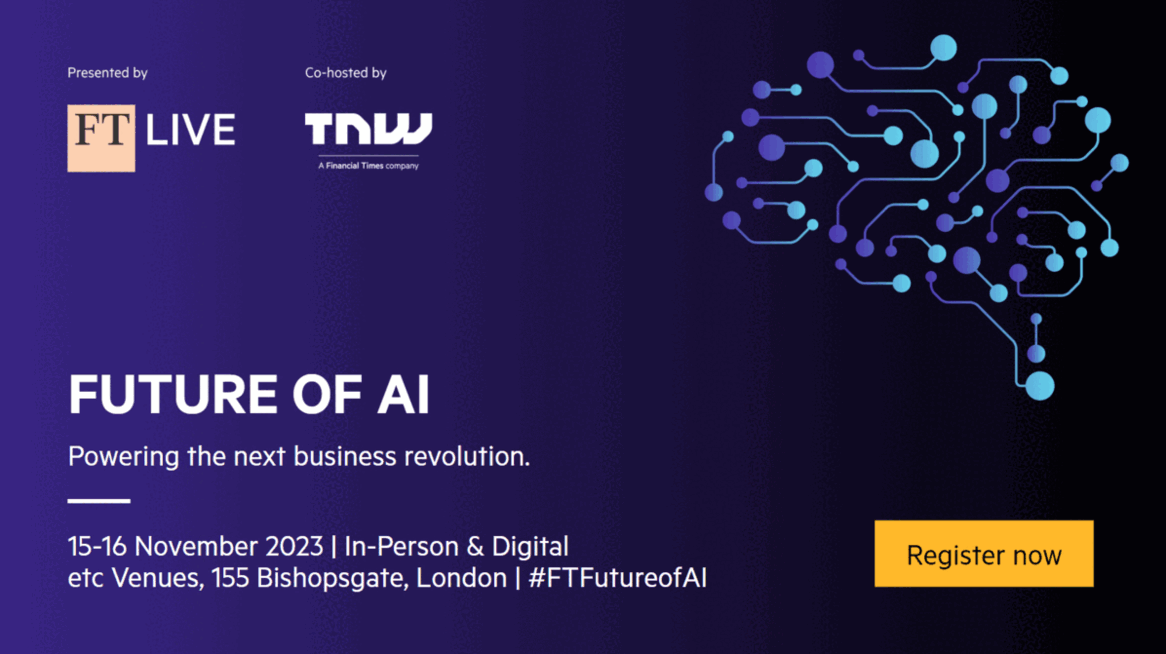 5-16 November 2023
Powering the next business revolution
In-Person & Digital | etc Venues, 155 Bishopsgate, London | #FTFutureofAI
Don't get left behind
Everyone is talking about AI. The launch of ChatGPT in November 2022, an easy-to-use interface that generates original content in a matter of seconds, has crystalised its potential. Advocates predict it will revolutionise business operations, bring major productivity gains and hard-to-compete-with advantage. Its critics cite ethical concerns, worries about scaling bias, and the impact of AI on jobs. Will AI live up to its promise? Discover what all the fuss is about and properly evaluate the AI opportunity at our flagship Future of AI.
How is AI being used to boost productivity and profits? Should you invest in AI tech now, or would it be better to wait? Is it better to develop in-house talent to build AI capability, collaborate with a specialist AI partner, or outsource it entirely? How do you achieve company-wide commitment to making AI the backbone of your business? Are your customers ready? Have you got the right governance structures in place? Get the big picture as well as clear lines of sight from early adopters on how best to explain, apply, govern, integrate, scale, and commercialise AI, wherever you are on your AI Journey.
Featuring:
In conversation: The AI Divide – Will data inequality destroy healthy competition? (16 Nov 2023)
Generating AI's game-changing future products and services requires large quantities of data, which may create a market problem. How do smaller companies that can't afford big data sets compete? Are there cheaper ways to develop large language models (LLMs)?
Amanda Brock, CEO, OpenUK
Seth Dobrin, Member of the Board, AI Governance Board, former Chief AI Officer, IBM
Moderator: Murad Ahmed, Technology News Editor, Financial Times
Register now

Register now url for Future of AI Summit 2023