State of Open: The UK in 2022 – Report Launch Videos
State of Open: The UK in 2021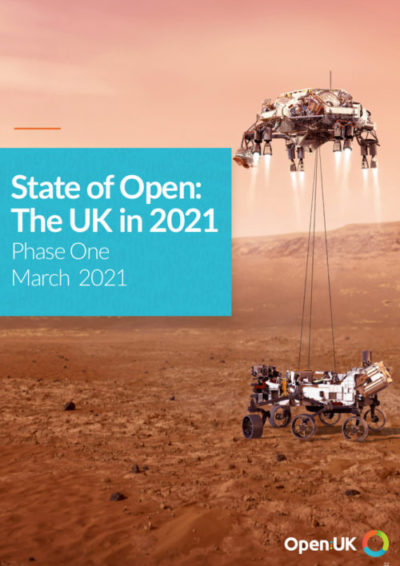 State of Open Phase One
Literature overview of the State of Open, using existing materials including the soon to be published European Commission report, Harvard and Linux Foundation, CNCF, IBM and Red Hat Cloud reports and Tidelift report along with interviews.
Key Findings: The UK is a centre of excellence in open source software;  open source software contributes up to £43.1billions to the UK economy; and the UK is Europe's number one contributor and one of the biggest contributors to open source software in the world.
Phase One was sponsored by GitHub, Open Invention Network and SUSE.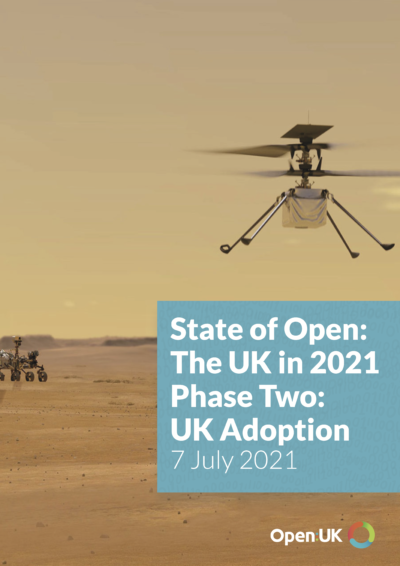 State of Open Phase Two
Survey undertaken across UK Business and Industry in Q2, 2021, with output and case studies.
Key Findings:97% Of UK Organisations Use Open Source technologies and 89% run opens source software, According To OpenUK Survey; 53% of non-tech organisations contribute to open source software projects; 77% of UK public sector looks to open source for skills development; and Just over half (54%) have written policies and processes for open source contributions 
According to the report's research, the vast majority of respondents (89%) run open source software internally in their business, while approximately two thirds (65%) contribute to open source software projects. This demonstrates the commitment that the UK has to  contributing to open source, either through leading projects that are used internationally or by helping international projects to improve.
The main reasons for adopting open source were cited as saving on costs (75%), more collaboration (72%), skill development (64%), the quality of code (61%) and security (52%). 
Phase Two has been sponsored by GitHub.
State of Open: The UK in 2021, Phase 2 and Survey interview of Dr Jennifer Barth by OpenUK CEO, Amanda Brock
State of Open: The UK in 2021, Phase 2
Case Studies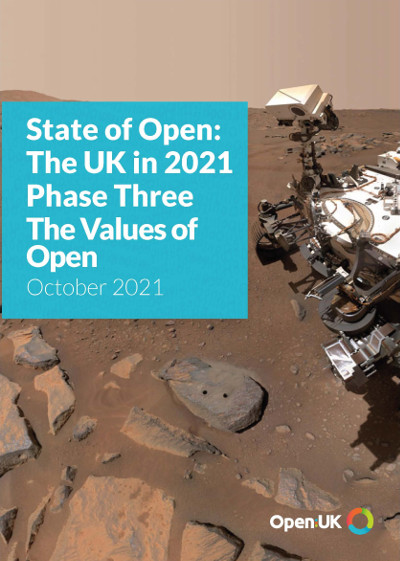 State of Open Phase Three
Key findings: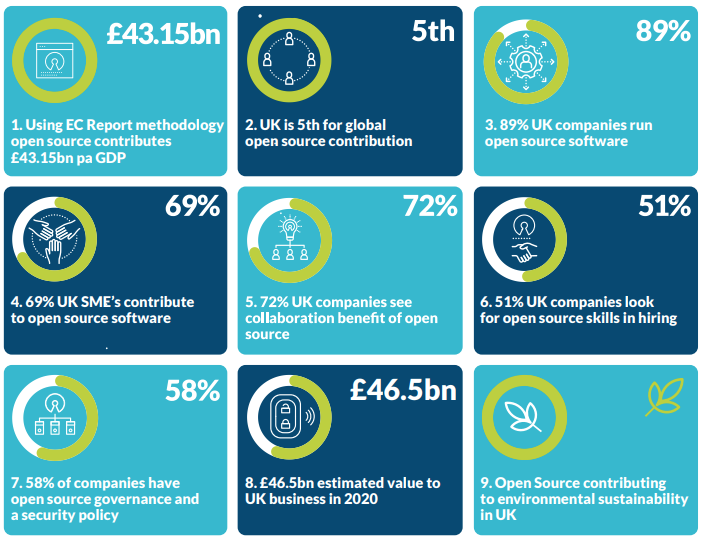 This Report has been produced on behalf of OpenUK by Smoothmedia.
Jennifer Barth Research Director, Smoothmedia.
State of Open: Phase 3 interview with Rob McQueen, Board Director, OpenUK and Jennifer Barth, Director of Research, Smoothmedia
State of Open: Phase 3 Case Studies

About Smoothmedia
Smoothmedia  is OpenUK's Report Partner and works closely with the team at OpenUK led by CEO and Chief Policy Officer, Amanda Brock.  Its mission is to share and grow knowledge about everyday lives. We want to understand the past, present, and future of human interaction with emerging technologies and socioeconomic changes—from behaviour to context, nature to nurture, origin to experiences—so we can help our clients engage their clients and the public imagination.
Dr Jennifer Barth is an experienced ethnographer and social researcher, with a DPhil from the University of Oxford. Her work is informed by empirical research on the intersections of emerging technologies and socioeconomic change. She provides companies with thought leadership and media engagement opportunities on global issues impacting and shaping our current and future socio-cultural lives.