How the Department of Defense moved to DevSecOps to move at the pace of relevance
13 July 2022 : 3:00 pm

-

4:00 pm

Free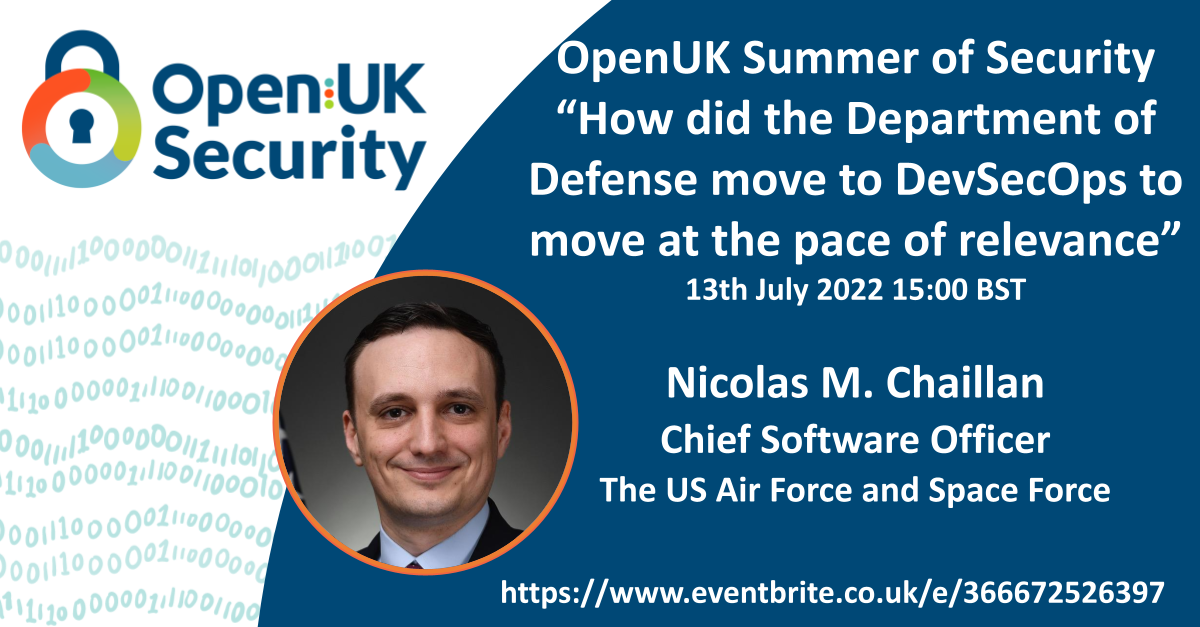 Former U.S Air Force and Air Force Chief Software Officer – Departed October 2021
Mr. Nicolas M. Chaillan was appointed as the first Air Force Chief Software Officer (CSO), under Dr. William Roper, the Assistant Secretary of the Air Force for Acquisition, Technology, and Logistics, Arlington, VA. He was also the Co-lead for the DoD Enterprise DevSecOps Initiative (DSOP) with the Department of Defense Chief Information Officer. As the Air Force's former senior software czar, Mr. Chaillan was responsible for enabling Air Force programs in the transition to Agile and DevSecOps to establish force-wide DevSecOps capabilities and best practices, including continuous Authority to Operate (c-ATO) processes and faster streamlined technology adoption.
The Chief Software Officer worked with the Program Executive Officers (PEOs) and was responsible for analyzing current software and cloud migration plans to avoid vendor lock-ins while allowing for rapid prototyping and a streamlined process for deployment. To keep up with the pace of technology, Mr. Chaillan evaluated and authorized new commercially available off-the-shelf software and cloud-related technologies to help with their adoption across various AF programs based on their mission needs.
Mr. Chaillan was the Special Advisor for Cloud Security and DevSecOps at the Department of Defense, OSD, A&S and Special Advisor for Cybersecurity and Chief Architect for Cyber.gov at the Department of Homeland Security. He designed the new robust, innovative and holistic .Gov cybersecurity architecture (Cyber.gov) that mitigates cyber threats by leveraging best practices and implementable solutions with minimal impact to workforce efficiency.
In addition to his public service, Mr. Chaillan is a technology entrepreneur, software developer, cyber expert and inventor. He has over 19 years of domestic and international experience with strong technical and subject matter expertise in cybersecurity, software development, product innovation, governance, risk management and compliance. Specifically, these fields include Cloud computing, Cybersecurity, DevSecOps, Big Data, multi-touch, mobile, IoT, Mixed Reality, VR, and wearables.
Mr. Chaillan is recognized as one of France's youngest entrepreneurs after founding, WORLDAKT at 15 years of age. Mr. Chaillan founded 12 companies, including AFTER-MOUSE.COM, Cyber Revolution, Prevent Breach, anyGuest.com, and more. Over the last eight years alone, he created and sold over 180 innovative software products to 45 Fortune 500 companies. In addition, Mr. Chaillan is recognized as a pioneer of the computer language PHP.
He is a sought-after adviser and speaker, and participates in multiple industry conferences and has experience working in close collaboration with many Fortune 100 companies and the U.S. Government.