OpenUK London #9: Platform Engineering
21 November : 6:00 pm

-

9:00 pm

Free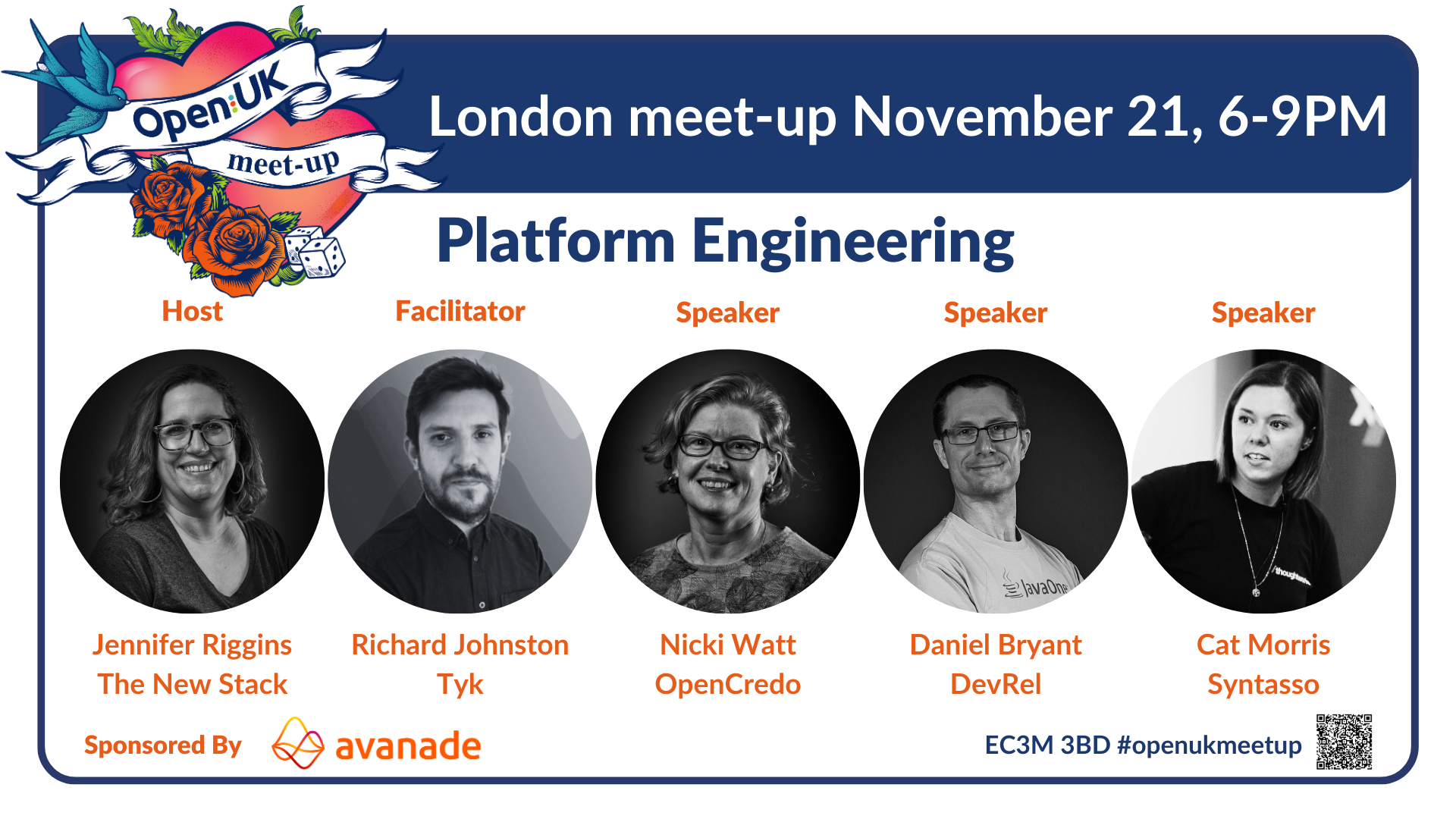 Join OpenUK on Tuesday 21 November for our ninth OpenUK community meetup! We will talk about the hot topic of 2023: platform engineering! How do we use it to do more with less? To increase developer productivity? To facilitate a conversation between engineering and business? How do we create a product that our internal devs actually want to use? How do you find your minimal viable platform? How do you measure the developer experience?
6:30pm: Arrive, grab a bev, a slice and a chat.
7:15pm: We will kick off with a panel on the state of platform engineering with OpenCredo's Nicki Watt, DevRel Daniel Bryant, Syntasso's Cat Morris, all who have been there, done that (will be live-streamed)
8:00pm: Breakout Platform-as-a-Product workshop, facilitated by Tyk's Richard Johnston (We can do a virtual breakout too!)
8:45-9pm: Raffle winner announcement, cleanup and goodbyes.
Every attendee – online or in person – can choose to put their name forward into a prize draw to win a free ticket to the Second Annual State of Open Con taking place on 7-8 February, 2024, in central London. So this won't be a night to be missed!
Please remember to bring your I.D. if you are attending in person, as it is required to access the venue.
Thank you to our sponsors Avanade for providing this great space!
By attending this or any OpenUK event, you are adhering to our Code of Respect and OpenUK's Competition Policy. Please read ahead.
If you would like to hear more about OpenUK's other events, you can join our Newsletter.
Register now

Register now url for OpenUK London #9: Platform Engineering