OpenUK London Meetup #8: Future of Open Source in 2024
24 October : 6:30 pm

-

9:00 pm

Free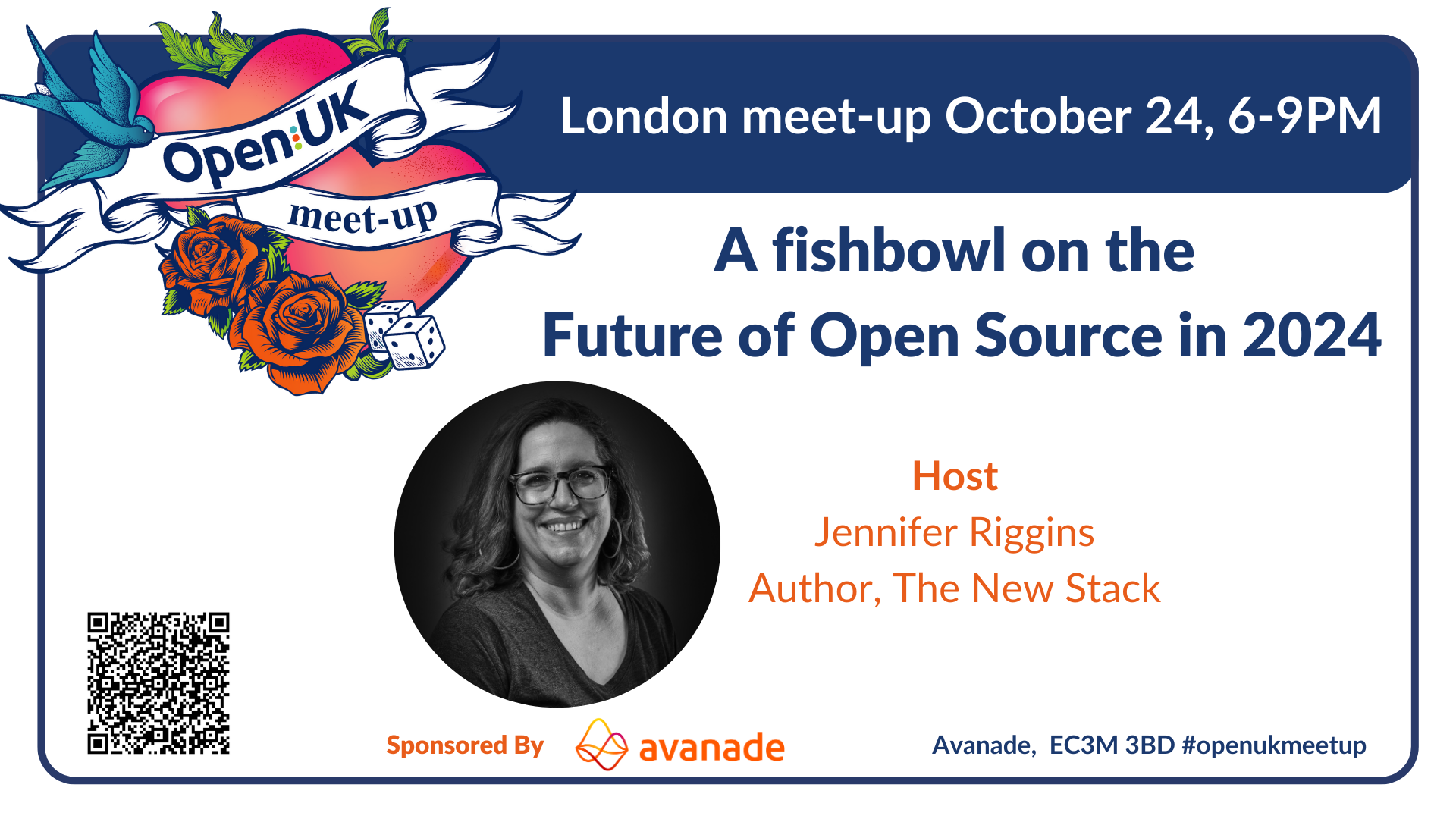 Join OpenUK on Tuesday 24 October for our next OpenUK community meetup, which has us starting to think about what we want open source to look like in 2024. What roles are needed?
How can we create stronger communities? Any project goals? Anything the OpenUK community can help with?
We wont have a speaker at this event as it's a fishbowl and this is your opportunity to swim in our bowl and share your thoughts on the future of open source software.
Every attendee – online or in person – can chose to put their name forward into a prize draw to win a free ticket to the Second Annual State of Open Con taking place on 7-8 February, 2024, in central London. So this won't be a night to be missed!
6:30pm: Arrive, grab a bev, a slice and a chat.
7:30pm: We will kick off with a couple ice breakers and then jump right into the main event.
7:45pm: The main activity format will be a fishbowl:
five seats at the front of the room, with one always empty.
If a fifth sits down, one of the others gets up. A continuous discussion that flows around a topic. Anyone is welcome to jump right into the "bowl" at any time with questions, topics or responses.
(Live stream will also allow remote joiners to participate)
8:45-9pm: Raffle winner announcement, cleanup and goodbyes.
Everybody is also welcome to join online.
We will even have a computer ready to fill that fourth seat if online participants raise their hands to join the discussion. (Log-in details will be sent out to all attendees the night before.)
Please remember to bring your I.D. if you are attending in person, as it is required to access the venue.
Thank you to our sponsors Avanade for providing this great space!
By attending this or any OpenUK event, you are adhering to our Code of Respect and OpenUK's Competition Policy
Please read ahead.
If you would like to hear more about OpenUK's other events, you can join our Newsletter.
Register now

Register now url for OpenUK London Meetup #8: Future of Open Source in 2024