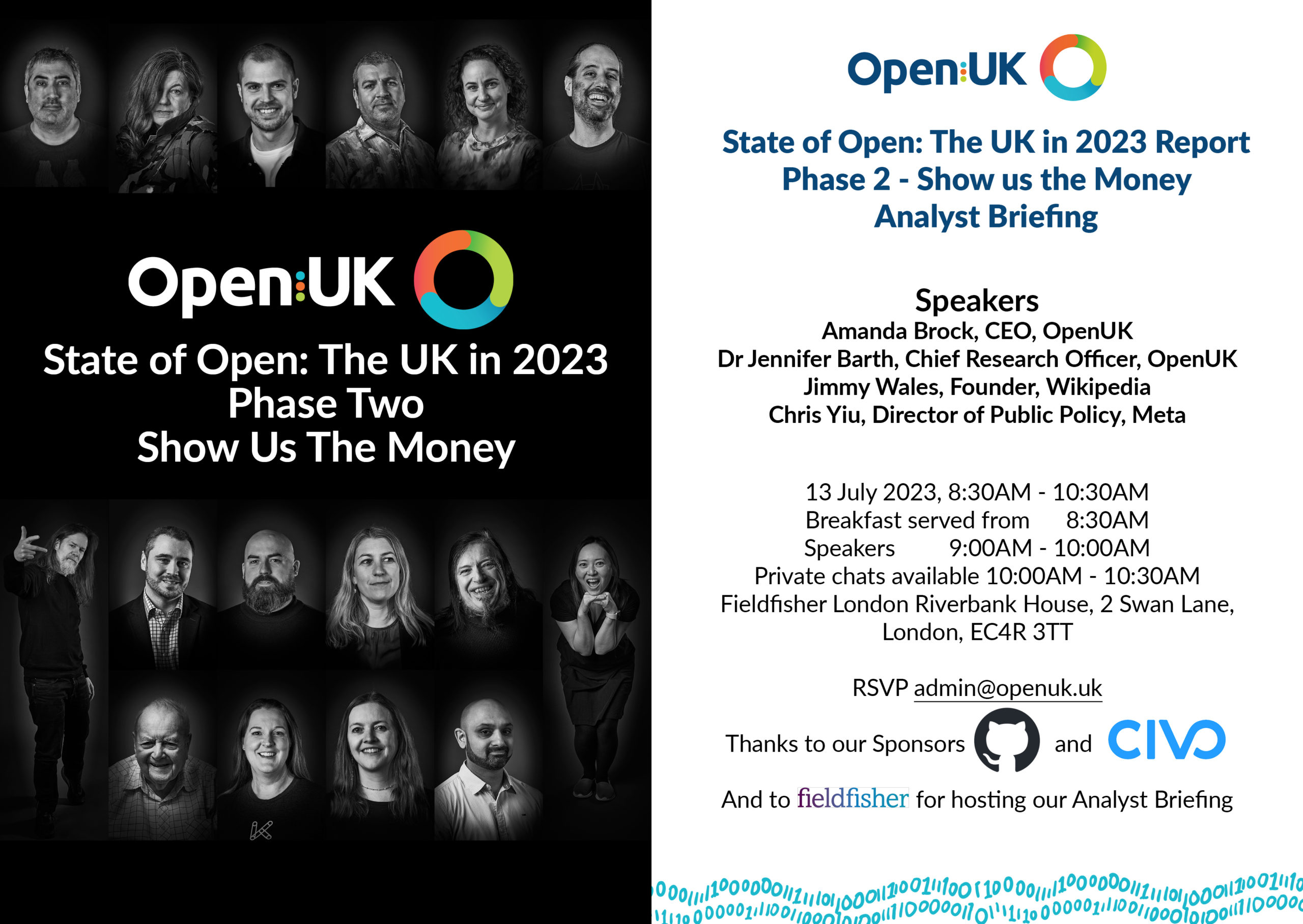 We have not one but two parts to our State of Open: The UK in 2023 Phase Two Report, sharing our survey output, interviews and thought leadership.
We launched these on 13 July with an analyst briefing, with our friend Jimmy Wales, Founder of Wikipedia and Chris Yiu, Meta's Director of Policy speaking to analysts and press alongside myself and Dr Jennifer Barth.
An AI update in July 2023 was something more than we could have foreseen when we scoped the report early this year and we have split this section out into a second discrete report to allow it the space it deserves. Please share our reporting widely, https://openuk.uk/stateofopen/
State of Open: The UK in 2023, Phase Two "Show us the Money"
Part 1: The Economics of Open Source Software:
Survey output on the economics including:
Open Source Software businesses contribute £14.59bn in GVA in 2022  – 27% of UK tech
UK businesses plan to invest up to £322.6m in the next 12 months
Interviews from Founders including Snyk's Guy Podjarny, Weaveworks' Alexis Richardson, and OpenUK Entrepreneur in Residence and Jetstack Founder, Matt Barker, along with a Thought leadership piece on why Open Source scales in the Bay Area by British founder and Managing Partner of the VC, Heavybit, Tom Drummond demonstrate the UK's investor understanding of open source software is improving.
Read our exploration of why open source software businesses are the "Submarine under the UK Digital Economy" and the factors that have caused them to take US investment, scale in the US and sell to the US. Time for the UK to claim this sector!
We also include data on the UK's top repos developed by Runa Capital.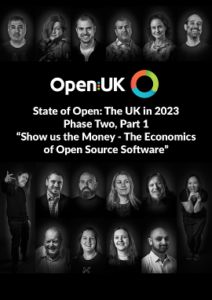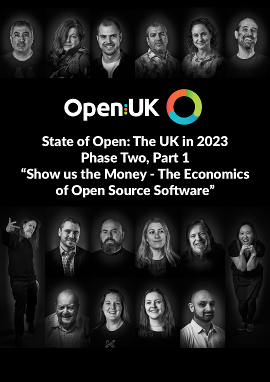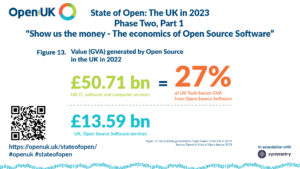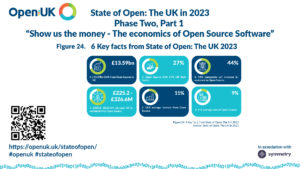 Part 2: Openness in AI
Bringing together UK and International "Open" thought leadership on the place of open source software, open data and open innovation in AI.
With the UK's Turing Institute and Tony Blair Institute for Global Change, writing about the place of open in AI along side the Open Source Initiative as they launch their call for papers and consultation on the meaning of Open Source AI. The UK's place as a leader in AI, Open Source Software and open data leaves it uniquely placed to lead in this space.
Read about OpenUK's engagement with this process in the UK and watch out this autumn for more on "AI openness."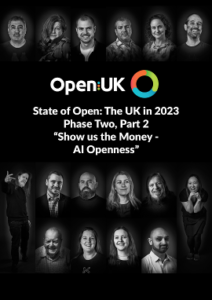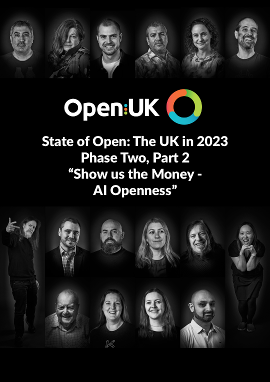 Turing Institute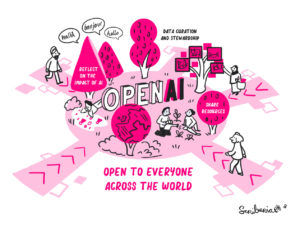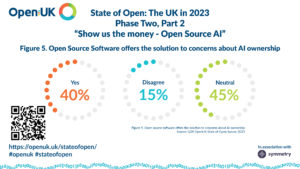 State of Open: The UK in 2023 Report Launch
We will share some of the press reporting from this launch as it becomes available.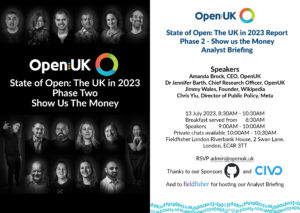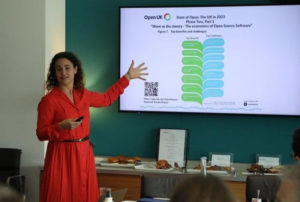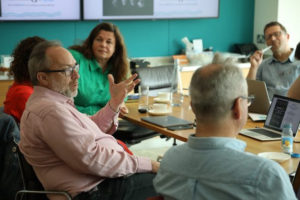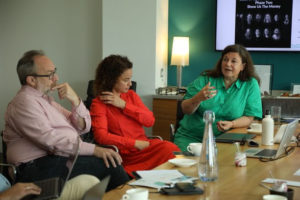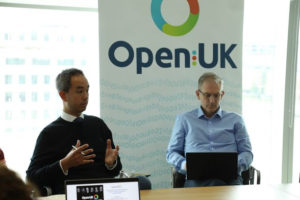 Press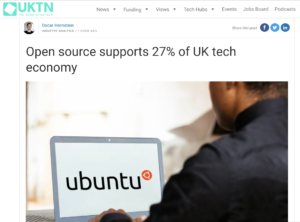 UKTN reports on OpenUK report launch, with 27% UK Tech GVA from open source
This press article talks about State of Open: The UK in 2023, Phase Two "Show us the Money" reports. Amanda Brock, CEO of OpenUK, was quoted in this article.
Read More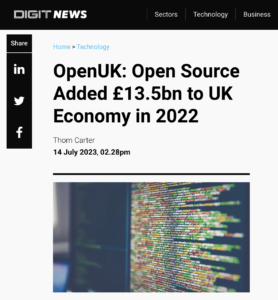 Digit reports on OpenUK's Report launch and open source contribution to digital economy
State of Open: The UK in 2023, Phase Two, Part 1: Show us the Money — The Economics of Open Source Software Report was mentioned in this press article.
Read More


Andrew Martin and Amanda Brock discuss open source and OpenUK's report at Dark Matter Cloud Anonymous
Phase Three – "Skills or bust" will be launched on 6 September at Civo Navigate, focusing on Skills, Future of work and Security
I hope you will enjoy the report and appreciate your supporting it today and over the days to come on social media and by sharing it across your communities, newsletters slack channels etc.
Cheers,
Amanda
Amanda Brock
CEO, OpenUK