OpenUK Awards Shortlist 2021
Belonging: 
Pride at SUSE – Rob Knight
Red Hat B.U.I.L.D UK&I – Ally Koua
Endless Compute
Data: 
Open Knowledge Foundation
Viæ Regiæ project
Code the City
Hardware: 
Lime Macro
Gatecat
DevTank, HILTOP – Tim Telford
Finance: 
Starling Bank
Wise
Software: 
Royal College of Paediatrics and Child Health – Alex Brown
The Herald Proximity Project
Open Health Hub
Sustainability: 
The Turing Way
Icebreaker One
DevTank, Open Smart Monitor – Tim Telford
Individual: 
Catherine Stihler
Kevin Mayfield
Cheryl Hung
Young Person:
Lowena Hull
Samuel Van Stroud
Paul Ogbonoko Owoicho
Awards Timetable
7 May 2021: Nominations opened
27 June 2021: Nominations closed at 11.59pm
28 July 2021: Short list published
11th November: Awards presentation. All short listed nominees will be invited.
With special thanks to our Media partner at The Stack
Nominations are now closed
Nominations could be submitted until 11.59pm on 27 June 2021 and all nominations are subject to confirmation of acceptance of the nomination by the nominated individual, project or company and compliance with our awards requirements and terms and conditions.
Nomination advice
Please read carefully before submitting nominations
Nominations in more than one category are welcome.
Self nominations are welcome and encouraged.
Please confirm that either:

the individual nominated has been resident in the UK for the 12 months prior to 5 May 2021; or
significant contributors to any project nominated have been resident in the UK for the 12 months prior to 5 May 2021:
or any company nominated is or has a subsidiary company registered in the UK.

When nominating for the category of Young Person please confirm that the individual nominated meets the age requirements.
All nominations must be UK resident for the previous 12 months either as individuals or significant individuals within the project, organisation or in the case of a business registered in the UK as above.
Awards Ceremony
COP26 – Hermes Skypark Fringe and Digitally,
11 November, 6-8pm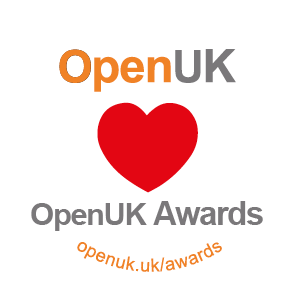 Winners of Awards 2020, First edition
Young Person • Josh Lowe
Individual • Liz Rice
Financial Services and Fintech in Open Source • Parity
Open Data • National Library of Wales
Open Hardware • LowRISK
Open Source Software • HospitalRun
Visit the Awards 2020, First edition page