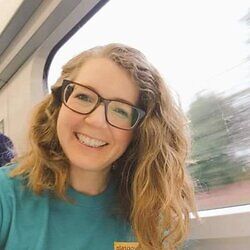 Ashley Nicolson
Head of Community, SalesAgility
Ashley Nicolson is the Head of Community at SalesAgility, the maintainers of the open source software SuiteCRM. She began her career as a software engineer where she found her passion for collaborating and contributing to online open source projects. She has experience in creating and implementing community strategy, organising community events and teams, as well as being a key liaison between the community and projects' roadmaps. 
As well as her working commitments she also organises and participates in other open source projects. In 2019 she co-founded and continues to lead Scotland Open Source Users Meetups (SOSUM). This led her to launch the Scotland Open Source podcast which she hosts. Ashley has also contributed to the Open Source Way guidebook as an author to the chapter "Community Manager Self-Care". 
In 2020 Ashley was selected as one of the finalists for the 2020 Red Hat Women in Open Source award for her involvement in her current communities, as well as her help delivering educational activities on open source. She has visited and taught over 100 Scottish primary school children on open source participation and technologies in 2020. 
Ashley has aspirations to increase girls' computer science enrolment with the evangelism of open source within schools and its importance in education. She also often blogs from time to time.