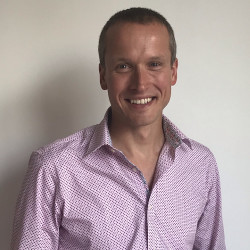 Chris Baynham-Hughes
Customer Innovation Advocate for Red Hat Open Innovation Labs in EMEA, Red Hat
Chris Baynham-Hughes is the Customer Innovation Advocate for Red Hat Open Innovation Labs in EMEA. He is passionate about discovering and establishing better ways of working for teams, organisations and leaders. Chris maintains that the key to unlocking potential within these groups is first to ensure a shared purpose and vision, to nurture that within a psychologically safe environment and to use Open practices that address the challenges faced; in short, it's culture first.
He has over 20 years in the game, working across all areas of IT from engineering to strategy and delivery of transformational change that sticks. Chris believes the next organisational paradigm is Open and, whilst there is place for both, places greater value on resilience and sustainability than operational efficiency.
He is a Husband, father of two boys and is often found running and swimming his way across mountain landscapes.