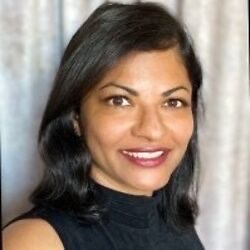 With 20+ years of industry experience, Fahmida leads ESG (Environmental, Social and Governance) initiatives for ITRenew, Inc specializing in a global circular economy model for data centers. She spearheads cross-functional efforts to assess supply chain carbon footprint, ESG innovations, and best practice integration across the lifecycle of IT hardware for ITRenew, its global hyperscaler partners and their downstream markets. Her passion for a circular and sustainable economy in the IT sector stems from her early career with Siebel Systems, deep experience in integrating ESG criteria in institutions, and her capacity to create frameworks for decarbonizing complex systems.
Prior to returning to high tech in 2021, Fahmida served as a pioneering practitioner in integrating sustainability in higher Education for 15 years. She directed Stanford University's Office of Sustainability (sustainable.stanford.edu) programs for infrastructure, resource efficiency, assessments, reporting, business digitization, individual engagement, and research integration to foster 'university as a living lab'. During her service, the university earned a Platinum rating, ranking 1 out of 940 institutions, through the national Association for the Advancement of Sustainability in Higher Education (AASHE). Fahmida is a guest Lecturer at Stanford University and mentor to countless student researchers. Before Stanford, she was the founding director at UC Berkeley, where she built its first climate action program and a model for the University of California system.
Fahmida earned a B.A. in Economics from Smith College and a Master's in Environmental Science and Management from the Bren School at the University of California, Santa Barbara. Her early career apprenticeships include positions at the National Oceanic and Atmospheric Administration (NOAA) and Lawrence Berkeley National Laboratory (LBNL).