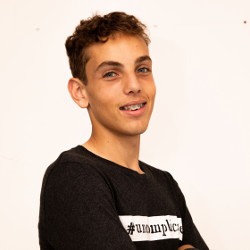 Femi Owolade-Coombes
Femi Owolade-Coombes is an international keynote speaker on Future of Work, young entrepreneurs and diversity & inclusion. He has represented British Young Tech Talent at the Inaugural Global Tech Advocates Festival, in China and on behalf of the Department of International Trade at the UK-ASEAN Business and Investment Summit 2019.
Recently, he co-founded the Tech London Advocates:Young Entrepreneurs working group, to inspire, support and connect young entrepreneurs and innovators by building an inclusive ecosystem, working towards the United Nations' sustainable development goals, to facilitate and promote young entrepreneur networks globally.
Femi, aged 15, has been sharing his passion for coding since he was 9 years old, when he co-founded South London Raspberry Jam, running Tourette's Syndrome and Autism friendly coding events in grassroots communities within South London.
In 2019, he was commissioned to develop a coding curriculum for Red Hat's CO.LAB programme for girls.  He was named on the Independent's Happy List 2018 and was recognised as one of the London Tech Advocates 25 Under 25s rising talents in 2019.
Presently, Femi has been exploring air quality sensors and developing environmental hacks to empower young people to investigate their local air quality and what they can do to improve it. This initiative began during lockdown in partnership with Brilliant Labs in Canada, Nova Scotia and was subsequently developed for the Power To Change – Reimage Now exhibition at the Tate Modern. Femi will be bringing his findings and a unique environment hack workshop to COP26.