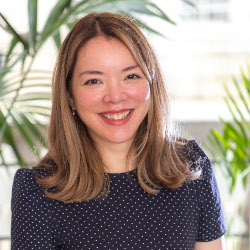 Lucy Yu
CEO, Centre for Net Zero
​​Lucy Yu is CEO at Octopus Energy's Centre for Net Zero, Non Executive Director at the Connected Places Catapult, and a Senior Advisor to Voi Technology. Lucy has nearly 20 years' experience building tech ventures and developing tech policy and regulation for governments around the world. She has led operations, commercial, policy and research functions for several high-growth, globally-renowned tech start-ups including two unicorns. Lucy has been named a Financial Times Top 100 Most Influential BAME Leader in tech (2019) and one of Diversity UK's Top 5 Leaders in GreenTech (2021).
Lucy's work has focused on sustainability and renewable energy; future mobility and the built environment; artificial intelligence; open data and open source; regulating high risk technologies; and the social impact of disruptive technology. She has written extensively on these topics for the tech press and peer-reviewed journals, and has spoken widely including for Wired and SLUSH.
Her previous roles include executive positions at SwiftKey (exit Microsoft); Cucumber (exit SmartBear); Five (autonomous vehicles); and policy roles at the Cabinet Office, Department for Transport, the UN's International Telecommunication Union, and the UK government's Centre for Connected and Autonomous Vehicles (CCAV).
She is an Associate Fellow of Technology and Public Policy at the Tony Blair Institute for Global Change; former tech sector representative on the City of London Transport Strategy Board; a Director at the Institute for Ethical AI and Machine Learning; and has previously served as a Non-Executive Director of Ada – the National College for Digital Skills. She is a trained scientist and holds a degree from Imperial College specialising in computational and physical chemistry.