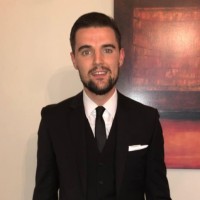 Marc is currently the Associate Director for Ekosgen. Established in 2002, Ekosgen are one of the UK's leading independent companies providing economic and social research, analysis and consultancy advice. Our clients are from the public, private and third sectors. Our services range from research and policy advice, through to project appraisal, impact assessment and evaluation.
Our approach is to work in partnership with our clients. We aim to be their consultant of choice for expert advice, timely support, innovative thinking and realistic, affordable and workable strategies and plans. We support our clients to improve performance, access funding, develop strategic plans, meet reporting requirements for government organisations, agencies and funding bodies, and provide strategic, operational and action-oriented support.
Prior to Ekosgen, Marc was the Head of Research and Policy for ScotlandIS. ScotlandIS builds, supports, and enables the digital technology ecosystem in Scotland. They are at the heart of Scotland's digital economy, shaping, changing and driving it forward. They work with members and partners to support the wider digital transformation of business and society. Marc spearheaded all Research, Policy and Public Affairs activity for ScotlandIS to Ministers, senior Civil Servants, Academics and private sector leaders.
Marc's expertise is in Policy and Public Affairs with experience in the public and non-governmental sectors. He is skilled in Research, Political Analysis, Stakeholder Management and managing SPSS data.
Marc began his career in the UK Civil Service as a Project Professional for the Ministry of Defence. During this time, he worked in the Policy and Risk Management functions of the organisation.
Whilst working at the Scottish Council for Development and Industry, Scotland's leading Economic Development Agency, Marc fostered a number of relationships with key partners and stakeholders to develop commercial opportunities in the Policy and Public Affairs team. Marc was part of a strong SCDI policy team which was respected at the highest level of both the UK and Scottish Government.
An energetic and dynamic individual, Marc has a strong track record of delivering on policy reports ranging from aviation, clean growth, productivity challenges and digital. Marc also leads by example within a team and is a strong advocate for team-working and collaboration.
Marc holds a Master's with Merit Postgraduate degree from the University of Edinburgh in US Foreign Policy.
Outside of work, Marc enjoys football, traveling and cooking.