Open Technology for Sustainability Day
14 Sept 2023
Location: Dynamic Earth Holyrood Road Edinburgh EH8 8AS
Keynotes: Salem Avan (Director of Policy Strategy and Governance Division, United Nations)
CFP will run 9-31 May and speakers will be notified by 19 June
Register for Tickets
---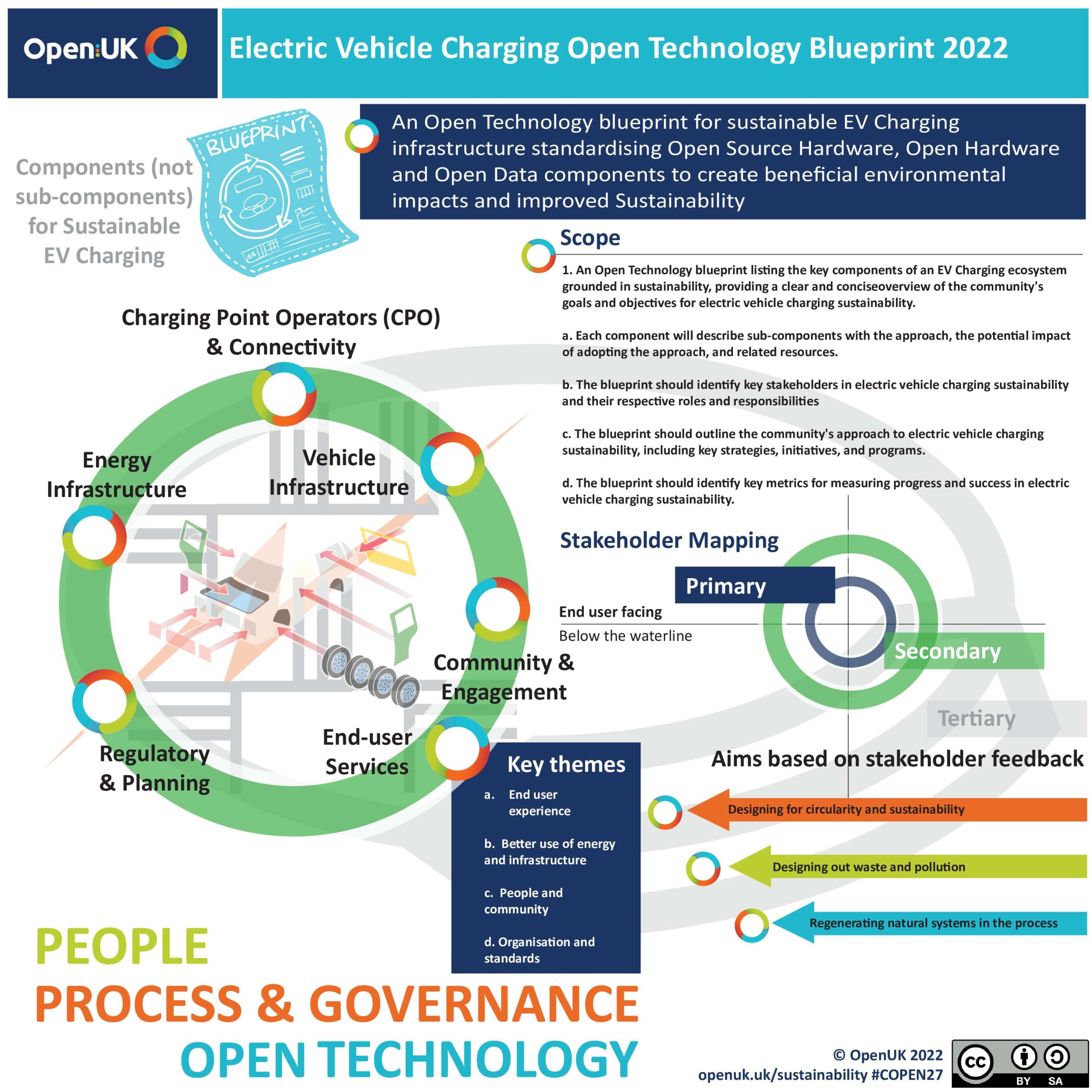 Open Technology EV Charging Blueprint
This Open Technology Blueprint brings together multiple technology and policy areas around the development of the electric vehicle (EV) charging sector, and was announced at the Open Source Summit Europe conference in Dublin during a keynote presentation.
This is the second Open Technology Blueprint from OpenUK, following on from the Data Centre Blueprint released in 2021 alongside the COP26 conference on climate change. The EV charging blueprint aims to bring together the different areas of the sector into one coherent approach including:
Charging Point Operators (CPOs) and Connectivity – these organisations provide the chargers to EVs in multiple locations

Vehicle Infrastructure – this includes the EV charging and battery installations within vehicles

Energy Infrastructure – this covers the power infrastructure used to supply electricity to charging stations at scale across the grid

Community and Engagement – this covers the work between organisations, companies and communities across the EV market

End-User Services – this covers the development and deployment of complementary services alongside charging infrastructure, as well as services supplied to users based on EV data

Regulation and Planning – this covers the work by governments to support and standardise support for EV charging infrastructure and standards nationally and internationally 
By creating an open technology approach that standardises access and support, the blueprint will connect up the different areas of EV charging around networking, charging points, services and complementary opportunities. By using this open approach, it will help companies to collaborate and work together effectively. This initiative will be led by Chris Lloyd Jones as Chief Sustainability Blueprint Officer at OpenUK.
"This blueprint will build on the work that  the Open Charge Alliance has done around open source EV charging, and will help more companies in joining the market. It looks beyond the initial charger infrastructure into the open standards and environment that are needed to help build up and support more take-up of electric vehicles through a joined up Open Technology charging infrastructure. Our relationship with the Open Charge Alliance goes deep and the public sector engagement on this project offers an opportunity to have real impact on the EV charging market" said Amanda Brock, CEO at OpenUK. 
The OpenUK EV charging blueprint builds on the work by the Open Charge Alliance in developing the Open Charge Point Protocol (OCPP), a protocol for sharing data between all charging stations in the world to support communication between all cars, charging stations and back office systems in the same way. 
Sustainability Advisory Board
Our sustainability advisory board is made up of industry experts and professionals.
View the Board

Societal

 

Value

 

Metrics

to be shared 14 September

OpenUK's Societal Value Metrics research is being led by Leanne Kemp, Chief Sustainability Officer with an Advisory Board including Professor Anil Madhavapeddy (University of Cambridge), Laura Sandys (Chair, Energy Digitalisation Taskforce), Professor Eleanor Shaw( Associate Principal, Hunter Centre for Entrepreneurship, University of Strathclyde), Max Schulze (Founder, Sustainable Digital Infrastructure Alliance), Elizabeth Allkins (Head of Market Design, OVO Energy) and Lucy Yu (CEO, Octopus Energy Centre for Net Zero).

The Societal Value Metrics research is a novel approach to measuring the non-economic value generated by Open Technology, based on a detailed literature review and data analysis. These metrics link to the United Nations Sustainable Development Goals.

The first version of these metrics will be launched at the Open Technology for Sustainability Day 14 September 2023. This event will take place at Dynamic Earth, Edinburgh.

This event will bring together the leading figures in open source technologies to discuss the progress that has been made on the road to dealing with climate change since COP26 and to shae v1.0 of the Metrics.
COP26
OpenUK hosted one of the most successful events at COP26, its first Open Technology for Sustainability Day. The second will take place in Edinburgh at Dynamic Earth on 14 September and is sponsored by Intel & Open Compute Project.
You can enjoy the videos from all of the COP26 sessions and our photo gallery here.