Sign up to our letter by sharing it on social media with the #OpenUKBelonging
OpenUK seeks Belonging Partners – not for profit organisations who encourage a range diversity and inclusion through their activities –  to be a part of our ecosystem to advance belonging in Open Technology together and sign up to this letter by sharing it on social media. We will launch these partnerships on International Women's Day on 8 March and will support each of the partners throughout the year.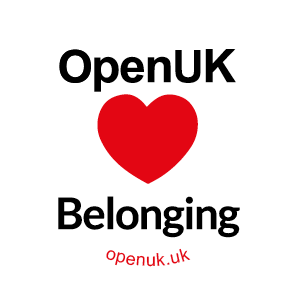 Dear Open Tech Community,
One of life's most urgent questions is what am I doing to support others? We, the community and leadership of OpenUK, see this letter as a duty of activism and care.
We want to emphasise across the Open Technology communities, the magnitude of systemic exclusion and discrimination that continue to exist in society today. As Open Technology (open source software, open hardware and open data) is the engine powering the UK's Digital Economy, each one of us has a responsibility, plays a key part, and must do more, must do better, in eradicating these problems.
Covid-19 and the rapid pace of technology development has increased the urgency for action.
At the start of the pandemic, in 2020, Ofcom estimated 1.8m children were without adequate access to devices, the gap that already exists is widening, with 'less than one in five of UK technology workers being a woman or from a BAME background and only one in 10 having a disability' according to Amali de Alwis, in 2020.
The consequences of digital exclusion include narrow talent pipelines, technology that does not represent the people it serves and the refusal to provide those under-represented groups the opportunity to earn equally and to experience the opportunities that come with technology.
At OpenUK, we work on 3 Pillars. One focuses on building Learning in Open Technology, to inspire confidence and motivation in our children from an early age. Our message is that everyone and anyone can belong to the Open Technology community. This reaches the systemic root of digital exclusion and aims to fulfil our purpose of not only developing but also sustaining UK Leadership in Open Technology.
Although we have supported over 47 schools and over 3000 young people learning digital skills in 2020, we must do more to reach those who remain digitally excluded. Our individual work alone will not be enough. Unless collective action is taken, we will be left with a workforce struggling for diversity, in thought and experience, leading to gaps in
creativity, innovation and ingenuity.
To take a step forward we must remember that the issue is not Black, White or Female. Regardless of ethnicity, gender, religion, creed, colour, age, neuro divergence, socioeconomic status, origin, or sexual orientation – we are people, not labels. Everyone, each of us, should have the opportunity to succeed and feel "a sense of belonging".
We choose the term "belonging" as it represents acceptance and security for each of us. It focuses on people and everyone's innate need to belong. From this point in time, we will focus our attention not on individual groups or certain agendas but to recognise the vital need to accept everyone.
We are counting on you, our Open Technology community to recognise and commit to belonging with us by:
Leading with data; capture metrics, set targets and create accountability
Teaching, inspiring and empowering leaders and a culture that promotes belonging
Paying attention to young people, retention and promotion – not just recruitment
Looking outside to develop a supportive ecosystem and make a social impact
Be courageous. Take action. Be the change you want to create.
Sign up to the commitment in this letter and help OpenUK lead the Open Tech community into a brighter future.
We are counting on you. But more importantly future generations are too.
Please consider joining us by
to support our mission of UK leadership in Open Technology – an
outward looking and collaborative goal
List of Valentine's day signatories to the #OpenUKBelonging Letter
Adrian O'Sullivan
Sponsor, OpenUK
Adrian Woodhead
Honours List, OpenUK
Alexandria Palamountain
Sponsor, OpenUK
Amanda Brock
CEO, OpenUK
Amy Howlett
Support Manager, OpenUK
Andrei Cioaca
Ambassador, OpenUK
Andy Bennett
Awards Committee, OpenUK
Andrew Back
Honours List and Emerging Telco Group, OpenUK
Andrew Katz
Legal & Policy Group, OpenUK
Andrew Wafaa
Sponsor and Honours List, OpenUK
Anne Todd
Legal & Policy Group, OpenUK
Ashleigh Monagle
Digital Inclusion Lead, OpenUK
Ashley Nicolson
Ambassador, OpenUK
Basil Cousins
Honours List, Lifetime Achievement OpenUK
BCS Open Source User Group
Friend to OpenUK
Blessed Tabvirwa
Awards Winner 2020 and Judge 2021, OpenUK
Bryan Che
Sponsor, OpenUK
Carla Gaggini
Ambassador, OpenUK
Charlotte Lee
Legal & Policy Committee, OpenUK
Chris Kranz
Ambassador, OpenUK
Chris Lamb
Honours List, OpenUK
Chris Simmonds
Ambassador, OpenUK
Christopher Eastham
Chief Legal Officer, OpenUK
Christopher Howard
Ambassador, OpenUK
David Jobling
Awards Committee, OpenUK
Dawn Foster
Board, OpenUK
Deb Bhattacharya
Project Manager, OpenUK
Dominique Top
Ambassador, OpenUK
Ebrahim Bushehri
Honours List Honouree, OpenUK
Eddie Jaoude
Honours List Honouree, OpenUK
Elefteria Kokkinia
Web Designer, OpenUK
Fiona Nielsen
Honours List, OpenUK
Henry Nash
Ambassador, OpenUK
Iain Mitchell QC
Honourary QC, OpenUK
Ian Burgess
Board, OpenUK
Ian Watt
Ambassador, OpenUK
Imogen Heap
Kids Camp Contributor and Double Grammy Award winning Singer and Composer
Jack Kelly
Honours List, OpenUK
Jamie Harper
Chief Partnership Officer, OpenUK
Jason Evans
Ambassador, OpenUK
Dr Jenny Malloy
Honours List, OpenUK
Jeremy Bennett
Awards Shortlist and Honours List OpenUK
Jimmy Wales
Honours List, OpenUK and Founder of Wikipedia
John Laban
Board, OpenUK
Jonathan Riddell
Chair, Awards Group and Honours List, OpenUK
Justin Cormack
Honours List, OpenUK
Kara de la Marck
Honours List, OpenUK
Katie Gamanji
Ambassador, OpenUK
Laura Czajkowski
Honours List, OpenUK
Lex Roberts
Museums Committee, OpenUK
Liz Rice
Ambassador and Individual Award Winner, OpenUK
Lorna Mitchell
Ambassador, OpenUK
Lou Peers
Board Facilitator, OpenUK
Lowena Hull
Kids Camp Intern and Awards Shortlist, OpenUK
Lucy Fox
Chief Business Development Officer, OpenUK
Lucy Yu
COP26 Partner and CEO, Octopus Centre for Net Zero
Magdelena Rzaca
Future Leader, OpenUK
Mandy Chessell
Honours List, OpenUK
Marc Cluet
Honours List, OpenUK
Mark Hambleton
Honours List, OpenUK
Mark Kember
Chieff Communications Officer, OpenUK
Matt Jarvis
Board, OpenUK
Matthew Buck
Kids Camp Animator, OpenUK
May Cheung
CFO, OpenUK
Max Schulze
COP26 Partner and Executive Chairman Sustainable Digital Infrastructure Alliance
Michael Burling
Chief Relationship Officer, OpenUK
Michael Meeks
Honours List, OpenUK
Nick Jones
Ambassador, OpenUK
Olof Kindgren
Awards shortlisted nominee, OpenUK
Pamela Boal
Curriculum Adviser, OpenUK
Paul Barker
Supporter, OpenUK
Paul Taylor
Learning Group, OpenUK
Rehana Soltane
Kids Camp, Creative Director, OpenUK
Ritwik Sarkar
Awards Committee, OpenUK
Robert Grannells
Co-Chair, Future Leaders Group, OpenUK
Rob Knight
Sponsor, OpenUK
Rob McQueen
Board, OpenUK
Rob Taylor
Board, OpenUK
Rochelle Farmer
Legal & Policy Group Member OpenUK
Dr Sara Thomas
Honours List, Open UK
Sami Atabani
Honours List and Legal and Policy Group Member, OpenUK
Serena Ricci
Kids Camp, Media Lead, OpenUK
Shaz Ali
CTO, OpenUK
Simon Phipps
Honours List, OpenUK
Steph Bower
Kids Camp, Voiceover Artist
Steve Helvie
Ambassador, OpenUK
Steve Millidge
Awards Shortlisted Nominee, OpenUK
Stuart Mackintosh
Board, OpenUK
Terence Eden
Board, OpenUK
Tim Davies
Honours List, OpenUK
Tim Pockney
Supporter, OpenUK
Tim Telford
Ambassador, OpenUK
Toby Crick
Legal & Policy Group Member OpenUK
Tomas Lamanauskas
Emerging Telcoms Group, OpenUK
Tumai Hoang
Marketing Manager, OpenUK
VM (Vicky) Brasseur
Advisor, OpenUK
Dr Victoria Betton
Honours List, OpenUK