OpenUK London Meetup September – Open and AI?
September 19 @ 6:00 pm

-

9:00 pm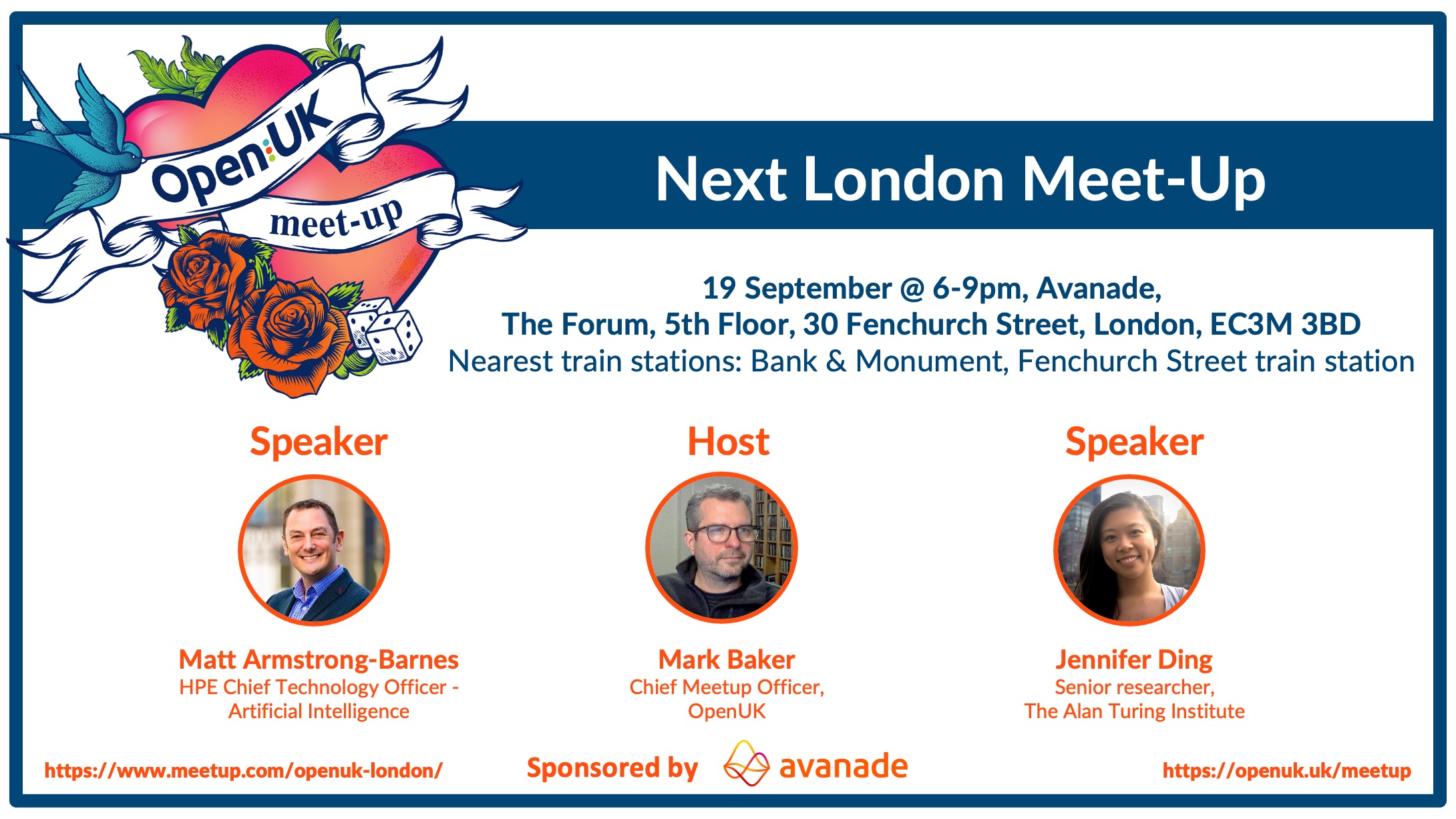 Join us September 19th to discuss the hot topic of 2023: Artificial Intelligence (AI).
AI is much talked about, everywhere from the news, in Parliament, to the boardroom and pubs across the country, but, what really is AI, and how does openness matter with it?
To get things kicked off, Matt Armstrong-Barnes from HPE will present a level set on AI, what it is, who is using it, what it is being used for, and possible directions.
Next Wendy Ding from the Alan Turing Institute and contributor to the recent OpenUK AI Openness Report will discuss the importance of open in AI and why open approaches lead to better results.
Food and drinks will be provided and there will be plenty of time to chat with other attendees and debate with the speakers.
Thank you once again to Avanade for sponsoring the venue and providing the refreshments.
Matt Armstrong-Barnes
As a Chief Technologist at Hewlett Packard Enterprise, Matt has a passion for artificial intelligence and data science.
He has held senior management positions and been accountable for the overall architecture (including Business, Security, Integration and Technology), technical risks, IT strategy, and technology change for customers.
He holds a Degree in Computer Science, with a Masters in Artificial Intelligence. He is a Fellow of the Institute of Engineering and Technology, Chartered Fellow of the British Computer Society, Chartered IT Professional and Chair of Smart Cities at TechUK, and was awarded the title of Chartered Engineer by the Engineering Council.
Wendy Ding
Jennifer Ding is a senior researcher at The Alan Turing Institute, co-leading the Research Application Management (RAM) team. Previously, she was a startup founder and data scientist at several public interest tech companies, creating data products for industry and government partners. She enjoys massaging data big and small, and is a co-founder of London Data Week.
Date: 19 September
Time: 6:30pm-9pm
Please see the pop-up sign in the lobby, sign yourself in, and then enter the door on the left in the ground floor.
Access to meetup
In order to provide visitor passes, we'll need you to have a full name set on your profile and you will require ID in order to sign in.
Refreshments
Drinks will be served at 6:30pm, and food will be served after the first talk.
Dial-in link
Microsoft Teams meeting
Join on your computer, mobile app or room device
Click here to join the meeting
Meeting ID: 239 431 273 213
Passcode: FER3uG
Download Teams | Join on the web
Or call in (audio only)
+44 20 3794 0298,,837403425# United Kingdom, London
Phone Conference ID:837 403 425#
Find a local number | Reset PIN