Publications
Title: An Open Digital Approach for the NHS Part one – Policies, Principles & Practices
Abstract: This report presents published policies and intent supportive of an open approach published by the UK Government, Department of Health, NHS Digital and Apperta as well as in the EU, Asia and the Americas. These are connected to the practices required to implement and measure the application of commodity open source technology practices.
Published: September 2018
---
Title: Short case study: The Value of Open Source – an NHS Perspective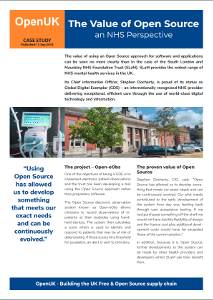 Abstract: The Open Source electronic observation system known as Open-eObs allows clinicians to record observations of in- patients at their bedsides using hand-held devices. The system then calculates a score which is used to identify and respond to patients that may be at risk of deteriorating.
Published: September 2018
---
Title: Professional re-usable software principles for the Public Sector – A practical approach to accessing Free and Open, re-usable software for use in the public sector
Abstract: The intention of this publication is to help the reader understand that these tools are proven, are in every day use, are mature and capable, and to explain how they can be professionally implemented within an organisation.
Published: July 2016
---
Title: Open Document Format Principles for the UK Public Sector (Apperta edition)
Abstract: Implementing flexibility at the fundamental level of document exchange can have a profound impact on Government choice, spending and efficiency. The following sections outline principles, benefits, options and recent experience with the Open Document Format (ODF) 1 : the de facto Open Standard for documents, which is increasingly being adopted by government organisations.
Published: November 2015 (EHI Live)
---
Title: Open Document Format principles for Government Technology (English)
Abstract: The ODF frees documents and data from their applications of origin, enabling them to be exchanged, retrieved, and edited with any ODF-compliant software, database or tool. This is essential for preserving technology choices in government, and the prevention of isolated "ghettos" of Public Sector resources and infrastructure which are incompatible with each other.
Published: September 2015 (11th ODF Plugfest – The Hague)
---
Title: Uitgangspunten van Open Document Formaat voor overheidstechnologie (Dutch)
Abstract: De implementatie van flexibiliteit op een fundamenteel niveau van de uitwisseling van documenten heeft mogelijk grote gevolgen voor de manier waarop de overheid keuzes maakt, geld uitgeeft en efficiënt is. In de volgende paragrafen worden uitgangspunten, voordelen, opties en recente ervaringen met het Open Documentformaat (Open Document Format: ODF) beschreven 1: de 'de facto' Open Standaard voor
documenten, die in toenemende mate wordt overgenomen door overheidsorganisaties.
Published: September 2015 (11th ODF Plugfest – The Hague)
---
Title: Open Document Format principles for Government Technology
Abstract: Open Standards are influencing almost every aspect of modern life from communications to industry and education. Many private sector companies have built their success on these principles and a growing number of Public Sector case studies demonstrate efficiency and cost savings that can be achieved
Published: March 2015 (10th ODF Plugfest – London)
---
"Choose ODF" Illustrations
This illustration was commissioned to help the every-day user understand why it is important that open standards are used. Often, the user assumes that the reasons are technical and that they are not empowered to address the issue.
Working with the OFE, an initial British-English document was published in 2015. The following translations from the original version were provided by contributions from the global community.
To submit a new translation, it helps us if you use our translation spreadsheet, add terms in your language and return the spreadsheet. You can download the template here.
---
Presentations
Title: Emerging acquisition model for professional Free & Open Source software
Presented: 06/04/2016 Medetel Luxembourg
---
Member buttons
Registered Ordinary Members may use a button to help promote OpenUK and indicate a commitment to our organisation.
400x75px
300x56px
300x38px