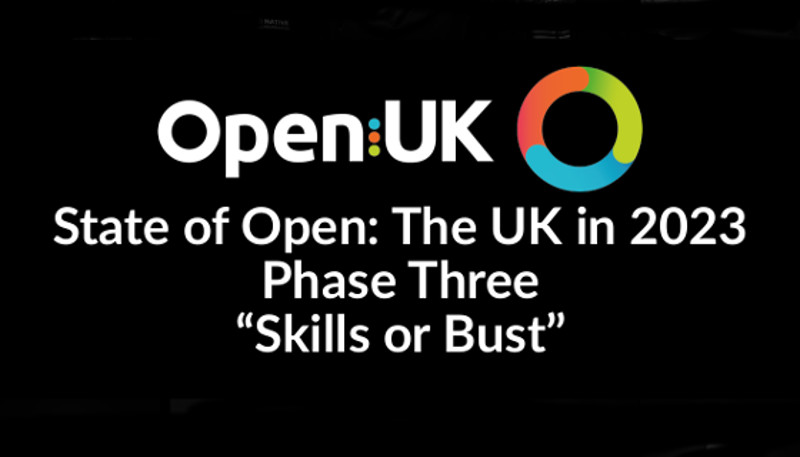 Open UK
21st November 2023
London, UK – 21 November 2023 – OpenUK, the not for profit organisation representing the UK's Open Technology sector, today announced the launch of its Open Source Skills report, State of Open: The UK in 2023: Phase 3 Skills or Bust, analysing open source skills in the UK and harnessing then to drive growth in the UK economy.
Open Source Software is the Submarine under the Digital Economy. It underlies all of our technology ecosystems whether the internet, cloud, AI and ML or blockchain. Building on a focus on the economics of Open Source and UK founded businesses in Phase Two, Phase 3 turns to the people who crew that submarine – the UK's Open Source Software contributors and maintainers.
The report demonstrates the potential for the UK to capitalise further on the benefits of Open Source – which contributed 27% of the UK tech sector Gross Value Added (GVA) in 2022. Leveraging the UK's leading Open Source talent and building the already dramatically growing contributor base will support economic growth across the UK.
Open Source Software presents a huge opportunity to support UK talent with existing coding education enabling them to develop these skills to an employable level, by gaining crucial practical experience through contribution. Individuals gain hands-on experience in bleeding-edge tech by contributing to projects used by UK and international companies. These contributions build a living, public CV on GitHub etc. showcasing their practical capabilities to potential employers.
The report's authors make clear the UK government has an opportunity to support Open Source talent and build out a stronger skilled tech sector here in the UK. Remote working is a norm in Open Source and means that many international companies hire based on skills, not geography. With improved connectivity across the UK this offers employment opportunities to people who hold in-demand skills whether in cities or rural areas. This will only drive growth in the UK tech economy, and secure its future as the 'next Silicon Valley.'
Skills or Bust highlights analyses data on the UK's open source community. Working with data mined from GitHub on a quarterly basis, Runa Capital has provided manually checked facts demonstrating the UK's Open Source Software contributor/ developer community:
3.2m GitHub accounts (4.5% of the UK population)
Contributors spread from Lands End to John O'Groats
31,800 UK contributors to Open Source Projects
8,200 contributors to Open Source Projects last 12 months
1,700 new contributors to Open Source projects in the last 12 months (20.7% growth)
The report also revealed OpenUK's survey insights on demand for tech and open source skills in the UK:
77% companies are seeking Programming skills in the UK
Backend developers are the most sought after role (51% recruited), along with cloud engineers (36% recruited), and development operations engineers (32%)
Backend developers remain the priority for future recruitment (28%), along with cloud engineers (23%) and development operations engineers (16%)
The report identifies three key areas of policy essential in supporting UK tech sector growth:
Fill the gap in the UK talent pool's business skills – left behind by acquisitions and currently starving the UK of business skills needed to commercialise its innovation.
Retain the talent that often takes flight to the US – stem emigration by supporting the development of these skills in the UK and encourage skilled worker immigration.
Train people in the right engineering and dev skills – the UK currently is not and teams lack the practical experience.
"Although the Open Source Software submarine powers our digital economy it's been overlooked by the UK for a decade. The contributors who crew that submarine – the UK-based open source workers – are a respected and influential part of the global tech sector. Many are homeworkers, with in-demand skills that let them work and grow as leaders in that 'global submarine' bringing Bay Area salaries into the UK.
"It's time to surface the submarine and show that with the right focus and investment, we can build this sector out and use the contribution to Open Source projects to develop more skilled workers whilst keeping that talent here in the UK, across our cities and rural areas. This has the potential to stem the historic talent flight to the US which has stunted the UK's success. Collaboratively we can deliver the dream of being the next Silicon Valley." said Amanda Brock, CEO, OpenUK
"The UK is a leading European hotbed of startups and opportunities for VC investors, thanks to its world-class universities, inclusive vibrant tech ecosystem and its smart visa programs such as "Global Talent". There is an abundance of talent and high-growth companies driving forward innovation in many tech areas like AI/ML, next-gen computing, fintech and open source.
The decentralisation of the global tech market, accelerated by the pandemic, has undermined the Bay Area, and handed London the astonishing potential to become the leading global hub for thriving tech companies. But it will require even more attention to nurture and attract talents and capital to these shores,' said Konstantin Vinogradov, General Partner, Runa Capital, based in London.
State of Open: The UK in 2023: Phase 3 Skills or Bust
Contributors for the Phase 3 report on skills include:
Amanda Brock, CEO, OpenUK
Amanda Kamin, Chief Marketing and Communications Officer, Digital Catapult
Elena Samuylova, CEO and Co-Founder, Evidently AI
Greg Kroah-Hartman, Fellow at The Linux Foundation
Guy Podjarny, Founder, Snyk
Ian Massingham, Chief Marketing Officer, Aiven
Kunal Kushwaha, Developer Relations Manager, Civo
Mike McQuaid, CTO and Co-Founder, Workbrew
Dr Rebecca Rumbul, Executive Director and CEO, The Rust Foundation
Full report is available at: https://openuk.uk/stateofopen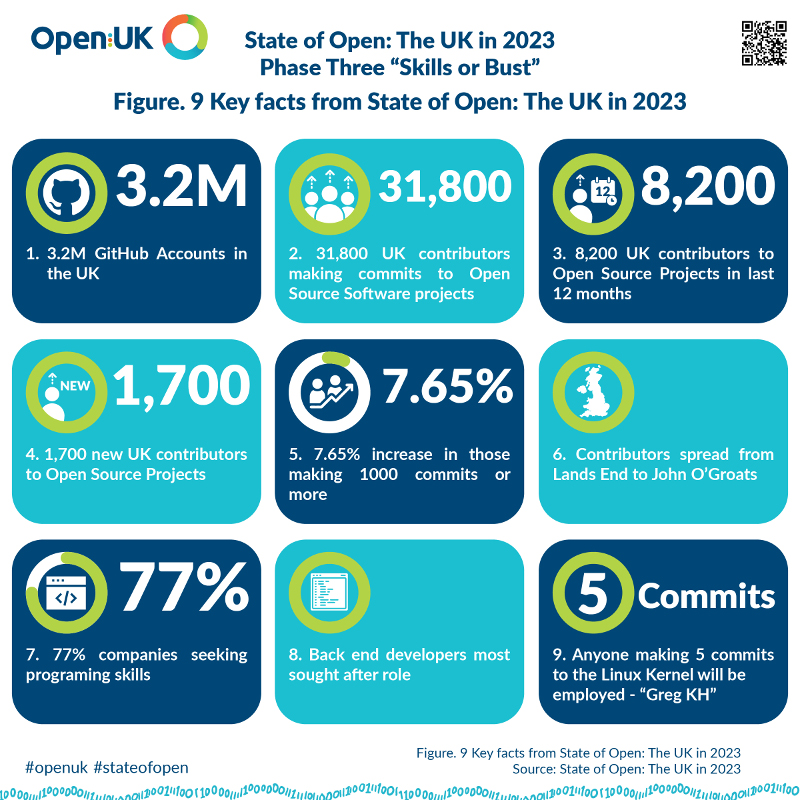 About OpenUK
OpenUK is the organisation for the business of Open Technology, being Open Source Software, Open Source Hardware and Open Data across the UK. Its purpose is UK leadership and global collaboration in Open Technology. OpenUK works on three pillars: Community, Legal and Policy and Learning. In 2022 OpenUK will focus on Skills, Security and Sustainability. OpenUK is a not-for-profit company limited by guarantee, company number 11209475.
Twitter: @openuk_uk
Mastodon: https://hachyderm.io/@openuk
LinkedIn: openukopentechnology
Website: openuk.uk
Media contact
Alex Izza
openuk@resonancecrowd.com
0208 819 3170