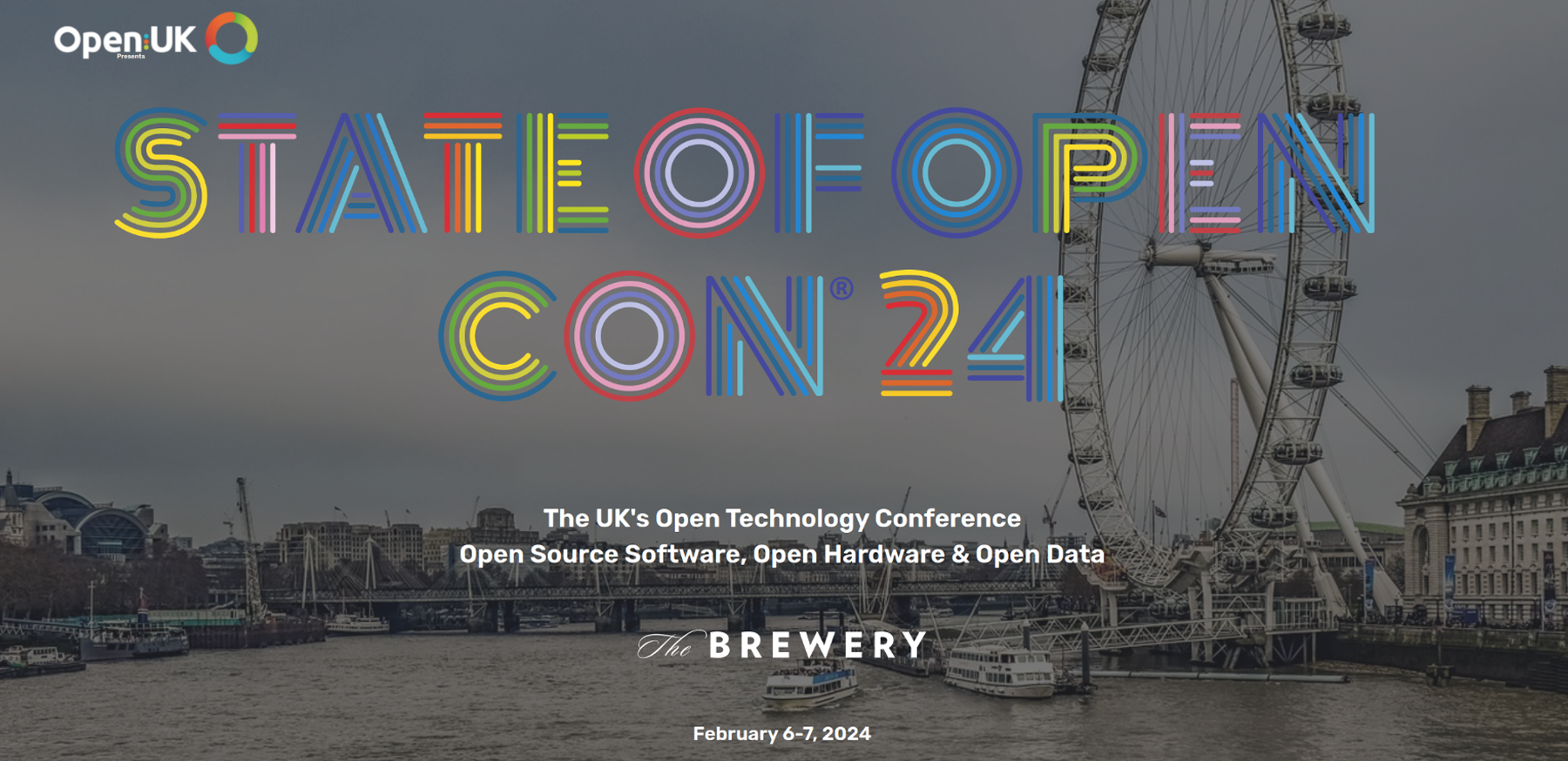 Open UK
28th September 2023
Landmark Open Technology conference returns for second year with former head of MI6 as the first keynote
London, UK – 28 September 2023 – OpenUK, the not-for-profit organisation representing the UK's Open Technology sector, has today announced its second annual conference, State of Open Con 24 (SOOCon24), taking place at The Brewery in London on 6-7 February.
The 2024 event will follow the success of State of Open Con 23 (SOOCon 23) earlier this year, to focus on Open Technology including open source software, open hardware, open data, open innovation and open standards and the value that the open community brings to the UK and its digital economy. Alongside a diverse range of topics, the event promises to include a diverse range of speakers and participants.
Track hosts include
Liz Rice, Chief Open Source Officer at Isovalent, hosting Open Source Software
Judy Parnall, Head of Standards & Industry at the BBC hosting Government, Law and Policy
Emma Thwaites, Director of Corporate Affairs at the Open Data Institute (ODI hosting Open Data)
Allison Randal, Open Source and Hardware Strategist, hosting Open Hardware
Carla Gaggini, Head of Content, Events and Community at Container Solutions, hosting Careers and Entrepreneurship
The CFPs cover a range of tracks including AI, the challenges and future of open source software as well as the impact of open data will go live on the 3rd of October.
The first confirmed plenary speaker is former head of MI6 Sir Alex Younger, who will participate in the open source software security conversation. The longest serving head of MI6 in 50 years, Sir Alex is an expert on the intersection of technology, security, and wider geopolitics, bringing with him three decades of experience working in covert intelligence.
At SOOCon23 in February, 44% of the speakers did not identify as men, and 49.3% of delegates identified as non-white. This is strongly against the grain of other tech conferences, with the prioritisation of Diversity and Inclusion and continuing at SOOCon24.
"Building on the success of State of Open Con 23, we are bringing together a community of several hundred participants who will deliver this event – from our Advisory Board to our volunteer community organisers and over 130 past speakers. They are a diverse group and include world leaders in this space as well as rookies on their first outing."
"Our output at SOOCon24, will be a testament to the value of the open community in both the UK and globally. Over 30% of the audience travelled to the event earlier this year and we expect even more of the world's open technology community to congregate in London and engage with SOOCon24 in February. A tree was planted in an English woodland for each delegate as part of the event's sustainability efforts."
"Every aspect of the event embodies the open source ethos of inclusion, collaboration, and innovation sharing a diverse and inclusive event which pushes boundaries, creates leadership and opportunity at the intersection of technology development, law and policy." commented Amanda Brock, CEO of OpenUK.
The event will support diverse attendance through childcare and doggy day care and ensure a superb delegate experience at a heavily subsidised price of £199 per two day ticket, with free tickets available to those who need them including colleagues who are between roles, community and students.
Sponsors of the event include the Institute of Electrical and Electronics Engineers (IEEE), Arm, Avande, GitHub, Google, Percona and SUSE. While tableholders will include both enterprises like Red Hat, Controlplane and Weaveworks and not for profits from the newly formed Open Tofu to the established GNOME and Ubuntu.
Calls for papers are set to open from October 3rd, and tickets will be available shortly, while opportunities to volunteer for the event are open now.
You can find more details on the State of Open Con website here.
About OpenUK
OpenUK is the organisation for the business of Open Technology, being Open Source Software, Open Source Hardware and Open Data across the UK. Its purpose is UK leadership and global collaboration in Open Technology. OpenUK works on three pillars: Community, Legal and Policy and Learning. In 2022 OpenUK will focus on Skills, Security and Sustainability. OpenUK is a not-for-profit company limited by guarantee, company number 11209475.
Twitter: @openuk_uk
Mastodon: https://hachyderm.io/@openuk
LinkedIn: openukopentechnology
Website: openuk.uk
Media contact
Alex Izza
openuk@resonancecrowd.com
0208 819 3170