Open Source and Licensing in 2021
June 11, 2021 @ 4:00 pm

-

5:00 pm

Free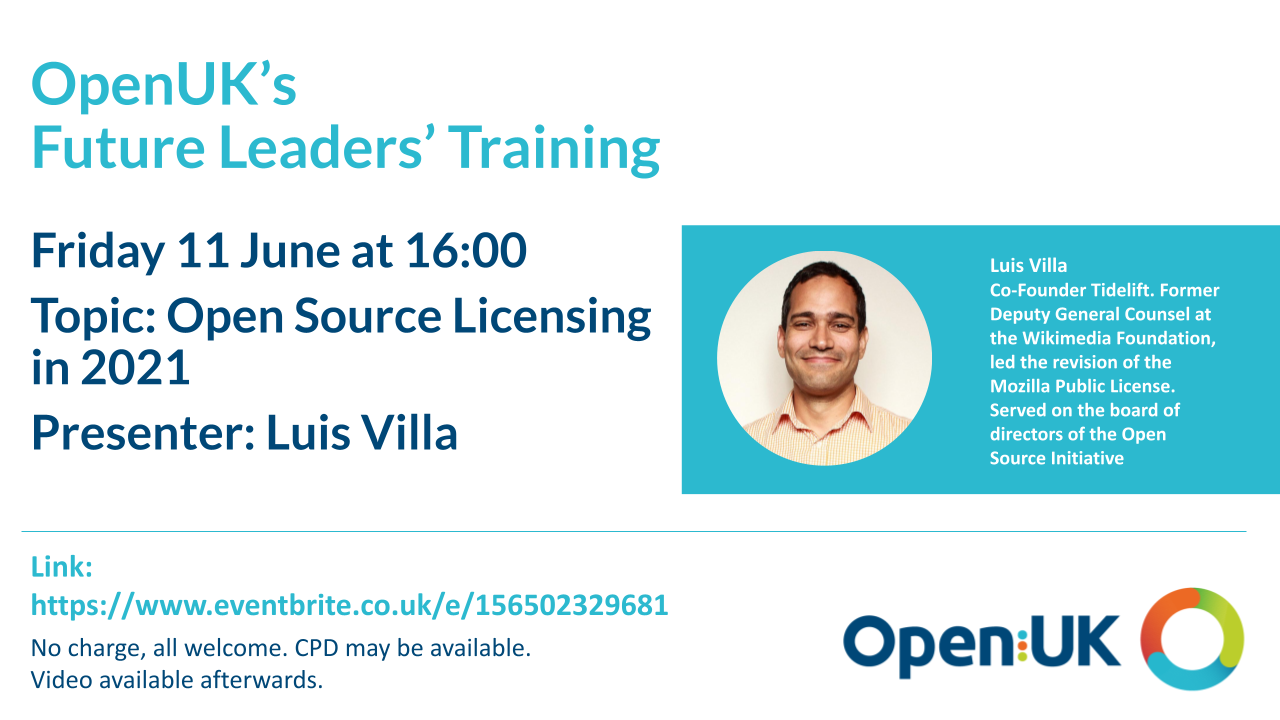 Our final West Coast Edition of the Future Leaders Training will be with Luis Villa on Open Source and Licensing in 2021.
Luis Villa is a lawyer, executive, and (former) software developer, specializing in open source licensing, product counseling, technology transactions, and community strategy. He is the co-founder of Tidelift, who are creating a new way to support and use open source software.
Before Tidelift, Luis worked on some of the most high-profile technology projects in the world, including:
At the Wikimedia Foundation, Luis served as Deputy General Counsel, advising on product development, IP licensing, and many other aspects of the Foundation's day-to-day operation; and then led the Community Engagement Department, a team of 40 employees tasked with supporting Wikimedia's 80,000 regular volunteers.

At Mozilla, he led the revision of the Mozilla Public License.

At Greenberg Traurig, he counseled clients large and small on open licenses, technology transactions, and represented Google at trial in the Google-Oracle lawsuit.

As a volunteer, Luis has served on the board of directors of the Open Source Initiative, as an Invited Expert on the Patents and Standards Interest Group at the World Wide Web Consortium, and on the Legal Working Group of Open Street Map.

At the Berkman Center For Internet and Society at Harvard Law School, he was "geek in residence", doing project management for Berkman projects like StopBadware and H2O, as well as general geekery of various and sundry sorts.

At Ximian, he was a proud member and occasional manager of the desktop team, which became Novell's Linux Desktop group.

At GNOME, Luis was a founding member of the GNOME bugsquad, and was the 'bugmaster' for many GNOME releases. He was also elected to several terms on the GNOME Foundation Board.