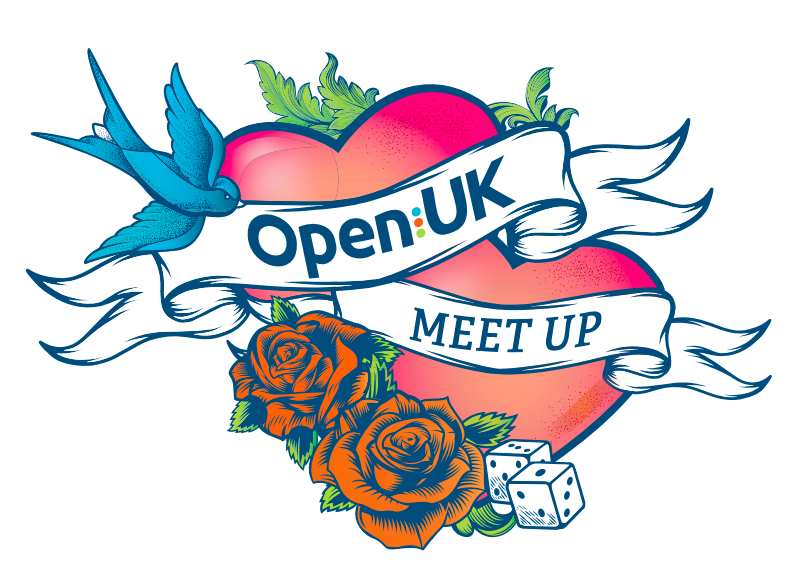 Michelle Angert
3rd October 2022
Greetings from DevOpsDays London, where OpenUK has a stand. We will also be attending KubeHuddle in Edinburgh on 3 and 4 October and look forward to chatting more about what we do.

We will also be giving away a place at our Awards Ceremony each day at both events. This will be awarded to the best tweet using the #OpenUk along with a picture or comment from the relevant conference.

As always it's been a busy time. We had a booth at Linux Foundation's Open Source Summit in Dublin, focused on Sustainability and I spoke about our 2022 strategy, outputs and second event sponsored by Intel – more later.

This was George our Marketing Manager's first Open Source conference and you can see his video diary here.  I was delighted to keynote Uptime by Aiven in Amsterdam (video to follow)  and was lucky enough to join the FT's Cyber Resilience Summit in Lausanne, Switzerland, speaking about Cyber Security in Emerging Markets.

We have seen the legislators focus on supporting supply chain and security too, with the draft EU Cyber Act published last week with a carve out for Open Source, clearing lifting from the Biden Security Ordinance of May 2021 and new proposed US legislation – our legal and security teams are reviewing now. I will be writing a blog post about this shortly, so more to follow.
Our judges have also been busy and we will be announcing the OpenUK Awards, Third Edition short list on 15 October. All nominees have been notified and those who have accepted are now being considered by the Judging team. We will be presenting the winners with their prizes at a special dinner and Awards Ceremony at the House of Lords on 30 November.

OpenUK operates on three pillars, Community, Legal and Policy and Learning. We are delighted that as part of our Community engagement we will be hosting MeetUps across the UK. These will begin with London on 25 October and Scotland also plans to launch in October.
We will be hosting the London meet ups at 10 Chiswell Street, monthly thanks to the sponsorship of Avanade and we will be hosting these in Scotland at a number of locations.

Thanks to MeetUp Master Michael Man for leading the meet ups team!

You can see more about the team and the Meet Ups, and sign up to join us.
We are hosting couple of major in person OpenUK events this autumn, that you may be interested in joining.
Open Source Software: Infrastructure, Curation and Security Thought Leadership Day, sponsored by Bristows
Sadly due to the royal funeral this had to be postponed from 19 September and will now take place on 17 October, with one or two of our international speakers unable to attend, but some others are and it promises to be a great event. Space is very limited so sign up soon.

You will be able to see the agenda and speaker information next week.

This event will not be streamed, but we will share the video afterwards.
Look out for Phase two of our State of Open: The UK In 2022 Report, to follow this, focusing on Infrastructure, Curation and Security.

Second Open Technology for Sustainability Day at Dynamic Earth, sponsored by Intel

On the 16th of November OpenUK will be in Edinburgh launching its second Sustainability Blueprint, this time on EV Charging, led by Chris Lloyd-Jones and our v1.0 Societal Value Metrics led by our Chief Sustainability Officer, Cristian Parrino.

You will be able to see the agenda and speaker information next week.

This event will be streamed and we will share the video afterwards.

Look out for Phase three of our State of Open Report: The UK In 2022 to follow this, focusing on Infrastructure, Curation and Security.

OpenUK's Open Technology Calendar

It's important to know what's going on in Open Source and we host a calendar with most local and key global Open Technology events.

If you have an event to share, or think OpenUK should be participating by having a stand or speaking, please contact admin@openuk.uk and share the details.

We plan to include CFP details in this calendar and on our twitter account.

Over the last few weeks our work on policy has been featured:

CSO online recognised OpenUK's Summer of Open Source Software and one of 8 notable open source security initiatives.

I interviewed Ross Mauri of IBM at the Linux Foundation's Open Source Summit in Dublin, taking about his Keynote with Citi, looking at the launch of the Linux One Platform and chatting about Sustainability and Security, both topics close to our heart, with the OpenUK 2022 focus on Skills, Security and Sustainability. You can read the interview in the Stack.

Podcasts

It may feel like autumn but OpenUK's Summer of Open Source Software podcasts continue with Justin Cormack, co-founder and CTO of Docker.

I chatted to Emily Omier about Open Source Software, business models and best practices in building an open source software business.

As part of the Open Data Institute's Data Decade, they have recorded a series of 10 Podcasts and will be writing these up. They were generous enough to include OpenUK in one of these, titled Data and Technology.

You may want to join the ODI at their Annual Conference on 8 November.

And if a trip to the US is possible you may be interested attending.

KubeCon North America will take place in Detroit and many of our team including Liz Rice and Andrew Martin, will be speaking:

All Things Open in Raleigh, NC on 1 and 2 of November, including lunch.

We have 5 tickets to give away for  All Things Open and you can claim one at admin@openuk.uk

Join the OpenUK team at our table for stickers, patches and a book signing. My book, Open Source Law, Policy and Practice, will be launched at All Things Open.

We had our first stand ever at FOSDEM in 2019.

Have you heard that FOSDEM plans to be back in person on 4 and 5 February in Brussels!!!
This has caused great excitement across the OpenUK team and we re hoping to have an OpenUK table and for many of the team to be speaking. You an see more information and apply to speak at: https://fosdem.org/2023/Stay well and we hope to see you at our events this autumn.

Cheers
Amanda Brock
CEO, OpenUK