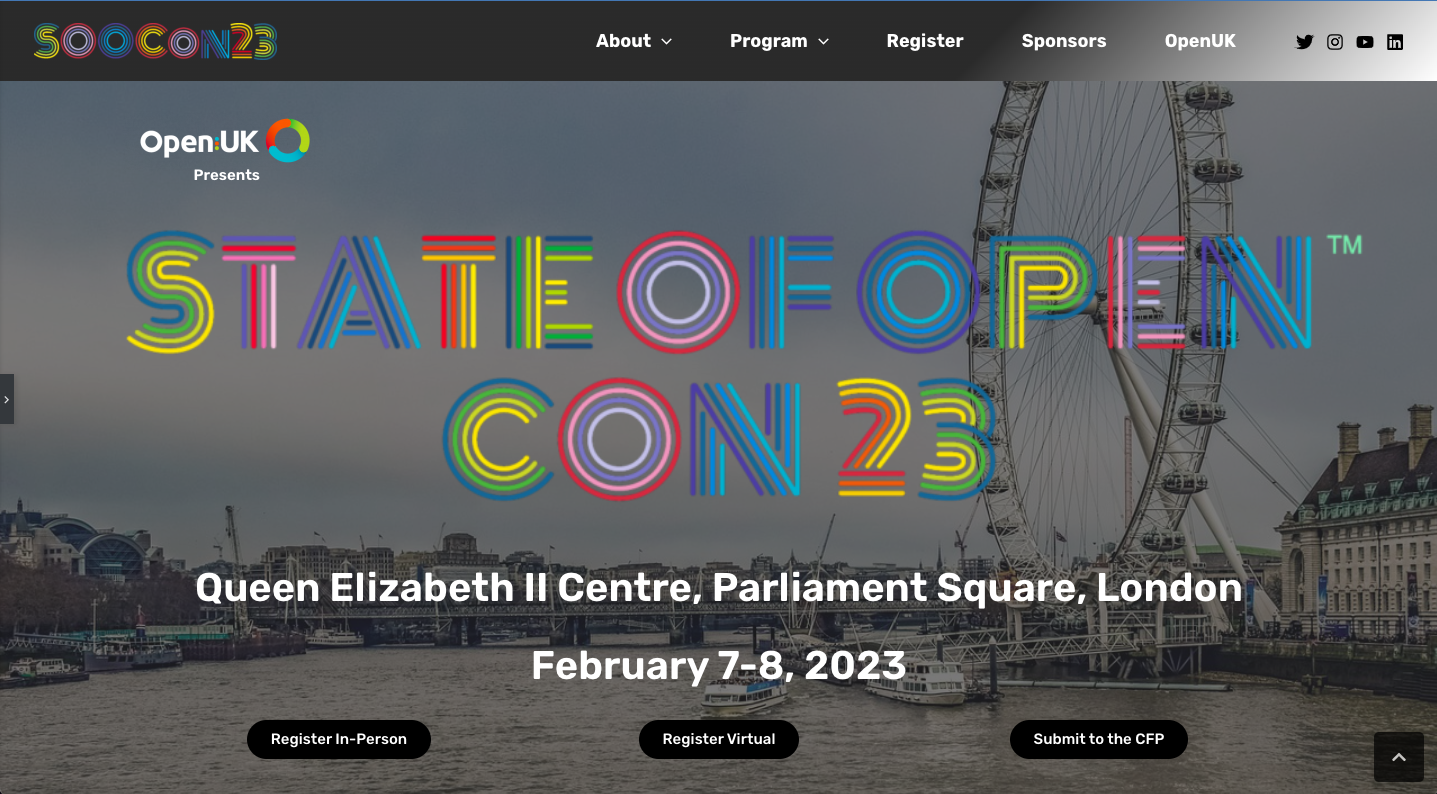 Michelle Angert
6th December 2022

OpenUK and IEEE launch State of Open Con 2023
Conference to bring together experts in open source around platform engineering, data, security, entrepreneurship, hardware, law
London, UK – 6th December 2022 – OpenUK, the not for profit organisation representing the UK's Open Technology sector, is delivering its first annual  State of Open Con conference on open source software, open hardware and open data, organised in association with The Institute of Electrical and Electronics Engineers (IEEE) SA Open. It will take place across five floors of London's premier conference venue, the Queen Elizabeth II Centre, on the 7th and 8th of February 2023. 
The conference will open with sessions on the future of Open Source Software and its funding. It will bring together leading UK and international figures in open source software, open data and open hardware around the themes of: government, law and policy; security; platform engineering; entrepreneurship; open hardware and open data. The event will also host an unconference, allowing the community to come together and share their own experiences and priorities.
"Open Tech is at the heart of so much of the innovation taking place in the software and technology sectors. We have to build awareness of the value that open source software is providing to society today. This event will bring in new potential community members and expand support in government and policy sectors. By providing a range of tracks to cover the key themes that affect communities, we want to encourage people to share ideas and develop opportunities for the future. We have kept ticket prices intentionally low thanks to significant sponsorship from IEEE and others, making this flagship conference truly accessible. The UK has not hosted an event of this scale and nature before," commented Amanda Brock, CEO at OpenUK. 
"The IEEE and the IEEE Industry Standards and Technology Organisation are mission driven not-for-profits that develop and grow ecosystems, for technology development that benefits humanity.  Open source software, data and hardware are critical to development and implementation of technology, and IEEE ISTO with IEEE SA Open is proud to work with OpenUK to develop this new conference to explore and help understand the use and development of open source at the intersection of industry and human experience," said Adam Newman, President and CEO of IEEE ISTO, and head of IEEE SA Open.
Following the plenary sessions, the seven room tracks will be run by the following experts:
Platform Engineering

Hosted by Liz Rice, Chief Open Source Officer, Isovalent

CFP Chair is Carla Gaggini, Head of Content, Events and Community, Container Solutions

Entrepreneurship in Open Source

Hosted by Matt Barker, President and Co-Founder, JetStack and Professor Eleanor Shaw OBE, Associate Principal at University of Strathclyde

Security

Hosted by Sal Kimmich, Director of Open Source, AI DevSecOps at EscherCloud

CFP Chair is Andrew Martin, CEO at Control Plane and CISO, OpenUK

Government, Law and Policy

CFP Chair is Amanda Brock, CEO at OpenUK

Open Data

Hosted and curated by The Open Data Institute and Emma Thwaites

Open Hardware

CFP Chair is Dr Erik Riedel, Founder and CEO, Flax Computing

Unconference

Led by Hannah Foxwell, Director for Platform Service, VMware Tanzu; Paula Kennedy, Co-founder and Chief Operating Officer, Syntasso; and Terence Eden, Technical Specialist Architect at Cabinet Office
The event will run for two days and bring together the best minds in open source as part of a festival and experiential event as well as the seven learning tracks. A call for papers will be available until 18th December 2022 at https://sessionize.com/opencon2023/. Speakers and Schedule will be announced by 12th January 2023.
Tickets for the event will be available for £199 (inc VAT) covering the two days of the conference from https://stateofopencon.com/.
To support more diversity and inclusivity at the event, free tickets for potential attendees from underrepresented groups will be available, and a creche and doggy day care will be provided on site. Event sponsors confirmed so far will include the headline sponsor IEEE, Incredible sponsors Bristows and ARM, Fantastic sponsors Google and Avanade, Gifted sponsors Open Data Institute and Digital Catapult. Further sponsors to be announced in the weeks to come at https://stateofopencon.com/sponsors/.
About OpenUK
OpenUK is the organisation for the business of Open Technology, being Open Source Software, Open Source Hardware and Open Data across the UK.  Its purpose is UK leadership and global collaboration in Open Technology.OpenUK works on three pillars: Community, Legal and Policy and Learning. In 2022 OpenUK will focus on Skills, Security and Sustainability. OpenUK is a not-for-profit company limited by guarantee, company number 11209475.
Twitter: @openuk_uk
Mastodon: https://hachyderm.io/@openuk
LinkedIn: openukopentechnology
Website: openuk.uk
Contact:
Mark Kember
onebite for OpenUK
+44 (0)1635 887707 
openuk@onebite.co.uk