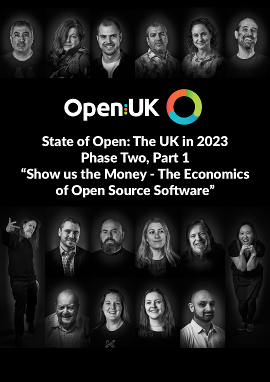 Open Source contributes £13.59 billion GVA to UK economy, finds OpenUK
Open Source makes up 27 percent of UK tech sector economy in 2022
Up to £326.6m planned in UK company investment in open source 
Skills development and Collaboration move to top of the benefits list for Open Source use, overtaking cost savings
44% of companies will increase investment in Open Source in next 12 months
Rise in OSPOs as more organisations increase their use of Open Source, manage contributions at scale
London, UK – 13 July 2023 – OpenUK, the not for profit organisation representing the UK's Open Technology sector, today announced the results of its 2023 State of Open Source Survey. According to the results, Open Source supported an estimated £13.59 billion in Gross Value Add for the UK economy during 2022. According to the Department of Culture, Media and Sport (DCMS), the total tech sector contribution to the UK Economy was £50.71 billion, so  this amounts to over a quarter (27 percent) of the value of the UK's tech sector business contribution. 
OpenUK has compiled Gross Value Add for Open Source in order to capture all the value that open source provides to the UK. Gross Value Add covers the value generated by any unit engaged in the production of goods and services for a specific sector in the economy, and it is often used as the equivalent of the output approach to the measurement of Gross Domestic Product (GDP).
Alongside the economic value that OpenUK estimates for the UK economy, the organisation also surveyed the industry to get data on how Open Source supports businesses. The results include:
When asked about their investment plans around Open Source, 44 percent will increase their investment levels while 47 percent of respondents anticipate their investment will stay the same in the coming 12 months. Only two percent responded that they intend to decrease investment. The overall volume of investment will be up by £326.6 million.

The top benefits from open source were skills, development and knowhow (listed by 58 percent of respondents) and collaboration (58 percent). This was followed by community contributions (57 percent) and cost savings on licence fees (56 percent). Cost savings has moved to fourth on the list of priorities, compared to being first on the list in 2021 and 2022.

The biggest challenges for Open Source were the costs of maintenance and security (listed by 27 percent of respondents), concerns around maintenance processes (24 percent) and security concerns (21 percent). Another significant challenge listed was the cost to participate in the community, according to 18 percent of respondents.

The share of respondents that stated they have an Open Source Program Office (OSPO) or other team for managing open source contributions and usage has gone up. This year, 23 percent of respondents reported that they have an OSPO or a unit responsible for creating policies, processes and guidelines for Open Source Software and community contributions, compared to just 11 percent in 2022 

The most popular Open Source software technologies are cloud and container infrastructure (68 percent of respondents) in first place, databases (65 percent) and software tooling (65 percent) in joint second, and operating systems (64 percent) in fourth place.  
"The level of value being contributed to the UK economy from Open Source software businesses clarifies the Open Source sector's often overlooked importance to the UK economy. We need a better understanding of Open Source across government to enable appropriate regulation and investment support around this sector, which propels much of the UK's digital economy. These companies are often overlooked as they are international businesses with UK headquarters, but are incorporated in Delaware and have US investors. It's time the UK recognised its flourishing and vibrant Open Source sector.  As we look to AI being front and centre, we see Open Source underlying its democratisation. I expect that the combination of our leadership in both open source and AI combined will finally open the UK's eyes to the potential of open source software in the UK," explained Amanda Brock, CEO of OpenUK. 
Alongside the research findings, OpenUK also looked at how company founders grow their businesses and choose to locate companies in the UK, even where their funding is from the US. This includes interviews with multiple founders of companies across the Open Source software industry such as Heavybit, Snyk, Percona, Weaveworks, Jetstack and Docker. By understanding the pressures, opportunities and challenges around growing companies in the UK versus the Bay Area, founders can work with the UK government and investors on building better understanding of Open Source software businesses to support policies and regulation that open up access to capital, build pipelines for talent and create the best environment for Open Source-based businesses to succeed.
"It never fails to amaze me how often I'm introduced to someone through friendship circles in the UK who says 'oh I'm behind that project.' So we're certainly not short of ambitious, innovative Open Source Software engineers. I also hear from many foreign-born entrepreneurs that the UK is a great place to do business. It's easy to set up a company, it has a strong legal framework, it has generous tax breaks for innovation, and it has a world class education system. What do we have to do in future to retain those innovators and support those businesses to grow here, rather than overseas? Let's think a little bigger, push a little further, bet a little bigger – that's going to help us in the long run," said Matt Barker, Entrepreneur-in-Residence for OpenUK and Co-founder, Jetstack.
"This research demonstrates the value and importance of Open Source to the UK economy and to the development of technology in general. There are still a lot of businesses out there that haven't really got a grip on their use of Open Source, let alone included it as part of their wider strategy. There are real opportunities in this space for those that embrace it, and the enormous wealth of talent in the UK makes it a great place to do that," said Chris Eastham, Partner at law firm Fieldfisher LLP and pro-bono Chief Legal Officer at OpenUK.
"The UK has been an open source powerhouse for several decades but due to a lack of funding and support, many great founders and teams have left the country. This seems to be changing
and we can see early signs of a focussed and entrepreneurial ecosystem. The UK now has to decide if it wants to double down on our intellectual and business assets and create IPO-able market conditions, or it can remain an incubator for global mergers and acquisitions and the opportunities will go elsewhere," said Alexis Richardson, CEO at Weaveworks.
The OpenUK survey results are based on responses from 339 people, with respondents distributed across a range of industries and company sizes. The full report is available at State of Open:The UK in 2023.
About OpenUK
OpenUK is the organisation for the business of Open Technology, being Open Source Software, Open Source Hardware and Open Data across the UK.  Its purpose is UK leadership and global collaboration in Open Technology. OpenUK works on three pillars: Community, Legal and Policy and Learning. In 2022 OpenUK will focus on Skills, Security and Sustainability. OpenUK is a not-for-profit company limited by guarantee, company number 11209475.
Twitter: @openuk_uk
Mastodon: https://hachyderm.io/@openuk
LinkedIn: openukopentechnology
Website: openuk.uk
Contact:
Mark Kember
onebite for OpenUK
+44 (0)1635 887707 
openuk@onebite.co.uk