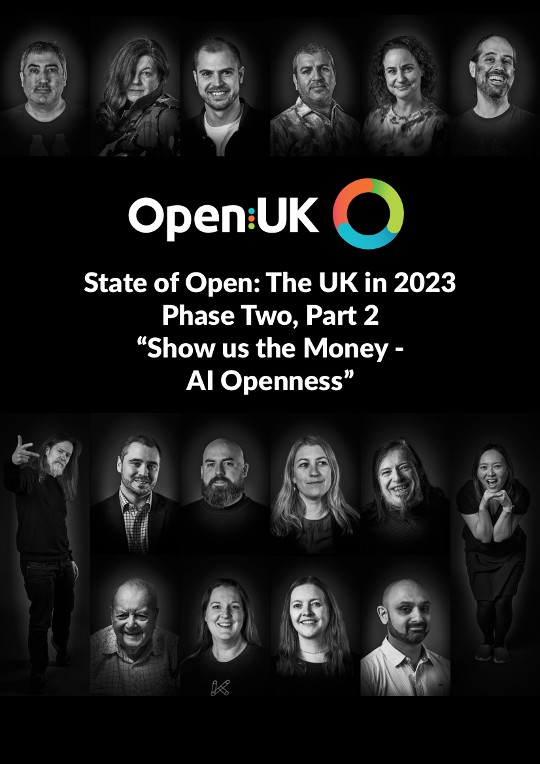 OpenUK launches "AI Openness" report, finds potential for UK leadership
New report claims transparency and trust will be at the future of AI development through "openness"
Contributions from Turing Institute, Tony Blair Institute and Open Source Leaders calls for the UK to take an "open" approach to AI and to support OpenUK's approach to Open Source software community engagement
Future of AI on a precipice between the hands of the few and democratising technology and enabling innovation
Top five for UK-based Open Source AI repositories includes Significant Gravitas, StabilityAI, MindsDB, Google Deepmind and Unify.ai, according to research by Runa Capital and OpenUK
London, UK – 13 July 2023 – OpenUK, the not for profit organisation representing the UK's Open Technology sector, today announced the launch of its Open Source AI report, State of Open The UK in 2023: Show us the money – AI Openness, tracking the opportunities for the UK to lead in the opening of AI.
The opportunity for the UK in Open Source AI leadership
In the run up to the UK government's autumn  AI Summit, the role of Open Source software, open data and open innovation in AI is front and centre of the UK policy agenda. OpenUK's report brings together for the first time UK and International thought leaders from leading UK organisations, The Tony Blair Institute and Turing Institute, along with Open Source leaders, collectively calling for the opening up of AI innovation to enable trust in AI through transparency and agile regulation.
Recent months have seen open innovation and creativity from the Open Source community enhancing AI innovation at pace. AI Technology is seen to be democratised by this open innovation in the hands of the many rather than AI technology remaining in the hands of the few.  Companies involved in Open Source have built and released their own models since the leak of LLaMA and have increasingly filled the gaps in AI innovation at an unprecedented pace which major commercial organisations have not been able to match.

The UK economy will benefit from the opening of Ai,  as a consequence of increased innovation and economic opportunity for UK companies.  
UK individuals will also have more understanding of data used as the basis of decisions about them through transparency of data on which AI is trained and the usage of their personal data by AI.
In collaboration with Runa Capital, OpenUK also announces the top Open Source AI repositories run by companies based in the UK. 
The leading UK Open Source AI repos from UK companies are:
Significant Gravitas creator of AutoGPT

StabilityAI

MindsDB

Google Deepmind

Unify.ai
This list is based on Runa Capital's analysis of software repositories on GitHub, the location of the company behind the repository, and the number of GitHub Stars associated with each project.
Attitudes to Open Source AI
Alongside this, OpenUK announced research on attitudes towards AI and Open Source – results include: 
40 percent of respondents thought that Open Source would solve the concerns around AI ownership, while 15 percent thought it would not be the solution and 45 percent were neutral.

AI is used as part of software development, making recommendations for potential code contributions based on the material it has been trained on. However, this affects potential ownership for that code, which is covered by copyright. The majority of respondents think that AI services should not have any copyright to code created using these services (45 percent of respondents) while 41 percent are undecided. Only 14 percent of survey respondents believe that AI should have copyright in the code it creates.

The majority of respondents agreed that any data used for training AI should be disclosed within a software bill of materials (SBOM) – 85 percent of respondents agreed with this approach, with 13 percent remaining neutral and only 2 percent disagreeing.
For UK companies there are three opportunities to engage around Open Source AI policy:
Open Source AI Definition –

 ongoing work on what Open Source AI means allows an opportunity for interested parties including the Turing Institute to participate in the process of definition at an early stage and for the UK to engage in leading in the  definitions and licensing.
UK AI Standards Hub –

As technology standards are changing, standards around AI need to be more accessible and understandable. Creating an AI Standards Hub focused on open standards will make technology engagement for businesses and consumers.
The Role of Open Data Platforms –

existing infrastructure needed to run parts of the AI pipeline and provide access to data have already been built. Providing clear regulation on opening data will create certainty in the market and make space for companies to succeed. This requires a framework around AI regulation and a framework for data collection.
"For the UK, as a world leader in AI as well as in both Open Source software and open data, this is a golden moment of opportunity. AI presents the UK's chance to be the global tech leader that it aspires to be, and to lay the groundwork for the future of AI. The fundamental decision to be made by the government is a simple one. Will our approach be one of control established through transparency and building trust engendered through openness, or will it be a decision to seek control by closing down innovation, thereby leaving the outputs of this most important innovation of our time in  the hands of a few?  Clearly closing AI will fail to learn the lessons of past and will fail to engender trust and control through transparency. As a consequence it would leave critical technology in the hands of the few. Today is the day for our governments to learn the lessons of our recent  tech history, to democratise the future of AI and to facilitate innovation through an open approach to both AI and its regulation." explained Amanda Brock, CEO of OpenUK. 
"The open approach makes it easier, faster and more efficient to build, whether this is data and information or software. This same approach can be used for AI. But AI has its own considerations and it will need everyone to work based on the same understanding. To build this, we need collaboration between industry, government and individuals to ensure that those involved understand the imp act that their decisions will have. We can learn from the past around how we responded to changes taking place around the Internet, content and access – this will prevent potential mistakes or areas being overlooked as much as possible," commented Jimmy Wales, Founder at Wikipedia.
"If the UK is to be a global leader in AI, it is also important that the UK takes a clear position on the Open Source Community.  The software that has been built by this community underpins the modern internet, from infrastructure to operating systems to algorithms. As a result of recent progress, Open Source is again enabling cutting-edge development in AI. The European Union, which tends to take a position of regulator of resort, has decided to weaken the position of the Open Source community through the AI Act.  This would be a mistake and the UK should not follow suit. Instead, we should use the opportunity to offer a different model. The UK has to show leadership in building its industry, including Open Source.  This requires taking a clear position on the value that openness brings. There is a risk that this technology is confined to the hands of just a few actors, with the potential dividends being too narrow," said Benedict Macon-Cooney, Chief Strategist Tony Blair Institute for Global Change.
State of Open The UK in 2023: Show us the money – Open Source AI
Contributors for the State of Open Phase Two report on AI include:
Amanda Brock, CEO, OpenUK

Stefano Maffulli, Executive Director, The Open Source Initiative

Sonia Cooper, Assistant General Counsel, Open Innovation Team,  Microsoft 

Jennifer Ding, Senior Researcher, Turing Institute

Renata Ávila, CEO, Open Knowledge Foundation

Luis Vila, Founder, Tidelift

Benedict Macon-Cooney, Chief Strategist, Tony Blair Institute for Global Change
Case studies in the report include leading UK AI companies including:
Alex Housley, CEO at Seldon on machine learning operations (MLOps), generative AI and Open Source to improve collaboration between data scientists and software developers at leading international brands.

Matthew Lodge, CEO for DiffBlue on building AI for software developers and improving productivity around code, based on combining Open Source components and large language models.

Ben Ellerby, Founder at Aleois on building a serverless and cloud-native technology stack that integrates with LLMs and generative AI to help any company make use of AI based on its own data. 

Margaret Hartnett, Co- Founder at Progressio AI, on AI Governance and how to navigate the complexities of AI-driven products and services

Elena Samuylova, Co-Founder, Evidently AI, on implementing AI and machine learning infrastructure and how to run this effectively in practice with Open Source data sets and Open Source models
The OpenUK survey results are based on responses from 339 people, with respondents distributed across a range of industries and company sizes. The full report is available at [LINK].
About OpenUK
OpenUK is the organisation for the business of Open Technology, being Open Source Software, Open Source Hardware and Open Data across the UK.  Its purpose is UK leadership and global collaboration in Open Technology. OpenUK works on three pillars: Community, Legal and Policy and Learning. In 2022 OpenUK will focus on Skills, Security and Sustainability. OpenUK is a not-for-profit company limited by guarantee, company number 11209475.
 Twitter: @openuk_uk
Mastodon: https://hachyderm.io/@openuk
LinkedIn: openukopentechnology
Website: openuk.uk
Contact:Mark Kember
onebite for OpenUK
+44 (0)1635 887707 
openuk@onebite.co.uk