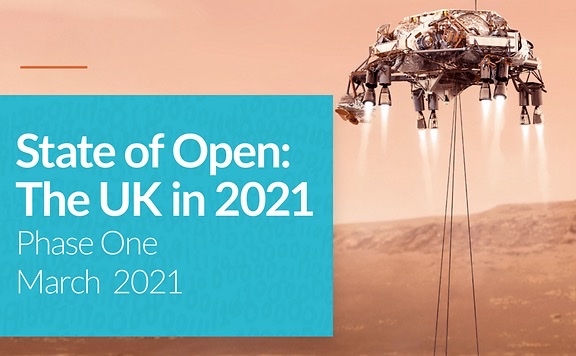 Dear Reader,
It's been hard to miss our new report in the tech press over the last week. Mark Kember deserves huge thanks for having arrange such amazing press including:
TechRepublic: Is the UK becoming the open source capital of Europe?
Computing: Open source software worth up to £43bn to UK economy, report
You can see the full report at openuk.uk/stateofopen.
We have launched the report with a series of 3 lunches on 10, 17 and 24 March with over 120 people joining us to discuss the report Phase one. We are grateful to GitHub, Open Invention Network and SUSE for their sponsorship of this. We are also grateful to NASA for allowing the use of Perseverance Rover, putting Linux and Open Source on Mars, on the cover.
Phase two will involve a survey of UK companies and Phase three will look at a new value driven approach to measuring the value of open. To achieve this we want to collaborate with people across the planet (Mars may be a step too far for this). We will actively engage on finding appropriate survey questions and a valuation methodology through global collaboration and then for OpenUK we will apply it locally to the UK and hope others will be aligned with us across the globe.  We will again work with Dr Jennifer Barth, at Smoothmedia on leading Phases two and three.
If you are interested in participating or know an interested party in business or industry who might take part in the survey or an economist who would be interested in the valuation and economics of open, contact admin@openuk.uk
Tarzan Economics, Will Page
If you have already read our report, you will have seen a contribution from Will Page, former Spotify economist, LSE Fellow and author of Tarzan Economics being published on 1 April, https://www.simonandschuster.co.uk/books/Tarzan-Economics/Will-Page/9781471190919.
Will will also engage with us in the future phases and brings a wealth of knowledge from another digital sector.
You can catch up with me discussing what open source is at Crate.io
Future Leaders: Roberto Di Cosmo
Subject: Software Heritage
Date: 19th March 2021, 12pm
Roberto is Creator and Director of Software Heritage, an initiative to build the universal archive of all the source code publicly available, in partnership with UNESCO. Watch the event video here.
Future Leaders, West Coast Edition: Dr Chris MattMann
Subject: Unlocking Power of Data for Space Exploration
Date: 7th May 2021, 16:30
Chris Mattmann is an experienced IT Executive, CTO and Division Manager of the AI, Analytics and Innovative Development Organization in the Information Technology and Solutions Directorate at NASA JPL. Register Here. 
We have a number of open roles, which you can see at https://openuk.uk/about-us/staff/
This includes: General Counsel, Company Secretary and Chief Community Officer.
We are also looking for more of you to come on board as ambassadors https://openuk.uk/ambassadors/
The nights are finally getting longer and by the time we have our next newsletter, the clock will have changed. I hope you are all enjoying the occasional sunshine too.
Amanda Brock
CEO, OpenUK
@amandabrockuk