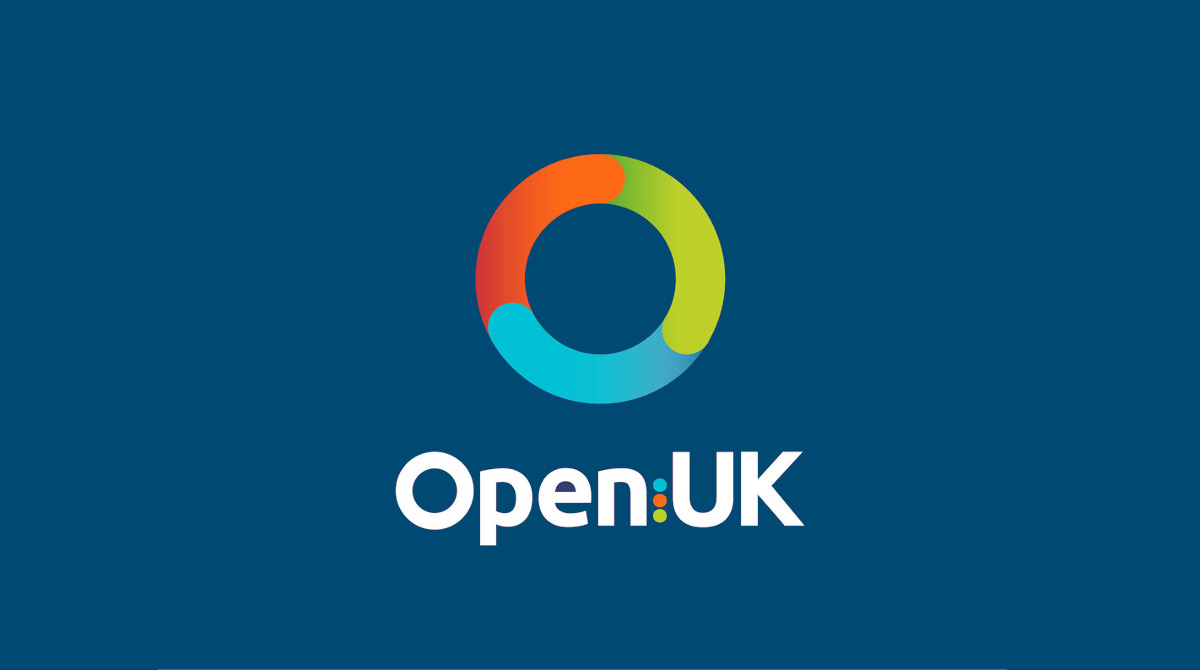 As we see Open Source AI rise up the global political agenda OpenUK is at the heart of discussion on this. In my role as a Director of the Open Source Initiative I have engaged in the new proposed definition of Open Source AI being created and am bringing this to the Office of AI and the UK Government. A happy coincidence that we have our next Phase of the State of Open: The UK in 2023 Report being published on 13 July with a focus on AI. This will hopefully include a summary of the roundtable on open source being held shortly with the UK Office of AI as part of their consultation.
London Tech Week was a very busy time, not only did I speak at the DSIT international mobile event, but I was invited to join the UK's AI Minister, Lord Camrose in a round table on AI and met with Lucy Powell MP the Shadow Minister for Digital.
As we look to our elections next year, OpenUK is actively engaged in discussion across the political parties, to encourage all to understand the importance of open source software not only in AI but across the digital economy and the need for greater investment in it, better public sector curation of open source, more skills development and of course its impact on AI.  Our asks are already with the Labour Party and we are working to have our asks with all political parties in the next couple of weeks.
In our next newsletter we will be including a template letter that we would encourage you to share with your local Member of Parliament to ensure that they are aware of these asks and your desire for them to support the place of open source in the digital manifesto of their party. The strength we have in numbers across the UK will be critical to the success of this work.
State of Open: The UK in 2023 Survey
Forthcoming Report. Thanks to all 339 who completed our difficult Survey. It was not intentionally difficult but it was intentionally detailed to give us the information required to do rigorous economic calculations on the value of open source software to the UK economy. These will be shared in the next Phase of our 2023 State of Open: The UK in 2023, report which will be published on 13 July.
Please do support that launch.
Our economic work is ground breaking, focusing on value rather than Total Cost of Ownership and driving the focus that we see other international organisations follow.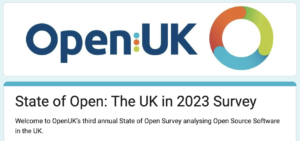 Open Technology for Sustainability Day
The Schedule is now live for OpenUK's free to attend Open Technology for Sustainability Day – Dynamic Earth, Edinburgh on 14 September.
Free tickets are available until 10 September at 5pm or while stock lasts.
Check it out!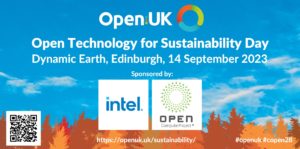 Upcoming OpenUK Events
State of Open Subset

State of Open Subset weekly digital talks include topics from across the 7 tracks of State of Open Con. Speakers who didn't manage to speak at SOOCon23 and topics that we didn't dive deep into at the conference.
Upcoming Episode 9 with Paula Kennedy will be released at 3pm on Tuesday 27 June.
Note these will be back in the autumn with Episode 10, at a new time of 4pm UK on a Friday.
Register for State of Open Subset
All talks are available online after the live date. You can watch all past Subset talks on and follow our YouTube Channel. #stateofopencon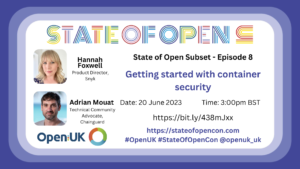 OpenUK meet-ups
We have a very special London Meet-Up sponsored by Avanade tonight with guest host and International Ambassador Bart Farrell, Civo's Kunal Kushwana speaking alongside a panel hosted by Cheryl Hung. We'll have swag swap, our sticker table and perhaps some lightening talks.
Our next London Meet-up will be in July and we will then break for August.
Our Scotland meet-ups will launch in September and we hope to see more around the country this autumn.
If you would like to get involved in organising or speaking at our meet-ups contact Mark Baker on mark.baker@openuk.uk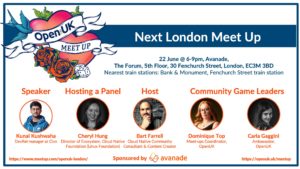 OpenUK in the Press
Beyond gender: Why it's time to stop pigeonholing women in business
Events OpenUK Will be Attending

Our CEO Amanda Brock will be keynoting the IT Leaders Summit.
Taking place at Down Hall, Essex on 4-5 October, this event will bring together the most senior IT Leaders from across the UK. Attend IT Leaders Summit to arm yourself with the tools to tackle the most pressing challenges IT leaders face today.
Register here.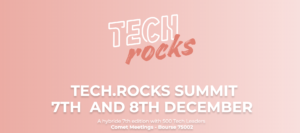 She will also be Keynote at Tech Rocks in Paris in December. This year, the 7th edition of the Tech.Rocks Summit will take place on December 7 and 8, 2023! Register here.
OpenUK is recruiting!
We are looking for an entry level Community Manger to join OpenUK full time. To apply send a bio and why you are interested in the role to admin@openuk.uk.
We will also be sharing a list of volunteer roles that we are recruiting for, shortly. If you would like to get more involved in OpenUK do look out for this. We operate on generous sponsorship and donations from many organisations, grants and supporter subscriptions, but we are not a pay to play organisation and everyone is welcome to participate.
Hope the sun is shining where you are.
Cheers,
Amanda
Amanda Brock
CEO, OpenUK