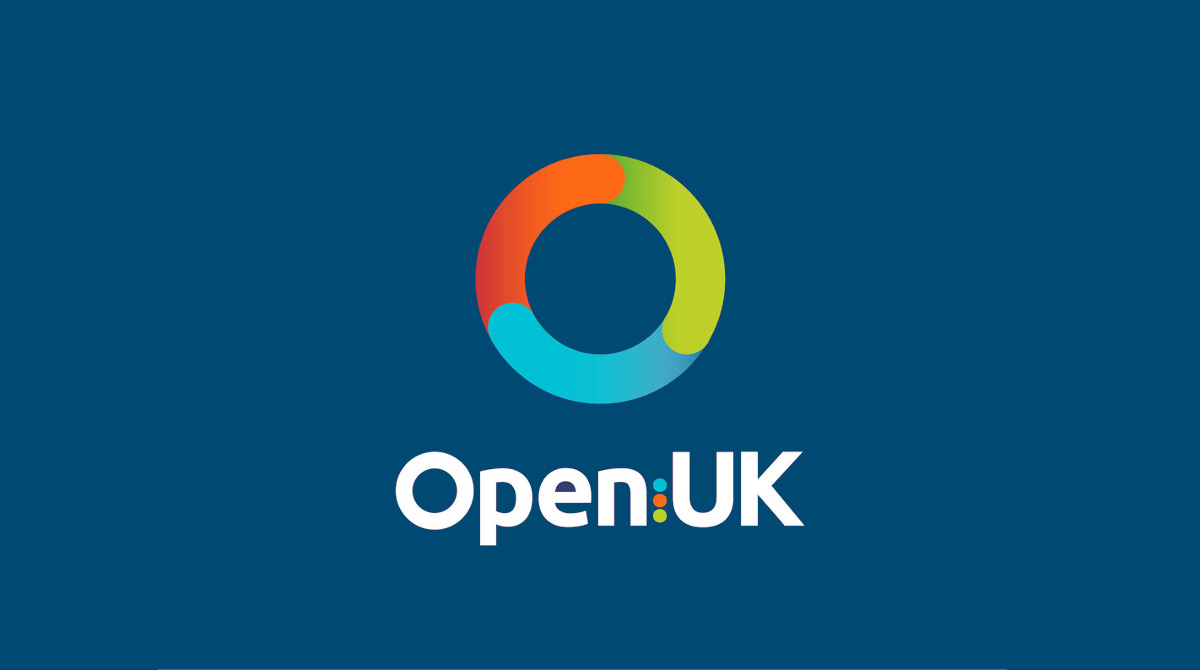 OpenUK
26th November 2021
Dear Reader,
St Andrew's day is almost upon us, 30 November. Not only does this have significance for me as a Scot, but it also marks two years of my role as CEO at OpenUK. And what a strange two years that has been, although like our friends in the US, despite the pandemic, we have much to be thankful for. We will share a look back on the last two years before end of year and have a few tricks up our sleeves before the year is over.
For now, I want to share some of our exciting recent happenings..
Open Technology for Sustainability Day
On the subject of Scotland, nobody has escaped COP26 being held in Glasgow and I hope that you are all aware of OpenUK's first Open Technology for Sustainability Day on 11 November. We had standing room only for much of the event and share our videos: Francis Maude's heartfelt keynote, our young people being interviewed by CSO Cristian Parrino, the Collaboration Session including Catherine Stihler CEO of Creative Commons and UN Director Salem Avan, Opening up Energy with Gavin Starks leading an incredible discussion before heading to the Blue Zone.
We also saw the launch of Patchwork Kilt, the OpenUK blueprint for the data centre of the future, which is now housed in the Eclipse Foundation. We had a special animation created for this which you can watch here.
You can see the videos of all of the sessions here and photo gallery here.
We will be making some announcements between now and Christmas, specific to Sustainability and our commitments from COP26. I hope that this Open Technology for Sustainability Day will become an annual OpenUK event and we are already planning for 2022.
Unsurprisingly there's a lot of press from our event and you can see this at our Press Page.
OpenUK Awards 2021
We also celebrated the OpenUK Awards, sponsored by Bristows, with a hybrid dinner event streamed live to an online audience.
Congratulations to the 2021 winners and thanks to our Judges, led by Katie Gamanji and Awards Committee ably led by Jonathan Esk-Riddell.
Belonging (sponsored by Osmii): Endless OS Foundation, Rob McQueen
Software (sponsored by GitLab): The Herald Proximity Project
Data (sponsored by the ODI): Open Knowledge Foundation
Sustainability (sponsored by Centre for Net Zero): Icebreaker One
Hardware (sponsored by The Stack): Devtank, HILTOP, Tim Telford
Individual (sponsored by Open Source Connections): Kevin Mayfield
Finance (sponsored by FINOS): Wise
Young Person (sponsored by JetStack): Samuel Van Stroud
A photo gallery of the evening's celebrations can be found here.
If you were at either the Sustainability Day or Awards events and made recordings or took pictures please share with us and we will add to the galleries.
Future Founders Forum
Matt Barker led a panel on building a Sustainable Open Technology Community for the UK.
As Entrepreneur in Residence Matt's Report of his initial findings can be read here.
OpenUK will be running training for Founders – OpenUK's Future Founders Program – from 21 January. With weekly sessions led by the Founders Forum and Legal Group, these will be free to attend and anyone can join.
We will also be running mentoring for a smaller group. Matt and I will be selecting a group of interested Founders or potential Founders from applications received who we will match with our team to have one to one mentoring sessions and support the evolution of an ever stronger UK Open Technology business ecosystem.  Click the button below to apply.
We have incredible people in our Founders Forum from Alexis Richardson, to Justin Cormack, Liz Rice and David Mytton. You can see the whole group here, and they will be working with some of the most knowledgable people in governance and legal.
This is a global first as we understand it and something we will record and share across incubators and accelerators and hope will be widely used. If you have any questions, please contact admin@openuk.uk.
Kids Camp
Our OpenUK kids camp continues to go from strength to strength. Thanks to the sponsorship of Red Hat, you can not only download and do Camp 1, but Camp 2 is in progress. Lesson 7 goes live on Monday and this year's camp not only teaches kids to code in Make Code, Python and Javascript, but also teaches the Open Source Definition and the Sustainable Development Goals. The Camp Creative Director, 19 year old Cambridge Student, Lowena Hull, shaped the digital skills whilst Pamela Boal has advised on curriculum for both camps to match the content of the lessons and ezines to Key Stage 3 Curriculum in a fun and lively way, thanks to our voice over artist, Steph Bower, and animator, Matt Buck.
We have very few of the 5,000 OpenUK digital gloves, inspired by MiMu and sponsored by the Open Data Institute and Nominet still available at openuk.uk/openkidscamp and the associated competition for groups of 4 kids will begin in December and run through February.
The courses are released weekly but anyone can do the course and work at their own pace. The content is engaging and unique and even includes a series of articles on open data from the ODI and on collaboration from NASA. We will also be sharing details of our Competition Shortly.
Burns Night Supper
OpenUK Burns Supper House of Commons Members Dining Room – 21 January 2022
We look forward to a glorious kick off to 2022 at the House of Commons.
Anyone interested in buying a Corporate Table sponsorship at £1,100 per table or attending as an individual at £100 per head should contact admin@openuk.uk.
We also have a limited number of £0 community tickets available.
OpenUK Calendar
If you have an event you would like to be included in OpenUK's calendar, get in touch with admin@openuk.uk.
UK FOSDEM Watch Party
We are planning a UK Wide FOSDEM Watch Party on 5 February. Hold the date and watch this space for more information of Hubs to join across the UK. Submit a Dev Room or talk at FOSDEM's site.
All the best,
Amanda
Amanda Brock
CEO, OpenUK