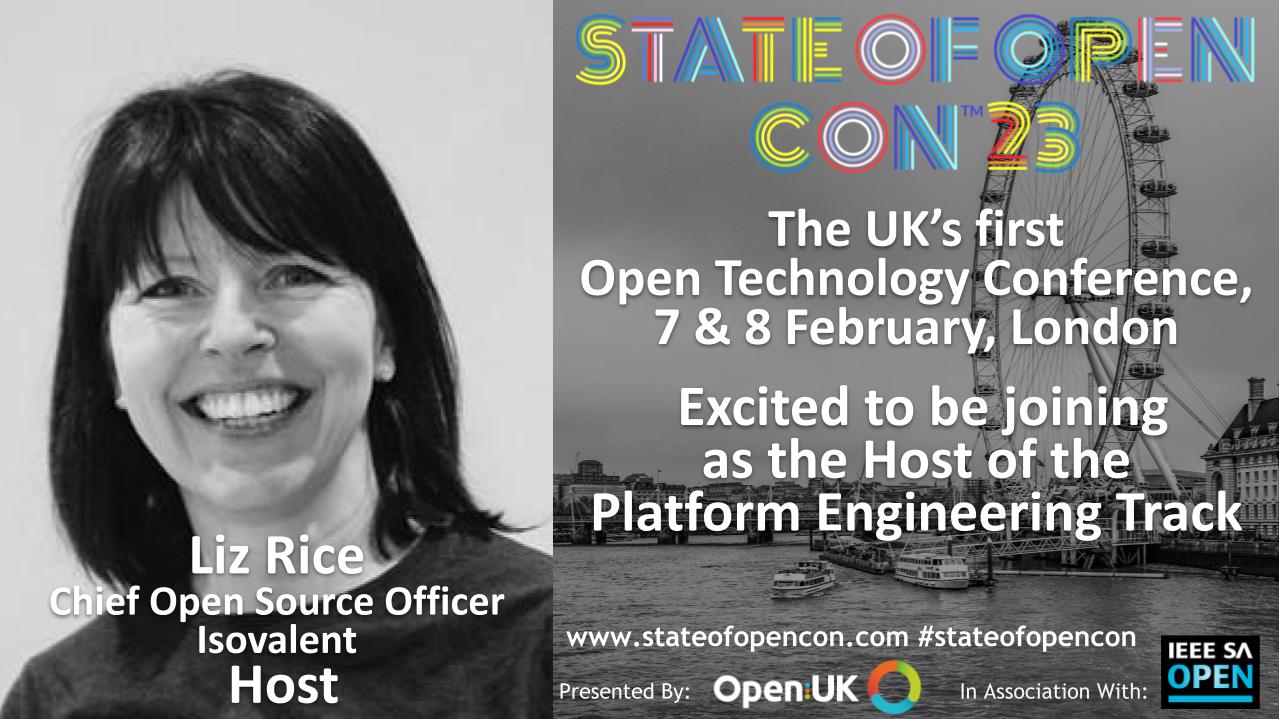 Amanda Brock
18th January 2023
First came Agile. Then DevOps. We are now entering the Age of Platform Engineering.
Not that we necessarily know what that even means yet, but Gartner has it climbing up the Hype Cycle. Mimoto's David Charboneau says it's all about catering your internal development platform. He told us that "Platform engineering is the process of making your internal development platform documented, efficient, extensible, and debuggable. All of these steps can be, and often are, addressed with open source." Ambassador Labs' Daniel Bryant pegs it as the discipline of building toolchains, workflows and platforms to support 'the team' — developers, ops and everyone in between — to go from idea to observable business value in product. Syntasso's Paula Kennedy describes platform engineering as the promise the platform team makes to the application team. Our own event page pegs it as "an emerging open source software technology approach for providing consistent experience for deploying and operating software on an underlying platform – typically running in the cloud – that enables an organisation's developers to ship new functionality quickly."
As the tech industry and the world goes through growing pains in 2023, we expect this definition of platform engineering to evolve even more, as we pivot from a focus of 'move fast and break things' to 'doing more with less'. It's not necessarily replacing DevOps, but more about emphasising the continued need for developer and platform teams to communicate and collaborate more — another silo broken down, hopefully.
What we do know is that it is something the open source world should be talking about — and has many players in — which is why platform engineering is a featured track at the State of Open Con 23 on February 7 and 8, in London and streaming online.
"As the often quoted adage goes, open source software has eaten the software world. The State of Open Con is a wonderful reflection of that fact, with every track a facet of the open source ecosystem. Open source serves an important function within platform engineering and the world," Charboneau observed. 
We hope you'll see that reflected in our schedule which anchors one of six pillars on platform engineering. That track kicks off each day with an epic platform engineering keynote by Liz Rice and Katie Gamanji, respectively, and then getting into this emerging discipline with:
The Ins and Outs of Delivering Your Internal Platform as a Product by Paula Kennedy of Syntasso

The Why and How of Platform Engineering with Open Source by David Charboneau of Mimoto

Help! I need a PaaS experience on Kubernetes yesterday! by Debbie Wood of Snyk

Building a great internal platform starts with the API by Abby Bangser of Syntasso

Green Software Principles and embedding Carbon Awareness in your applications by Szymon Duchniewicz of Avanade and our 2022 Sustainability Award winner

Sustainable Software Delivery by Luc Burnip of EY

Clear Your Own Path to Open Source Maintainer by Martin Hickey of IBM

Building Sustainable Open Source: Seven Key Lessons After 5 Years of Leading The Thanos Project

by Bartłomiej Płotka of Google

Cloud of Serfdom vs Cloud of Freedom: Why open source will win in the Cloud age by Peter Zaitsev of Percona

Implementing Open Source Productivity Tools by Raul Pineda of LendingBit Solutions 

Building OSS Developer Experiences for the Cloud by Mauricio "Salaboy" Salatino of VMware
Whether you can join us in London or can only online, please register for State of Open Con 2023, while tickets last!