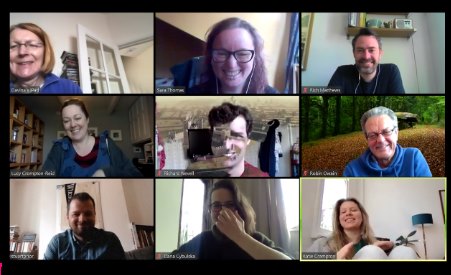 Sara Thomas
27th April 2020
Over the last month or so, life at Wikimedia UK has changed a little.  Our London office has been shut since the 18th March, and I haven't had a meeting outside my home since a week before that.  I'm the Scotland Programme Coordinator, a remote worker who (usually) travels all over Scotland to meet with partners and volunteers, so whilst working from home isn't exactly new, not leaving Glasgow for six weeks is more than a little unusual.   
Working with the Wikimedia projects means that Wikimedia UK is pretty well placed to adapt to a working world moving online.  COVID-19 continues to drive organisational digital transformation on a global scale, and every in-house digital working advocate or trainer I've spoken to is busier than ever, as their colleagues have scrambled over the last few weeks to get on board with the things that those advocates & trainers have been trying to get them to adopt for years.  As I would have expected, they've risen to the challenge, with everyone from Universities to legal firms adapting their working practices at speed.  We're in the midst of a global learning curve when it comes to tech and flexible working, as well as those related issues of privacy, security, and mental health.  
None of this is likely to be news to anyone reading this, of course.  But as we're moving past the first "storming" part of whatever this is, and starting to test and refine working practices towards "norming", I wanted to reflect on what our organisation has been doing, and how we've adapted, and how we continue to serve our open knowledge mission.  
Our work over the last little while has been falling into broadly three areas: supporting existing partners to develop work that their staff can do whilst working from home; supporting partners to continue to deliver public engagement activities, and working with the wider Wikimedia volunteer community to support the work that's being done on-wiki around areas relating to COVID-19. 
For example, there's a team of 60 at the National Library of Scotland uploading digitised texts to WikiSource, correcting the OCR and then importing the texts back into their digital gallery and Data Foundry; we are in discussion with English Heritage to train their youth leaders to edit Wikipedia (the format remains to be finalised, but we're looking at whether youth leaders can partner with curators to share information, with training from WMUK); and we recently formed a joint initiative with Wikiproject Medicine to help tackle the issues around information about COVID-19 on Wikipedia.  
We're also working with various public health partners to encourage wide and open sharing of reliable public health information to combat dis- and misinformation around the pandemic.  We are also delighted to see, and fully supportive of, those organisations who are embracing open licensing, or otherwise opening their collections and archives, at this time, to a public which is largely stuck at home.  
Our small team of staff, and our network of trainers and Wikimedians in Residence – Wikimedia specialists working in different institutions including libraries, universities and other collections – each work with a broad range of audiences across the UK and beyond.  Each has a slightly different remit, and building on our existing knowledge-sharing processes we've been able to accelerate the sharing of best practice in order to serve the wider community and stakeholder group.  In some ways this is what we'd do in any case, but we're finding that in the current situation we're able to do that more effectively – when everyone's already online it's much more natural to jump in to support each other's training courses, for example.  And whereas we'd normally get all residents together around once a year, we've had two meetings in the last two weeks to discuss progress. (On a personal note, I'm finding this increased connection particularly valuable.  After six weeks of no in-person meetings, I'm coming to realise the true extent to which social contact fuels my creativity, and how much I value that variety.)
We're delivering training modules through virtual conferencing, experimenting with different ways in which to support synchronous and asynchronous learning, and which works best with different audiences.  We've variously used Jitsi, Zoom, Google Meet, GoToMeeting, Asana, Are.na, Menti, Sli.do,& BBCollaborate in addition to the usual suite of Twitter, Google Docs, Whatsapp & nice old-school email.  And we're figuring out which combination of these works best for different audiences, with a particular mind to onboarding and friction with learners who are new to digital working, as well as our usual considerations of those new to the Wikimedia projects.