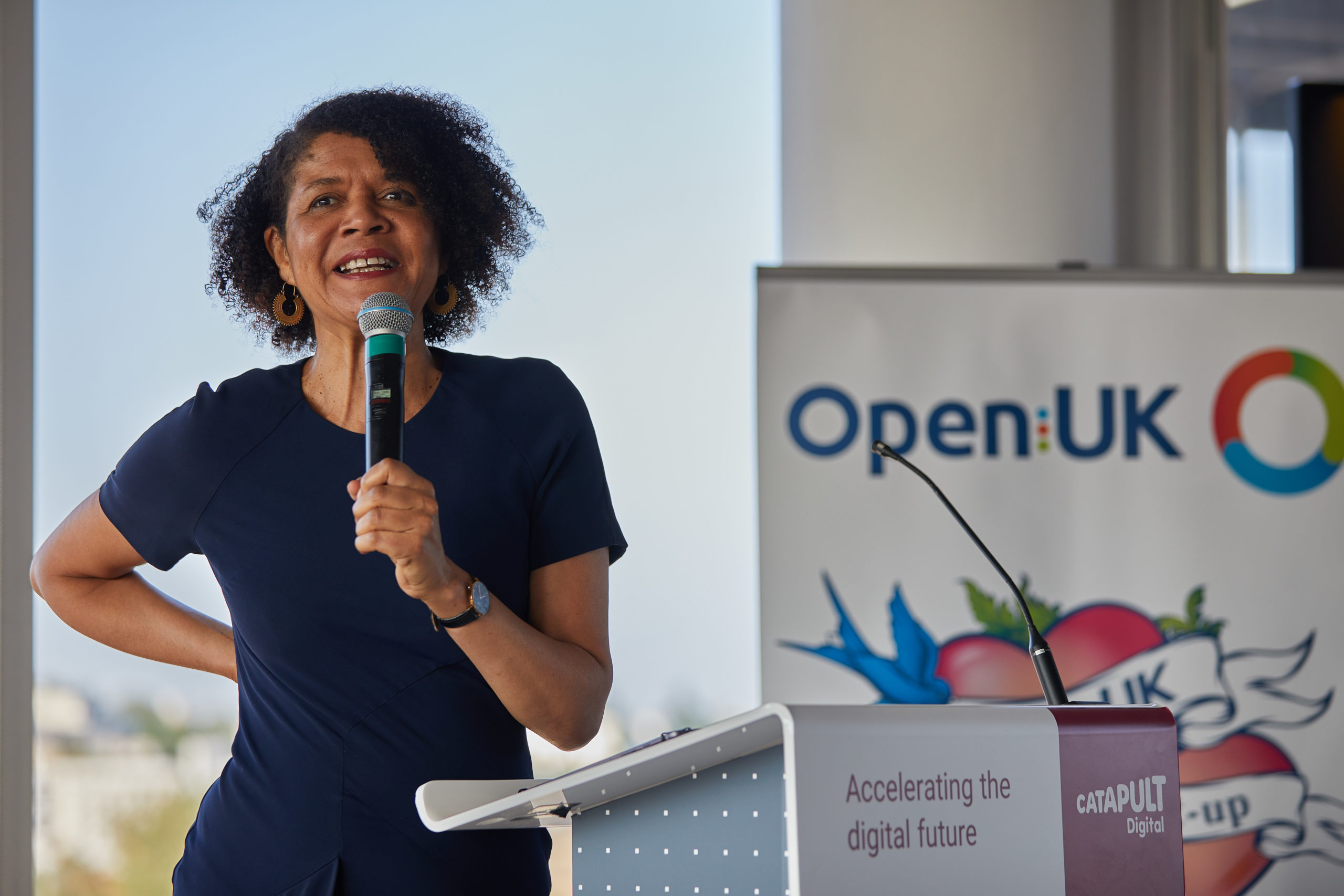 Amanda Brock
16th June 2023
Chi Onwurah, MP for Newcastle and Labour's Shadow Minister for Science, Research and Innovation. joined OpenUK's Honours List Celebration sponsored by the Digital Catapult on 14 June, and gave this very well received speech.
"It's great to be joining you here for London Tech Week, a chance to celebrate the wonderful contribution of our UK technology sector not only to the prosperity and development of our own country but across Europe and the world.
The UK tech reached a value of $1 trillion dollars in value last year, which is only the third country ever to hit this valuation after the US and China.
This means the UK tech industry is ahead of its European peers and is worth more than double Germany's and three times more than France's.
But the contribution of the sector is so much more than just to our economy.
The OpenUK Honours Lists which we're here for shows just that. Tonight is an opportunity to recognise achievement, contribution and leadership in Open Technology from across the UK.
As a self-proclaimed tech evangelist with twenty years of experience in the telecommunications sector, it's great to be in a room full of tech advocates and "preach to the choir" about the opportunities tech offers for collaboration, innovation, and promotion of the public good.
Now, my big confession is that I started my career off as a hardware engineer. But I did spend ten years developing software, C, C++, Pascal and various proprietary languages, so I think that still makes me the closest thing to a developer in the House at the moment.
Software is a huge part of all of our lives, but to many, it is obscure and inaccessible. There is no part of our economy which is not run through, or in tandem with, software. However, often my constituents feel software and technology is something that is done to them rather than with them and for their benefit. They feel as though opaque algorithms from tech giants have an increasing impact on their lives and that they have no power to change this.
I want people to feel empowered to take control of the software that rules their workplaces and personal lives.
Open source presents us with the opportunity to democratise technology and foster collaboration, driving competition and innovation. And OpenUK has estimated  that it delivers an economic boost of between £29.5 billion and £43.2 billion to the UK.
However, the Government's current legislative and policy agenda on digital areas, from the data bill, to the AI strategy – either lacks ambition or is wholly inadequate.
The Government has a wrongheaded idea that regulation is anti-growth. That is just not true. To the Conservatives, regulation is a dirty word.
There is strong evidence that the lack of agile regulation is undermining competition across many sectors of our economy, dragging down innovation and productivity. As a result, we currently have the lowest levels of business investment in the G7. And many of our great tech start-ups are being bought up or moving abroad due to a lack of finance and support from the government.
That is why I'm grateful to be a part of Labour front bench, including DCMS and BEIS colleagues that fully grasp the potential of science and technology. Well-targeted, activist regulation is both pro-growth and pro-innovation.
Good regulation of digital technologies creates a virtuous cycle, where more people trust and use these systems, encouraging greater investment and in turn more adoption across sectors.
While the promise of the digital era was to spread knowledge and connectivity, it has in fact seen power and influence amass in the hands of a few.
That's why Lucy Powell, our Shadow DCMS Secretary of State, has called for A New Settlement for the digital age, working for the many. This will be a driving agenda for the next Labour government.
As digital technology transforms our society and economy, Labour will look at how we open up data while drawing up world leading regulations, open up data while ensuring consumers rights, upskill our workforce and empower consumers and small businesses to take ownership and spread tech wealth around the UK. We will look to diffuse digital tech across public services driving improvements, bringing services closer to people, making them more effective and efficient.
The choice is clear – unlock the power of the digital revolution in the interests of the many, or continue to benefit a small few.
Industrial Strategy
To achieve this vision, you also need a government that works in active partnership with industry. And under a Labour government you will get exactly that.
Our fantastic Industrial Strategy: Prosperity through Partnership outlines Labour's bold vision for the country. It adopts a mission-based approach, with the aim of achieving four goals:
Delivering clean power by 2030
Harnessing data for public good
Caring for the future
and building a resilient economy
I'll touch briefly on the harnessing data for the public good mission today – but I would encourage you to delve into the industrial strategy to check out some of the other missions which have overlaps and intersect with open technology.
AI and Data For Public Good
Labour will harness data for the public good, using new capabilities in data analysis and artificial intelligence to deliver better public services and improve people's quality of life.
The popularity and rise to prominence of Chat GPT in recent months have lifted the general public consciousness on AI and ethical questions.
That's why it was brilliant to hear Keir Starmer earlier this week stating that this moment calls for the Labour values of working in partnership with business, driving technology to the public good, and ensuring that both people and places aren't left behind.
If we actively shape these technologies for the public good, they have the potential to greatly increase productivity, deliver better public services and improve quality of life for all.
Crucially, the UK is already a world leader in AI ethics and safety research.
A Labour government can lead the way by looking at how data can be used to drive better outcomes for public services. Labour's pro-innovation regulatory regime would ensure the UK's data ecosystem is secure and trusted, providing certainty to businesses and delivering better outcomes for consumers.
With an international focus, Labour would work to increase the open, secure international flow of data. And we would maintain Britain's data adequacy status with the EU, which helps UK companies to do business in Europe.
Closing Remarks
It's been a great pleasure to join you and Open UK for London Tech Week.
Labour's industrial strategy will create the conditions for our emerging industries to thrive and our door will always be open to your policy concerns.
As digital technology continues to evolve, Labour will work in active partnership with business, civil society, researchers and trade unions to shape digital technologies for the public good – and grasp the national prosperity that Britain is capable of; for a fairer and a greener future."
Chi Onwurah, MP for Newcastle and Labour's Shadow Minister for Science, Research and Innovation.