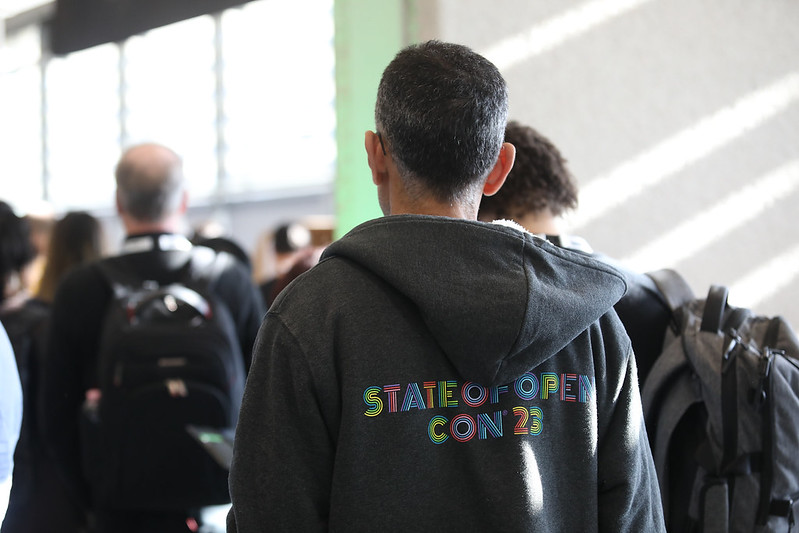 By: Phil Estes
I had the pleasure of attending and volunteering at the inaugural StateOfOpenCon 2023 earlier this year. While many regular conference goers may not necessarily be impressed by a star-studded cast of tech leaders and well-known luminaries of industry, what's incredibly impressive about the content and line-up at SOOCON23 is the incredibly short timeline from inception to reality! Chalk this up to Amanda Brock, CEO of OpenUK, who organized this new event in London, and her amazing team of willing helpers and volunteers who pulled off an event of this scale in just over 10 weeks! If you don't know Amanda personally, a quick survey of her experience in and around open source, policy, and governance, her dizzying area of awards and accolades combined with significant connections across our industry will help clarify just how possible it is for someone with determination and capability to pull off an event of this caliber.
For me, participating in SOOCON23 was the perfect addition to my first international trip of the year. In pre-COVID times a late January/early February trip involved attending Monkigras, James Governor's Redmonk-organized January event in London, followed by time spent with UK-located colleagues or participating in a local meetup before boarding the Brussels-bound Eurostar for a FOSDEM weekend. This year, having FOSDEM back in-person meant an opening in my calendar and SOOCON23 fit the bill perfectly. There were even shades of Monkigras as James Governor's portrait hung from the rafters of the QEII Event Centre in central London, one of many familiar faces captured by the "State of Open: The UK in 2023" photo exhibition sponsored by ARM.
The content at SOOCON23 was stellar, covering hot topics like sustainability and open source security, to ongoing discussions around cloud native technologies, DEI, community governance and open source policy. From keynotes to breakouts, many recognized experts in these areas were on-site participating in panels, giving talks, and thanks to a smaller scale, available for discussion and interaction throughout the day. Amanda and her team also did a great job adding experience-centric sponsorships to the event, providing plenty of opportunity to enjoy the outdoors (with a massive tent!) or trying your hands at Boeing's VR-driven flight simulator.
While understandably many participants were local to the UK, the breadth of representation from around the globe as well as an impressive mix of participants made for a truly diverse and enjoyable event. SOOCON23 included everyone from student participants just learning about open source topics to seasoned experts and leaders from major vendors and government. The excitement to interact, learn together and share knowledge was palpable. While I was connected through my own open source community activities to many SOOCON23 attendees, I had the chance through volunteering and spending time around the venue to meet many new faces and to make new connections that have already proven valuable for my own network.
I am absolutely certain that StateOfOpenCon is only going to get better from here. If Amanda and her team can pull off the inaugural 2023 event of this quality with merely 10 weeks of preparation, what will be possible with 5x that amount!? I know that I'm looking forward to more SOOCON participation in future years and I would invite you to check out OpenUK and the StateOfOpenCon website as we near 2024 to keep up to date with plans and timelines for next year's event.