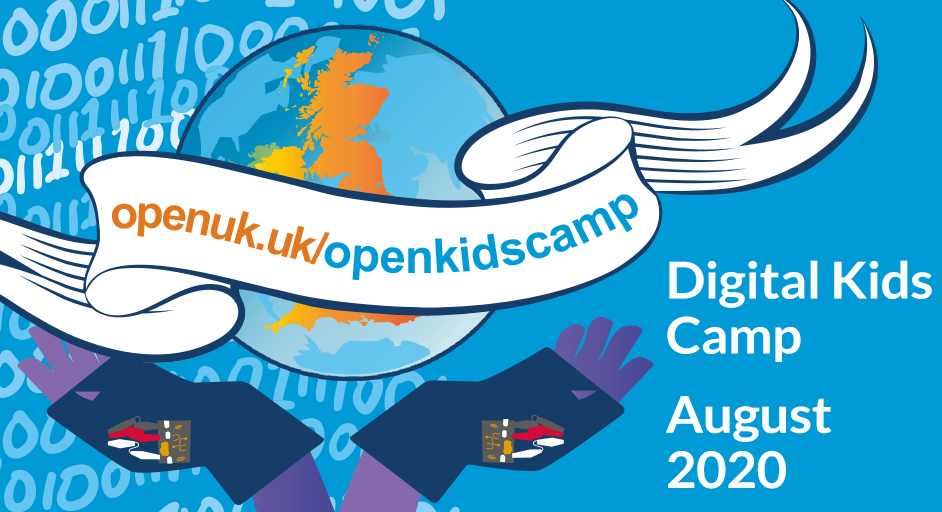 Amanda Brock
27th July 2020
Launch of OpenUK Digital Kids Camp and kit giveaway supported by Huawei
21 July 2020 – London, UK – OpenUK, the advocacy and industry organisation for Open Technology in the UK, today announced its expanding its Kids Competition, based on MI.MU's open sourced MiniMU musical gloves, with the distribution of 3,000 free glove kits and a new Summer Camp initiative.
This will provide a series of fun animated video tutorials for kids to attend during the school summer holiday period and e-zines with activities and challenges for the kids to complete.
The glove kits have been financed thanks to sponsorship from Huawei.
The OpenUK MiniMU Glove kits are designed by MI.MU and produced by Pimoroni Limited, a well-known UK-based electronics manufacturer and distributor, specialising in Kids' tech. The additional gloves, and the activities around them, have been developed to support OpenUK's objectives around Open Technology, community engagement and education.
Amanda Brock, CEO at OpenUK stated: "We wanted to expand the reach of our competition course during the summer – after the impact of lockdown, any activities that can get kids interested in developing new skills in a fun and engaging way should be available to as many kids as possible. The MiniMU glove kit giveaway comes after the micro:bit Foundation ran a giveaway for 5,000 devices earlier in April and gives kids another route to engaging in technology."
"We are really excited about the OpenUK Digital Summer Camp in August. It's perfect timing for kids to get quality digital skills over the holiday. The MiniMU kits and the online resources are all available free of charge which means anyone can join in. You can even use just a mobile phone, if there's no computer/laptop at home. This will be one of our summer courses at the Young Coders Meet-up supported by our young coders, Adonai and Femi (a.k.a. Hackerfemo), so this is digital inclusion at its finest. I just wish we could make sure all young people had free access to WiFi and tablets, that's our next campaigning objective!" said Grace Owolade-Coombes, Director at Transform Educational Support.
Bryan Che, Huawei commented: "We are happy to support this initiative by enabling more kids to get their hands on the MiniMU Gloves and take part in these activities over summer through a financial contribution. Our approach supports open source, from enterprise IT through to projects like this that demonstrate the value of open technology."
The OpenUK Digital Kids Camp will deliver 10 video-based lessons using the MiniMU Glove Kit, providing animated videos to work along with and e-zines that support the learning approach.
The lessons were designed by Ed Tech Hall of Famer David Whale and matched to the curriculums in Scotland and England by Morrison's Academy teacher Pamela Boal.  With imagery from the animation firm Drawnalism and voice work from Double Grammy winner Imogen Heap and Steph Bower of TalkaDoodleDo, the Glove Kits provide the components necessary to add to a BBC micro:bit to create the MiniMU musical glove.
Notes to Editors:
Huawei has financially supported the OpenUK kit giveaway for distribution from the UK company Pimoroni, the provider of the MiniMU Glove.
Huawei will be supporting the Summer Camp Ezine content through its Cambridge team.
The OpenUK Digital Summer Camp builds on the OpenUK Kids Competition, which was sponsored by Red Hat and GitHub. This sees nearly 50 schools taking part in an online competition themed around the MiniMU Glove kits.
The Kids Course was produced as part of the Kids' Competition supported by Red Hat and GitHub.
The MiniMU Glove is a make-it-yourself musical glove created by MI.MU that has a recently open-sourced hardware design using a BBC micro:bit to create music and interact with software.
Huawei is financially supporting the OpenUK kit giveaway. No relationship exists between MI.MU/MiniMU/Imogen Heap and Huawei.
OpenUK is supported by a range of international organisations including ARM, Microsoft, GitHub and Facebook – the organisation's vision is to support the development of UK leadership in Open Technologies being open source software, open hardware and open data in the UK, including education, international collaboration and business development.
Links:  to register OpenUK.UK/openkidscamp
Ends
About OpenUK
OpenUK is the industry association representing Open Technology being open source software, open hardware and open data organisations across the UK. As an industry organisation, OpenUK gives its participants greater influence than they could ever achieve alone. OpenUK is committed to supporting collaboration between businesses, public sector organisations, government and communities to expand the opportunities available to all around open technology in the UK and globally. It is building a visible community, ensuring the UK's laws and policies work for Open and promoting learning in Open Technology.
OpenUK is a not-for-profit company limited by guarantee, company number 11209475.
Contact:
Declan Proudfoot, onebite for OpenUK, +44(0)7816 639 225, openuk@onebite.co.uk
or
Serena Ricci, Serena@qs.com, +44 (07519501458