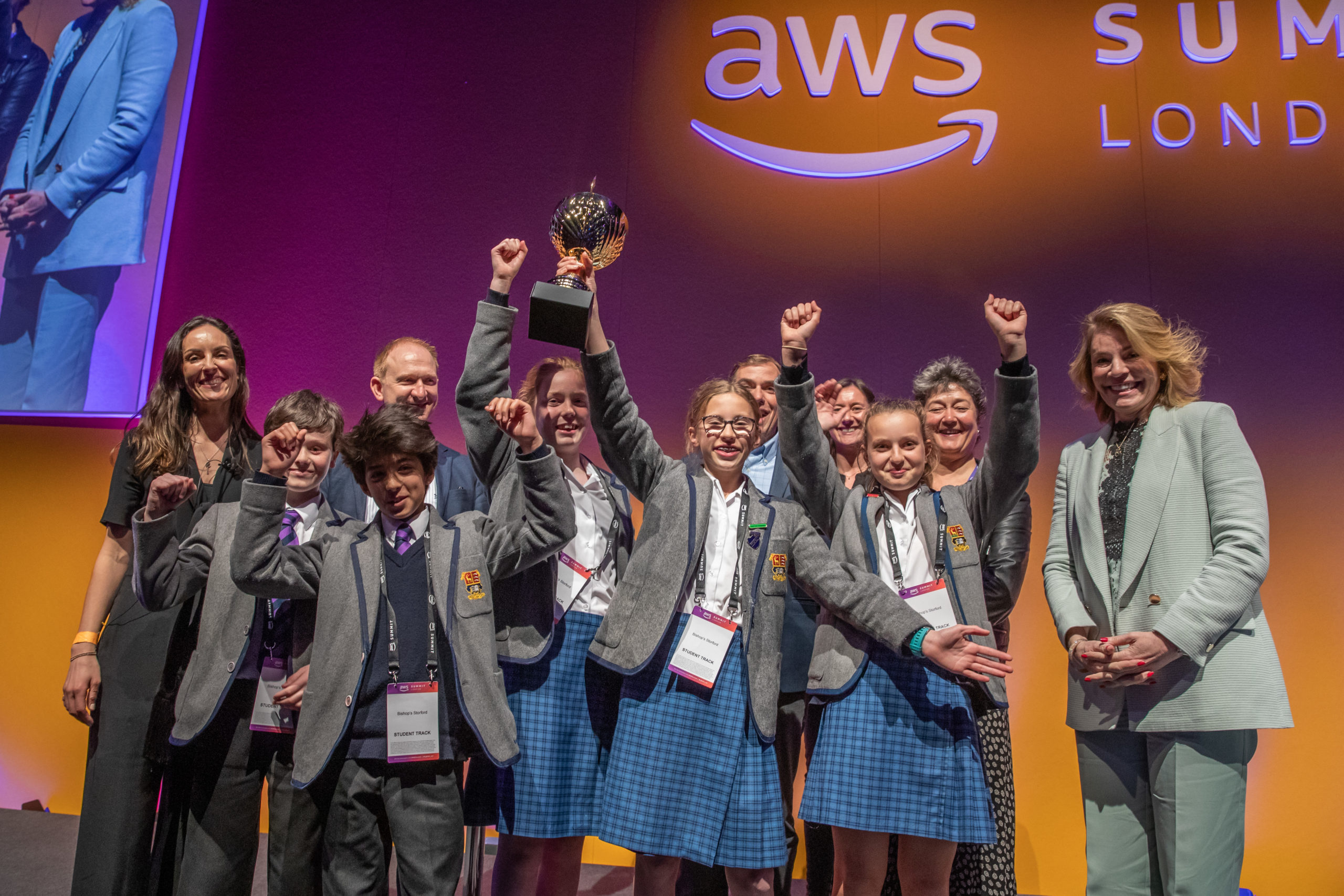 Amanda Brock
20th March 2020
As kids head home from a last day of school in uncertain times, we are pleased to hear from Amy of Bishop's Stortford College. As CEO of OpenUK, I was thrilled to be short-listed for the Women of the Year Award at the Women in IT Awards in January. It was a very full on and interesting day, as in the afternoon, shortlisted candidates were invited to join winners and runners up from the "AWS GetIT" initiative for afternoon tea.
The event was inspiring and made me realise the importance of competitions for kids in engaging in technology and just how much it's worth making the time to get involved and make these things happen. Sonia Ouarti, who has driven this AWS programme, is, like me, from an open source background being ex Canonical. Her work on this programme is inspirational.
Our OpenUK Kids' competition is open for  registration at openuk.uk.kidscompetition and we will be updating information in the light of recent events next week, so please watch that space.
One of the first young ladies I met was Amy from the winning team at Bishop's Stortford College. She kindly agreed to join us at OpenUK by writing a blog about the team's winning app, which is being built and open sourced as part of their prize. Over to Amy….
"Hi, my name is Amy and I am part of the team from Bishop's Stortford College that won the AWS GetIT competition with our app, 'Connect Hearo'.
AWS GetIT is a programme that was designed to get women into technology and was aimed at year 8 students across the country. Designing the app in the first stages of the competition, we got to learn about all the processes that developers go through when they are making an app using AWS.
Our app idea came from Ibby (a member of our team) who has 60% hearing loss, so we had first-hand experience of the problem we were trying to solve. Over the time of designing the app, we had several visits from our mentor, Shiri, where she would give us advice on how to progress our app. When we were nearing the end of this, two of us went to the AWS offices in London for a bootcamp. At the event we learnt how to add further detail to our flowcharts and started work on our storyboards.
This lasted the whole morning and gave us valuable experience of what life was like working for AWS as a developer. In the afternoon, we worked on our presenting skills with members of Future Foundations.
We had to make a spider diagram of all that we had learnt that day and then present this to other groups. After this session, we had a much clearer idea of what we wanted our app to be like. In March, we submitted our application.
After a tense few weeks of waiting for the result, we found out that we had reached the final. The next month consisted of hard work to make the final presentation perfect and finalise the last details of the app.
When we arrived at the AWS Summit at the Excel Centre, where the semi-final and the final was being held, there were thousands of people there, and we were shown into a room with the other nine shortlisted teams. After a short introduction, we were sorted into two teams of five where we presented to each other and the best from each group went through to the final. We were one of those teams.
We were led to the Summit stage and, that was when reality sunk in; we were about to stand up in front of over a thousand people and talk about our app. After five minutes of nervous presenting, we found out that we had won. After this, we had constant updates with the person who was developing our app and got the news that we were going to Las Vegas to attend AWS re:Invent.
After months of waiting, the time had finally come to go to the entertainment capital of the world. One day we spent going around all the famous Las Vegas sights, but on the second day we were invited to go to AWS re:Invent. We first had a meeting with a Formula 1 engineer. After, we joined a local school, and we had a morning listening to someone from NASA talking about the Mars rover and we also learnt about how to code a chatbot, much like Alexa. In the afternoon we went around the expo hall, looking at different projects and technologies including AR and VR. Since then, we have been testing our app in school and providing feedback to the AWS team for the next round of development.
The app is now being developed in Python, an open source coding language and the app will be open source to allow us to pass it on to other schools. Because it is open source they too can make improvements to it too. This whole experience has been really great and I am looking forward to see how our app turns out and grateful that it can be shared in this way.
I am inspired to be more involved in tech now that I have completed AWS GetIT and hope that it has inspired other young people too."
You will be able to see more about OpenUK's updated Kids Competition supported by Red hat and inspiring Kids during their home learning, next week, at Openuk.uk/kidscompetition. We hope to see a team from Bishop Stortford College taking part.