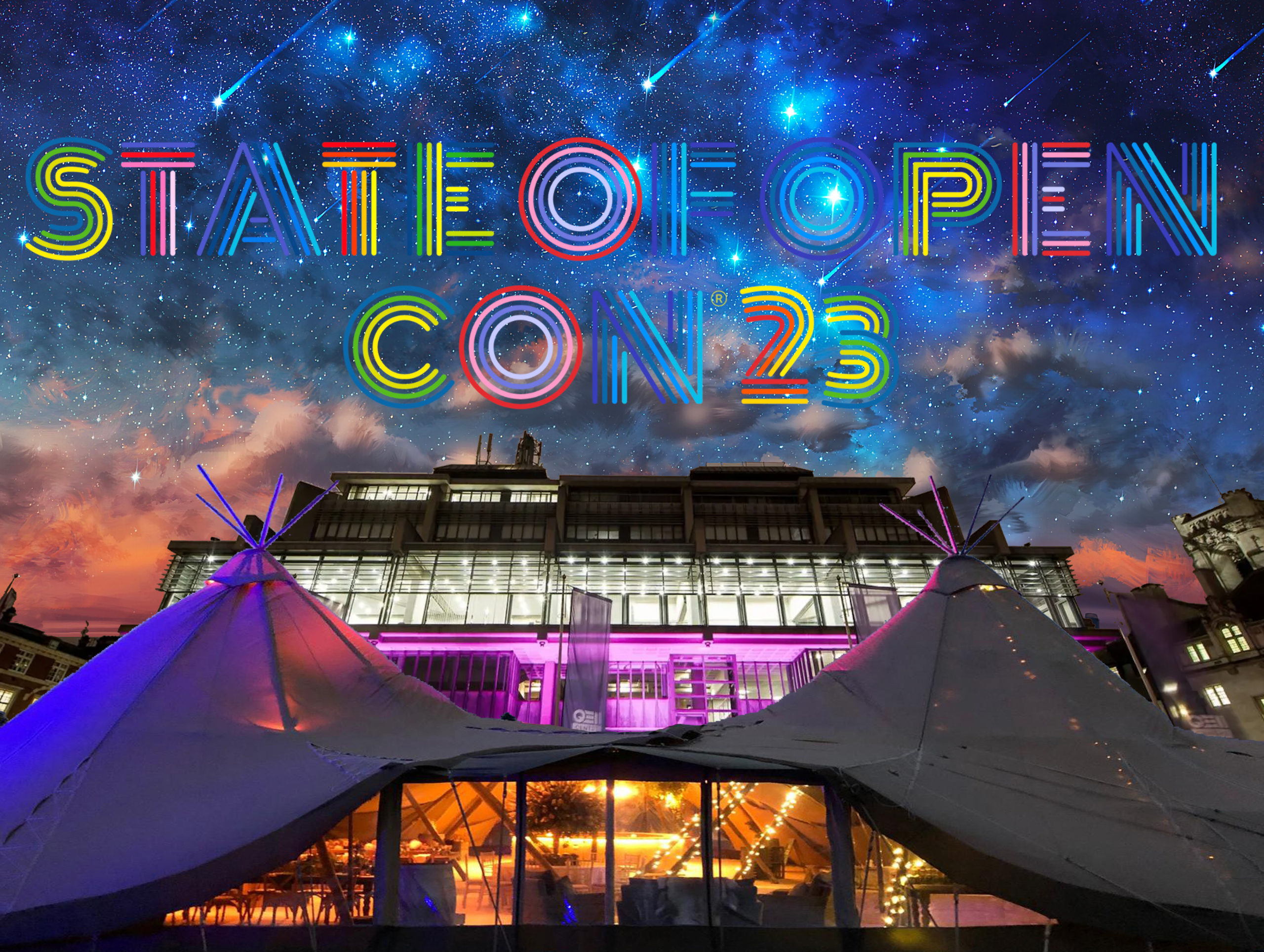 Jennifer Riggins
31st January 2023
"The ethos of State of Open Con is that it's an opportunity for people to come together and have a joint learning experience with some of the world's leading experts in these spaces," across open source software, open data and open hardware, said Amanda Brock, CEO of OpenUK and the Executive Producer of SOOCon23. 
Harkening a ComicCon, which brings open source super fans together to network and collaborate — even in Festival tents warmed by a winter fire in the shadow of Westminster Abbey! — this isn't your average, stodgy open source or tech conference. We have worked hard to cultivate a memorable Delegate Experience. 
This festival of open technology breaks the mould and is filled with opportunities. The opportunity to catch up with folks you've known for a while and to network with new friends and future colleagues. An opportunity to attend a two-day event for a reasonable £199, not £1,000 — we are incredibly grateful this event has attracted wonderful sponsors, including our headline sponsor IEEE. It's an opportunity "for people with an interest in open and building a more equitable future for technology in the UK and beyond to get together, and consider the future of open tech" Brock continued.
State of Open Con is an experience aiming to involve the whole Open community:
Open businesses and business people

Open source software communities and projects

Open policies and government leadership

Open data communities

Open hardware communities
It's really for everybody who interacts with anything in the world of Open, which today is anyone who interacts with the digital space or who wants to. 
This includes making the event as inclusive and welcoming to everyone across our communities. We are really proud to share that we are among the first events to receive the coveted and hard-earned Gold Medal Badge for Diversity and Inclusion by the Community Health Analytics in Open Source Software or CHAOSS Community. We had to deliver ahead on five clusters of essential DEI metrics and we are incredibly happy we were able to achieve that in our first year.
Whilst it saddens us, we can't avoid the tech layoffs headlines, so we've made 100 tickets available free of charge for those who are between roles right now. We also are offering that anyone can watch the live-streamed tracks for free online. And we are including a job board sponsored by Open Source Job Hub. 
Importantly, "The opportunity is to come together.  We've raised the funds so that we have this whole building with plenty of space for everybody, to bring everyone togethre. And in making that space for everybody, we've thought about other people's needs," Brock explained
Our unique Delegate Experience includes: 
A massive job board, partnering with

Open Source Job Hub

A creche / childcare

Doggy daycare

Prayer room

Quiet corridor and a neurodiversity chill out space

Co-working space

A party featuring DJs from the Open community

Festival tents and picnic tables around an open fire to keep warm and get fresh air outside the venue

Circa 50 tables featuring a mix of open enterprises, community organisations and projects

Book giveaways and signings with: Andrew Martin, Amanda Brock, Bartłomiej Płotka, Liz Rice, and Luca Palmeri

The State of Open photo exhibition of 40 faces of open source in the UK by young award winning photographer Tiana Lea, inspired by

Peter Adams' wo

rk

An AI painting space by GitHub

'Seeking New Gods'

with Gruff Rhys, an immersive sound experience by the BBC

Boeing's VR flight simulator, even taking you to space

Hats for everyone…
And, of course, we have our enforced Code of Respect.
"People are at the center of the State of Open Con — there would be no code without people — so we're trying to create an environment that's people centric," Brock said. "We're doing our best to make sure that people are going to be comfortable, that they have everything they need, they have every facility or amenity that they could require to be able to come on site, irrespective of their work commitments or personal commitments to make it a safe space for everybody. We will even make sure that there is a simple lunch and a party for everyone." 
Are you ready to escape for a couple days with us? Get your SOOCon23 tickets while they last!