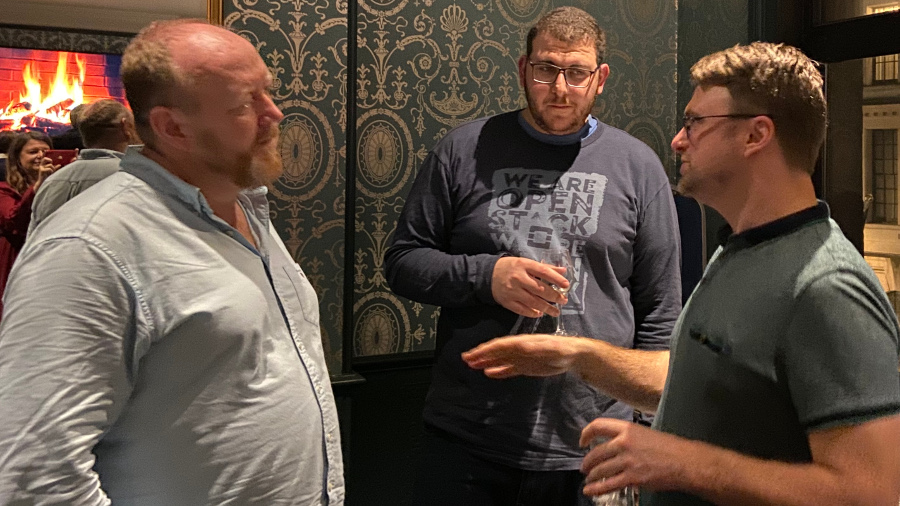 Amanda Brock
29th November 2019
OpenUK's first annual Christmas party was a time to celebrate and share all the great things happening. It was definitely the first Christmas celebration of the year for the UK's open source community. A number of OpenUK's volunteers who have been working hard across our new committees at OpenUK, including the Legal and Policy Committee Chair, Chris Eastham joined the event.
OpenUK is actively looking for additional members for a number of our committees and groups and would be pleased to hear from anyone interested in volunteering:
Awards Committee – organising our 2020 OpenUK Awards in London on 11 June, as part of London Tech Week chaired by Amanda Brock with judges Andrew Back, Cheryl Chen and Chris Lamb
Events Committee – being formed in 2020. We have a healthcare event on 6 February, and open data series kicking off in March and a number of other events planned including topics such as open hardware and well being/ working from home.
Learning Committee – working on and open source GCSE and a schools competition for early 2020, with the winners being part of the Awards. Over time we will work on code camps etc – chaired by Paul Taylor
Legal and Policy Committee – currently setting its remit, reviewing CCS and GDS contract terms, and looking forward to a meeting with the Parliamentary All Party Intellectual Property Committee, when a new Government is in place – chaired by Chris Eastham
Museums Committee – working on a permanent exhibition room at the National Computer Museum at Bletchley and temporary exhibitions of open elsewhere, Chaired by Stuart Mackintosh
Universities Group – welcoming all universities in collaborative student projects, Chaired by Bruce Darby of Edinburgh University
We are looking forward to sharing details of the participants in all of our committees in our new web site which will be live before Christmas, thanks to our friends Greg and Ele at Civic, who are working hard to build this. A combination of our site and our Nextcloud, hosted by OpusVL, will allow easy access to mailing lists and transparency across the work of our committees and board. Andrew Katz, our Pro Bono GC and his team at Moorcrofts are working hard on making sure all the necessary legals are in place.
Amanda Brock has stepped into the role of CEO and will be OpenUK's first employee.
Our board will also be extending in January and details of the interim board for 2020 will be updated in the new site. By the end of 2020 we will move to an elected board.
We are looking for a volunteer Treasurer and a Communications expert, so please let us know if you are interested in taking on these roles to support us.
The OpenUK events calendar on the new site will list what is happening across open source software, open data and open hardware in the UK and beyond, and will also include the up and coming OpenUK events and events we will be attending in 2020. Please again let us know if you would like an event listed.
And our final exciting news, OpenUK will be hosting a stand at FOSDEM for the first time on Saturday 1 February, potentially the first day after the UK's Brexit from the European Union. It will be themed "Tea and Biscuits with the Brits".
We welcome anyone based in the UK or who wants to showcase a UK business as part of our stand, to take part, give away their goodies and meet the folk of FOSDEM with us.
Please contact amanda.brock@openuk.uk if you would like to help man our stand and hope you will join us for tea, biscuits and a good old natter about open source, in Brussels.