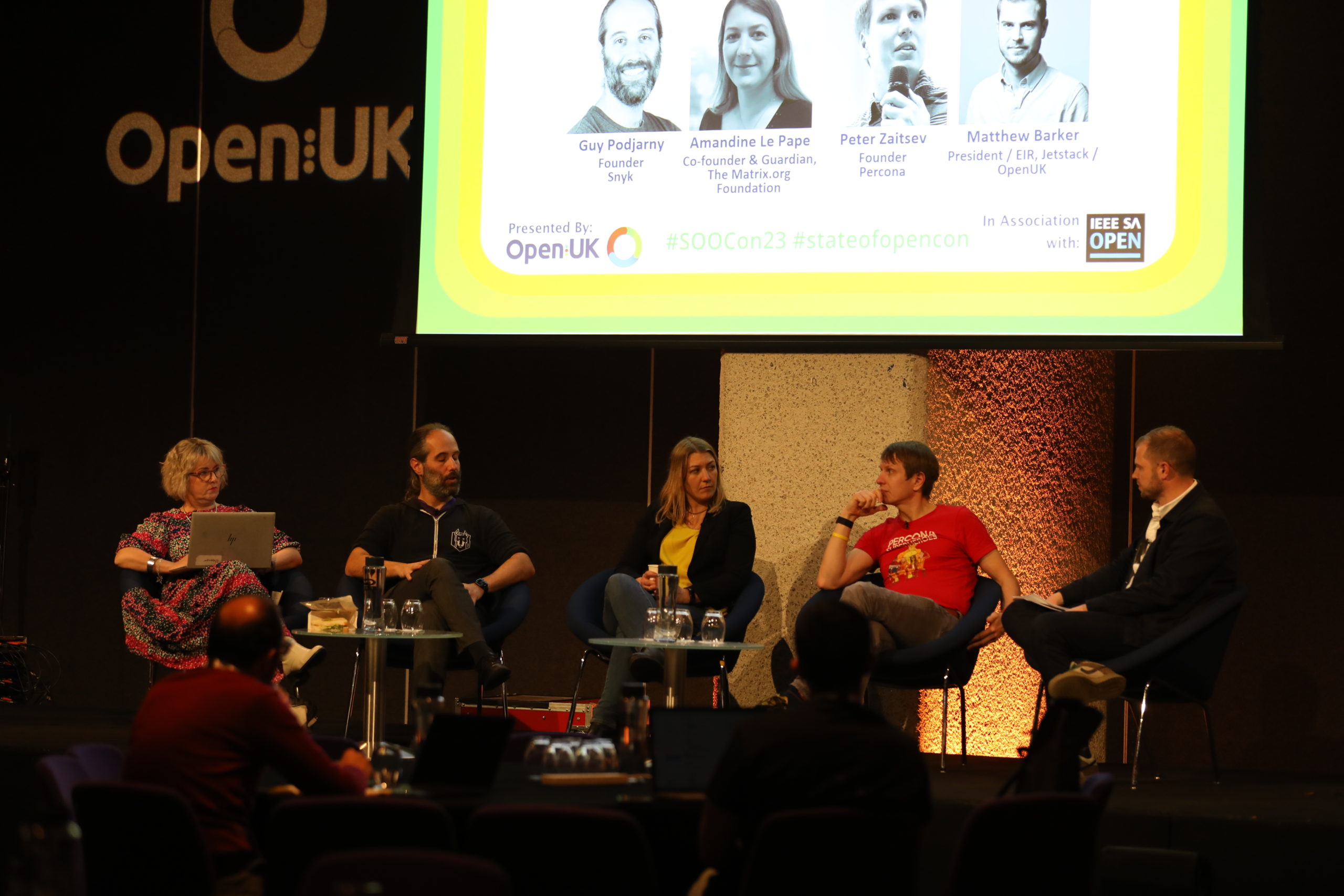 Jennifer Riggins
22nd February 2023
"Open Source is a fantastic space for entrepreneurship, especially if you want to benefit society in a positive way. Yet, there haven't been a lot of conferences having this as a focus. I'm very glad to see the State of the Open Con remedying the situation!" Peter Zaitsev, founder of Open Source database company Percona and one of our founder advisors, put it perfectly. 
Indeed, one of the most exciting and stand-out aspects of the State of Open Con 2023 (SOOC23) was our Entrepreneurship track, hosted by the University of Strathclyde's Eleanor Shaw and Jetstack's Matt Barker, 
The Entrepreneurship track featured five two-hour sessions over two epic days this past February. Each session kicked off with a 45-minute panel discussion with founders of open source-backed products or businesses. They engaged aspiring entrepreneurs around the following topics:
Product development

Community and contribution

Revenue generation

Licensing, legal and good practices

Funding models and scaling
Then, after a brief break, groups broke out into smaller groups for roundtable discussions with these same Open Source founders, sharing advice for scaling your own startups within the open source ecosystem. As the event emphasised freedom and experimentation, delegates could choose to join all five sessions or just one or two — but each session had to be at a table with a different founder.
"Despite having been around for decades, Open Source entrepreneurship is not a fixed science and can take many forms. Having the opportunity to learn from other entrepreneurs and share experiences is invaluable to me," said one of our mentors and two-time Open Source co-founder Amandine Le Pape. "I also strongly believe Open Source is key to our future so sharing these experiences and advice with potential entrepreneurs will hopefully inspire them!"
Happy to continue to work together to foster more Open Source entrepreneurship! 
The Challenge of Open Source Entrepreneurship
Barker is also OpenUK's entrepreneur in residence, tasked with representing the views of U.K. startups in the Open Source space — something that don't naturally seem to go together. "By my definition an entrepreneur is someone that spots an opportunity, sets up a business and then takes on financial risks in the hope of success and profit," he said. 
"In that regard, I would say that most of the people who join open communities do not have that particular mindset! However, they certainly share some of the strongest attributes of what makes a good entrepreneur," which he says includes:
Curiosity and passion

Boasting an open mind 

Being a self starter

Not being afraid to connect with and work with strangers

A focus on user value
"Over the years I would say that one of the things that has actually been lacking in the open community are entrepreneurs who can assist these people to see the commercial opportunity around what they do and then help them to develop it," Barker continued.
One of the objectives of State of Open Con — from lessons learned and relationships built — was expressly to help Open Source entrepreneurs to better set up for success. 
Attendees included:
Those running an Open Source project who wished to become more commercially aware (sales, marketing, hiring) in order to  try building a business around it.

Existing tech entrepreneurs interested in getting involved in the Open Source space, either via investment or their own startup.

Anyone who even dared to dream of starting an Open Source project or business. "Even if you have no plans to start a business, if you're an Open Source project owner, it's good to be aware of some of the early considerations that you need to make in case you change your mind or decide to get out of it," Barker told us before.

People working — or looking to work — in Open Source companies who might be interested in getting an insight into elements of business creation they may not otherwise get access to.
The Power of Open Source in the U.K.
This track was a unique and important part of the future of Open Source in the U.K. and the world. After all, London is the common international launchpad for both North American and Asian tech companies looking to go global. 
"What the U.K. does brilliantly is we produce infrastructure engineers — and, of course, open source and infrastructure is right now top of the agenda," remarked Amanda Brock, president of OpenUK, which organised SOOCon23. But, she argued, what is still missing are the skills to support engineers as they evolve their open source projects into businesses. 
This is not a niche topic. There are about 2.8 million GitHub accounts in the U.K. alone — that's almost 5% of the whole population! So how do we leverage that massive opportunity that is U.K.'s open source talent? Brock says it comes down to nurturing the business side of it all. "To develop the skills around sales or marketing, around commercialization, around legal, around governance. All those soft skills that are required to build and scale a successful open source based business sit in the Bay Area," where Open Source is like breathing. 
One of the goals of the State of Open Con and particularly this Entrepreneurship track was to teach university students and startup founders across the U.K. how open source works. Not the technical side of things but the legal and business aspects that take a project from a community volunteer effort to a successful, thriving, scalable thing you can make a living off of. 
"We need to be teaching them how the revenue models work. We need to be teaching them at what stage you make your revenue model decisions. How you develop products and open source that are scalable, that have longevity. How you interact with fundraisers. How do you make money when you've given your assets away? How would you then avoid giving your whole business to a VC?" Brock explained. 
That's the unique yet crucial discussion was held over two days at the Queen Elizabeth II Centre. 
Thank you to our stellar line-up of proven Open Source entrepreneurs:
Amandine Le Pape, 2x co-founder of the Matrix.org and Element (formerly New Vector)

Avi Press

, founder and CEO at Scarf

Bram Wiepjes

, CEO, developer and founder at Baserow

Frank Karltischek

, 2x founder at NextCloud GmbH and ownCloud

Franz Karlsberger

, CEO at amazee.io 

Heikki Nousiainen

, co-founder and field CTO at Aiven

Leanne Kemp

, 3x founder at Everledger, Absoft Holdings, and Fastcards Trading

Matt Barker, president and co-founder of Jetstack

Peter Zaitsev, 6x founder at Percona, Altinity, FerretDB, Invinco, Open Database Alliance, and SpyLOG

Ron Efroni

, CEO and co-founder of Flox

Sam Weaver

, CEO and co-founder of Plural
Can't wait to see what the next generation of Open Source entrepreneurs build!