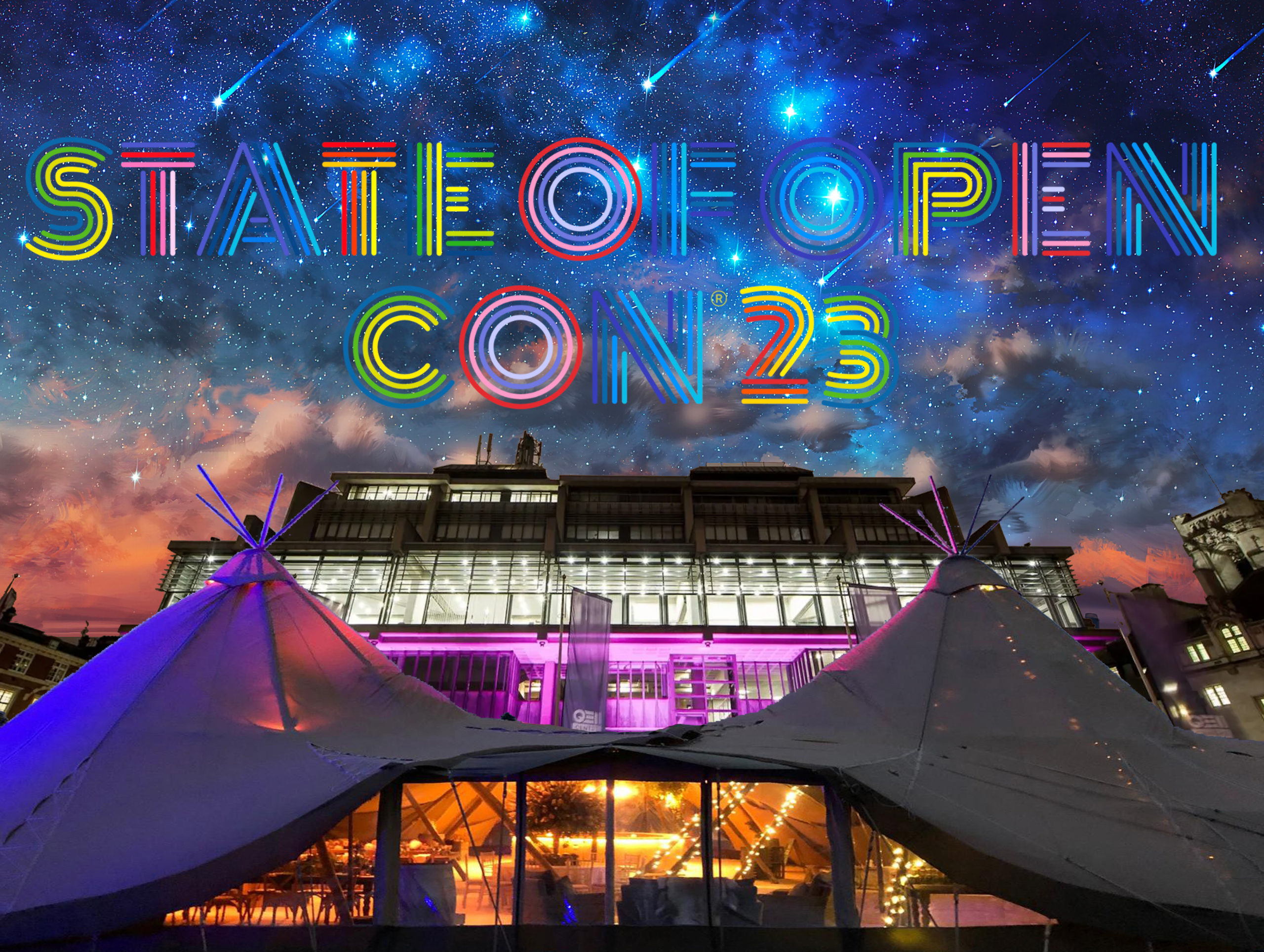 Michelle Angert
17th February 2023
We had an incredible time at OpenUK's first annual State of Open Con #SOOCon23 on 7 and 8 February in London. With 130+ speakers,  58 organisations hosting tables and a further 12 provider Delegate Experience (DX).  It had an incredible buzz and we're so grateful for everyone who came out to support us this year and hope that you will be back for #SOOCon24. We won't be organising that in 10 weeks, but will start work in March.
If you were able to make it along thank you for being a part of this first State of Open Con, #SOOCon23. We hope you enjoyed it as much as we did. You will also have received your free conference hat. We will be announcing a special prize for the best photo of one of our hats shared on social in the weeks to come.
Many people fed back that they were "blown away" by our plenaries and you can watch the videos of these and ALL the conference content as unlimited free download here, whether you made it along or not.
It was a delight to host our plenary and keynote speakers:
Chi Onwurah – Labour MP for Newcastle upon Tyne Central, Shadow Minister Science, Research & Technology
Damani Corbin – Strategy & EcoSystem Growth, Boeing
Eric Brewer – VP Infrastructure & Google Fellow, Google
Camille Stewart Gloster – Deputy National Cyber Director, Technology & Ecosystem Security, The White House
Salem Avan – Director of Policy Strategy & Governance Division for ICT, United Nations
Mike Bracken – Founding Partner, Public Digital
Jimmy Wales – Founder, Wikipedia
People were at the centre of State of Open Con. We worked for several months with young photographer Tiana Lea OpenUK State of Open: The UK in 2023 Photo Exhibition, sponsored by Arm with 38 key figures in UK open source software. Their portraits were taken by award winning 25 year old photographer Tiana not only took portraits but worked with her team to produce accompanying video. You can see all of these digitally.
Tiana was also on site offering free portraits during SOOCon23 and took 165 headshots for our community during the two day conference. We are looking forward to seeing these in use.
Events like this are not possible without the support and contributions from our headline sponsor, IEEE SA Open and our incredible, fantastic, awesome and gifted and media sponsors.
We are also grateful to the table holders and our providers of our DX experience
DX Experience
Of course the content was a huge part of the event and again, thanks to all of our speakers, and to the rack hosts and our CFP chairs, who worked incredibly hard to make sure the content was stellar:
Liz Rice and Nick Jones – Platform Engineering
Professor Eleanor Shaw OBE and Matt Barker – Entrepreneurship
Sal Kimmich and Andrew Martin – Security
Judy Parnall, Chris Eastham and Dan Aldridge – Government, Law and Policy
Emma Thwaites and Sonia Cooper – Open Data
Lesya Dymyd, PhD and Dr. Erik Riedel – Open Hardware
And last but not least, Terence Eden, Hannah Foxwell, and Paula Kennedy (who was sadly unable to join us but did so much work up front) in the Unconference!
As many of you may know, this conference was organised in under 10 weeks by a small and hard-working team. Thanks to all.
Don't forget to check out Drawnalism's artistic representations of the two days!
View them here
Press Coverage of SOOCon23
Government's digital strategy has been 'wholly inadequate' and 'lacking in ambition', Chi Onwurah
Get Ready to be Inspired
Read about the State of Open: The UK 2023 Photoshoot sponsored by Arm
Jimmy Wales: Online Safety Bill could devastate small businesses and startups
#SOOCon23: UK Government Urges Industry Input on Software Security Policy
'Switch to memory safe coding' White House CyberSec chief urges OSS developers
#SOOCon23: Global Cooperation Needed to Enhance Open Source Software Security
ADHD doesn't stop me getting down to business
This is just a small number of the press about State of Open Con. We could not fit it all in this newsletter, but you can read all the articles and watch all the interviews  here.
OpenUK Town Halls
Find out more about What's On at OpenUK with Monthly Town Halls led by me and the OpenUK leadership team will take place throughout 2023. There is an early and late session – on 8th March in our events calendar. It's a great way to hear more about the work OpenUK is doing, our strategy and how to get more involved.
Our calendar shows not just OpenUK events, but UK and international events we will be attending and also included global Open Technology events we think are of interest to you.
OpenUK London Meet-Up
We are starting up our Meet Ups for 2023. Join us February 21st at 6pm Avanade, 30 Cannon Street, EC4M 6XH.  Join Us
Open Technology for Sustainability Day
We are looking forward to an event on our report in June and also to our next Open Technology for Sustainability Day on 14 September at Dynamic Earth in Edinburgh.

Tickets are free and now available so Register Now.
It was truly wonderful to see everyone again and meet so many new faces. We were happy to have such an enthusiastic turnout for the conference and hope that everyone enjoyed themselves.

Please watch this space for more info on #SOOCon24 which will be available shortly.
Amanda
Amanda Brock
CEO, OpenUK