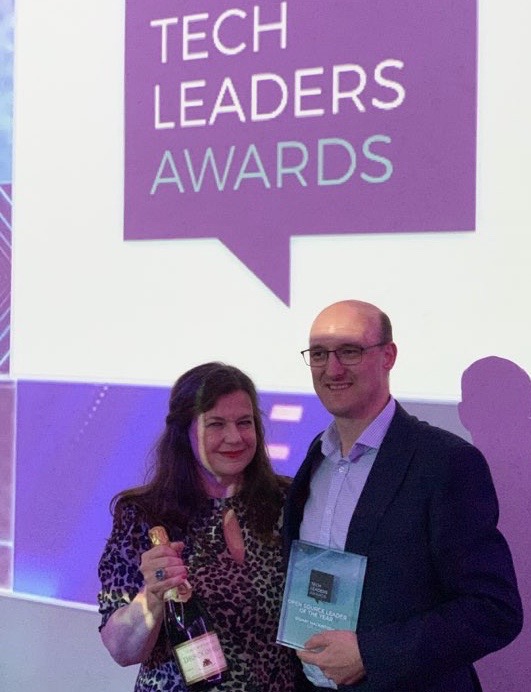 John Mica
18th September 2019
Tech Leaders' Summit is an annual event organised by Technology Insider Magazine and Bonhill Group techleaderssummit.com.
It's billed as the biggest tech-leaders' event in the UK and on 12 September, the room at the Royal Lancaster Hotel, London was filled with CTO's, CIO's and CEO's. An evening Tech Leaders' Awards ceremony was attended by over 30 tables of guests.
This year was very different!
It was an absolute delight to see UK business embracing open source in its rightful place at the centre of innovation and OpenUK was very present.
Amanda Brock keynoted the event and presented the final award of the evening to the CTO of the year. She took the opportunity to set the tone for an open source focused day in a 25-minute keynote, "If you believe they put a man on the moon, then you will believe the future of innovation is collaboration", leading the audience – who represented many of the UK's most innovative companies, both new and old – to the natural conclusion that the future of innovation has to be open.  She was quick to thank Jon "Maddog" Hall for the inspiration his FOSDEM keynote gave her.
Not only can open source allow us to build innovation in "co-opetition-based" environments, but we can overcome attacks on open source from those who would attempt to stifle open innovation, through the power of our collaborative responses. Of-course, she included Open Invention Network as a great example of collaboration. Its defensive and strategic collaboration with over 3000 participants collaborating by sharing their patents to protect open source, openinventionnetwork.org, has created the biggest and most successful defensive IP organisation in history.
But the highlight of the event was the "Open Source Leader's Award".
In its first year in 2019,  OpenUK sends its thanks to the organisers, for finally recognising the importance of open source in the UK tech sector and… to the UK economy.
We hope to see more inclusion of open topics in general at UK tech events and awards and will work to encourage this.
Congratulations to our very own Stuart Mackintosh, Chairman of OpenUK and CEO of OpusVL – winner of Tech Leaders' "Open Source Leader of the Year Award".
A well-deserved honour for Stuart to be the first recipient of this Award.
Stuart is a humble sole and doesn't actually know who nominated him.  Whoever you are – well done.
Finally, we are seeing a glimpse of the traction that open source deserves in the UK acknowledging its mass adoption across the Enterprise.
Congratulations also to the other short-listed nominees and for their recognition as leaders in Open Source in the UK. We look forward to working with you all:
Red Hat – how could they not be short-listed- sold to IBM for $34billion – the biggest tech transaction in history – the sale of an open source company!
Davide Cherubini – Vodafone
Tim Mackey – Synopsys
Steve Millidge – Payara Services Ltd
Kostas Tzoumas – Ververica